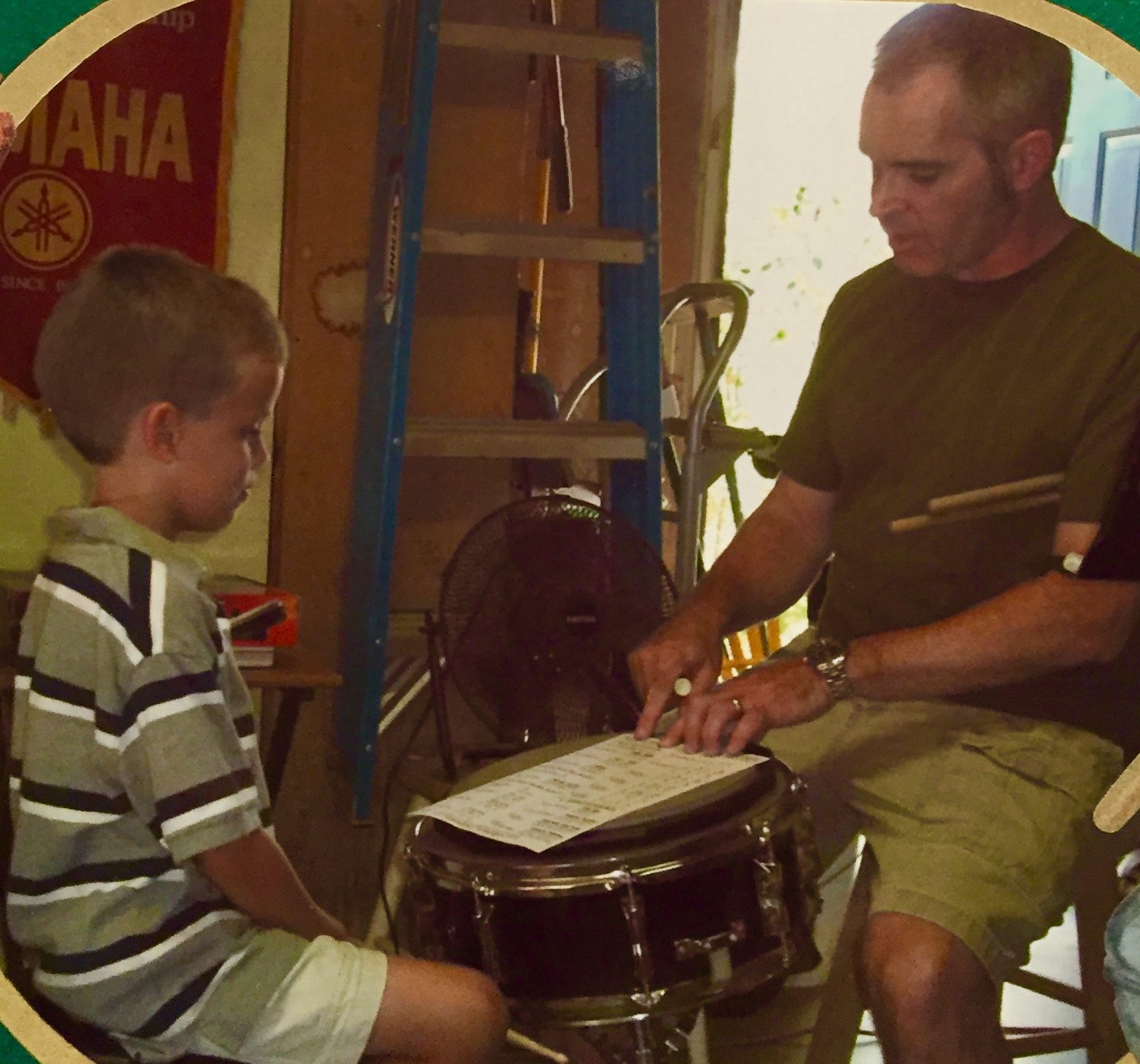 The photo above IS from my FIRST LESSON at Rob Ferrell Drum Studio!
I first walked into Rob Ferrell Drum Studio when I was 6 years old.  Rob started teaching me the fundamentals of drumming, rudiments and reading, on that very first day.  From my first lesson to this day, I trust Rob.  He is supportive and is an excellent teacher.  If I ever needed help getting ready for a live show, I can always count on Rob to add that little tip that makes my drumming sound even better.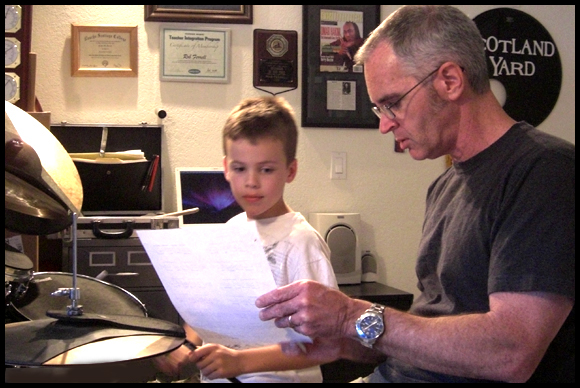 Pic above: Rob started me with the fundamentals of drumming: Rudiments and Reading (and more reading)…
Now, as we celebrate 9-straight years of drum lessons with Rob, I thought it would be cool to let you all know a little bit more about Rob Ferrell by having a Q&A with him right here on thomasondrums.net!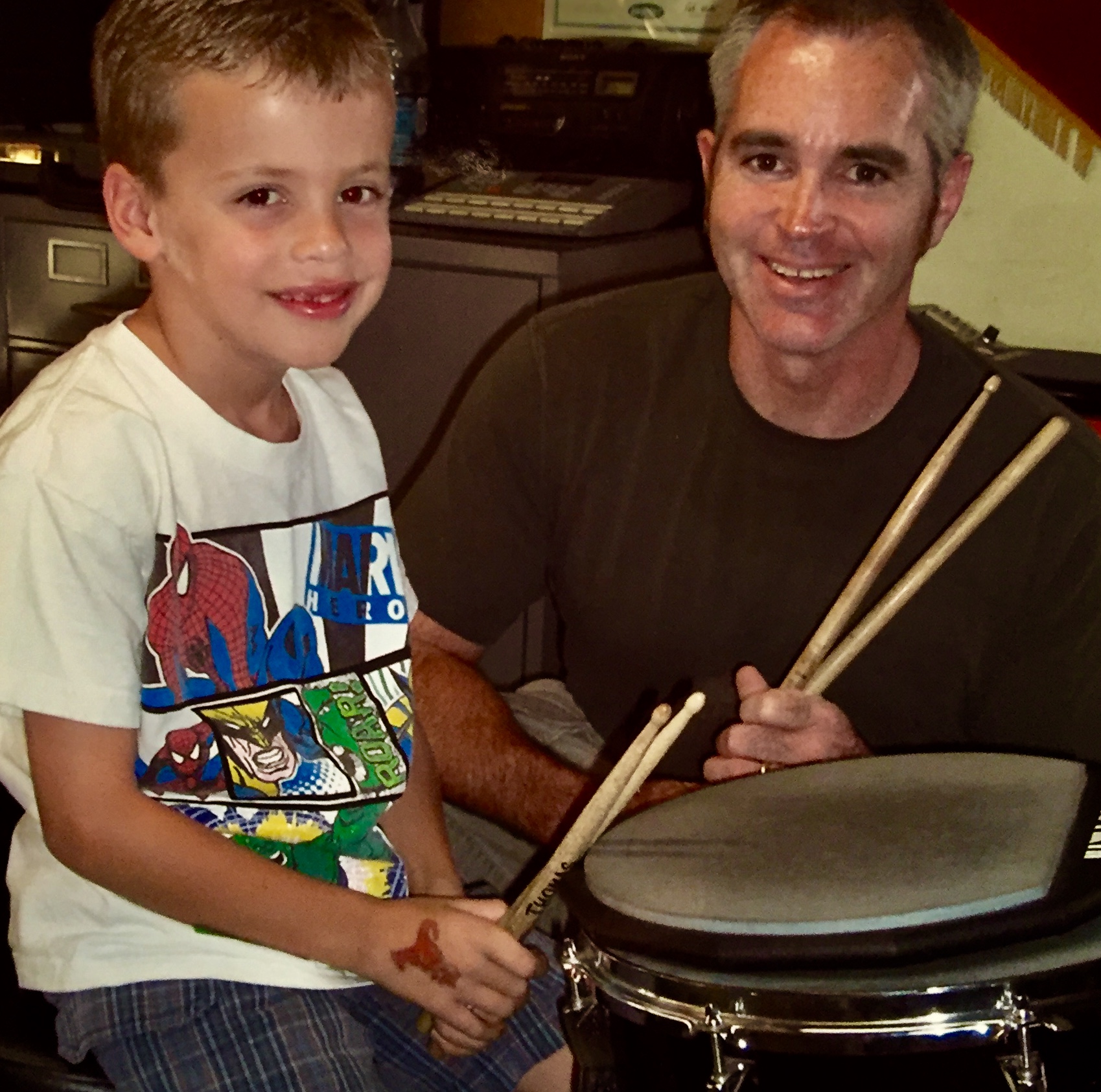 Question:  Rob, you have been teaching drums for over 20 years. Who was YOUR most influential drum teacher when you were a drumming student? And has your old teacher influenced you in the way you teach your students?
Rob:  "My most influential teacher was Roy Burns. As my parents weren't supportive of my drumming passion, I was forced to seek out teachers on my own when I was 16, had my first job and could afford to pay for them myself. My first two teachers were terrible. One guy was older and bitter, the second guy was younger and very unorganized. I gave up private lessons for several years. Consequently I developed some potentially career ending injuries due to bad technique. I knew I had to seek out a teacher, but was nervous as I'd had such a terrible experience before. I found an ad stating that Roy was teaching at Strike Zone Percussion in Garden Grove. I couldn't believe it! I had been reading his column in 'Modern Drummer' magazine every month for years, and loved him! I sought him out and studied with him for over two years.  He squared my hands away and within two months of applying his concepts and techniques, my pain went away."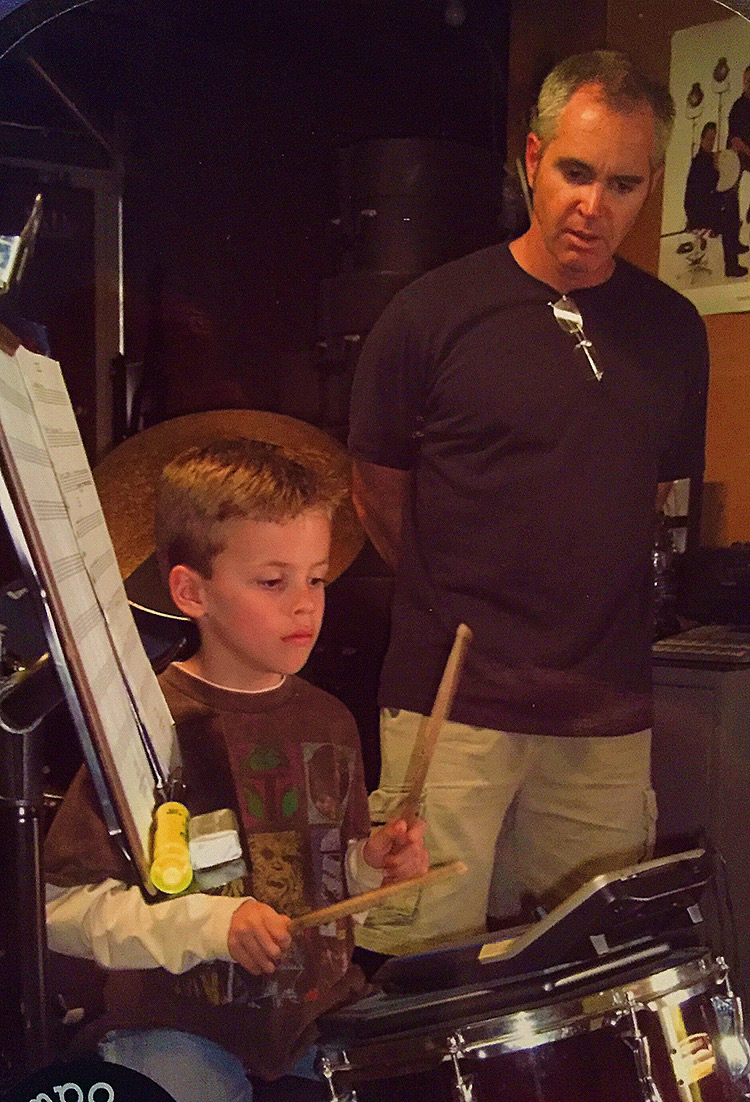 The pic above:  We started each lesson on the 'Beatnik Rhythmic Analyzer' working on the most important job of a drummer – keeping time, and accuracy.  That machine has a built-in metronome, and it analyzes your time keeping ability.  Then it was rudiments on the pad, and reading…
"His influence on my teaching is undeniable. Roy cared deeply for each one of his students and never forgot a single detail about their lives. Each lesson started with him asking how the week went. He remembered everything a student told him from previous lessons. He spent a lot of time talking about life and the business of drumming. If it were not for Roy, I would not be drumming or teaching the drums."
Question: We know you still play the drums professionally, and perform gigs on weekends. What has been your favorite gig you've played so-far, with what band, and where was it?
Rob: "This one is easy! It was a gig in 2006 in Cabo San Lucas, Mexico with the band I play in now, 'Party Jones.'"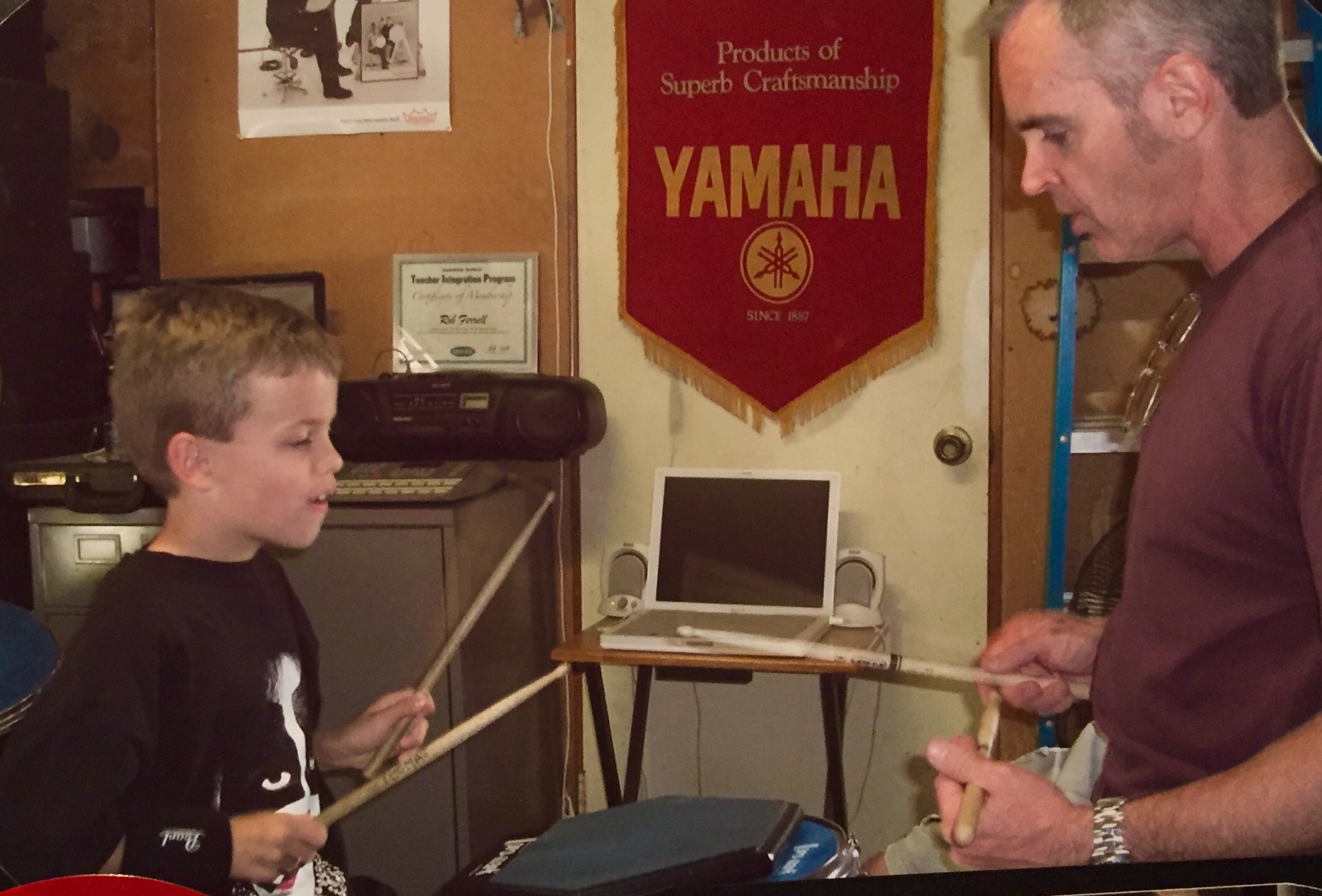 Pic above: Rudiments on the drum pad…I like my Peter Criss T-shirt too!
Question: Rob, can you tell us about your gig drum gear?
Rob: "I've been a Yamaha guy since 1987. I started out with a classic 6-piece Recording Custom set. I've always loved the sound of Yamaha drums and birch in particular.  I acquired a Maple Custom set soon thereafter for those gigs requiring more of the warm, maple sound. Currently I'm using a 4-piece Live Custom set. I'm not a super hard hitter and many of the gigs I play require extremes in volume. Brushes for jazzy cocktail hours and dinner sets/then sticks for the dance portions. The Live Customs give me the focus of my beloved Recording Customs, but with a more modern sound, and more projection without me having to work so hard.  I also play Zildjian K cymbals, Remo drum heads, Pro Mark sticks and use a Drum Dial Tuner."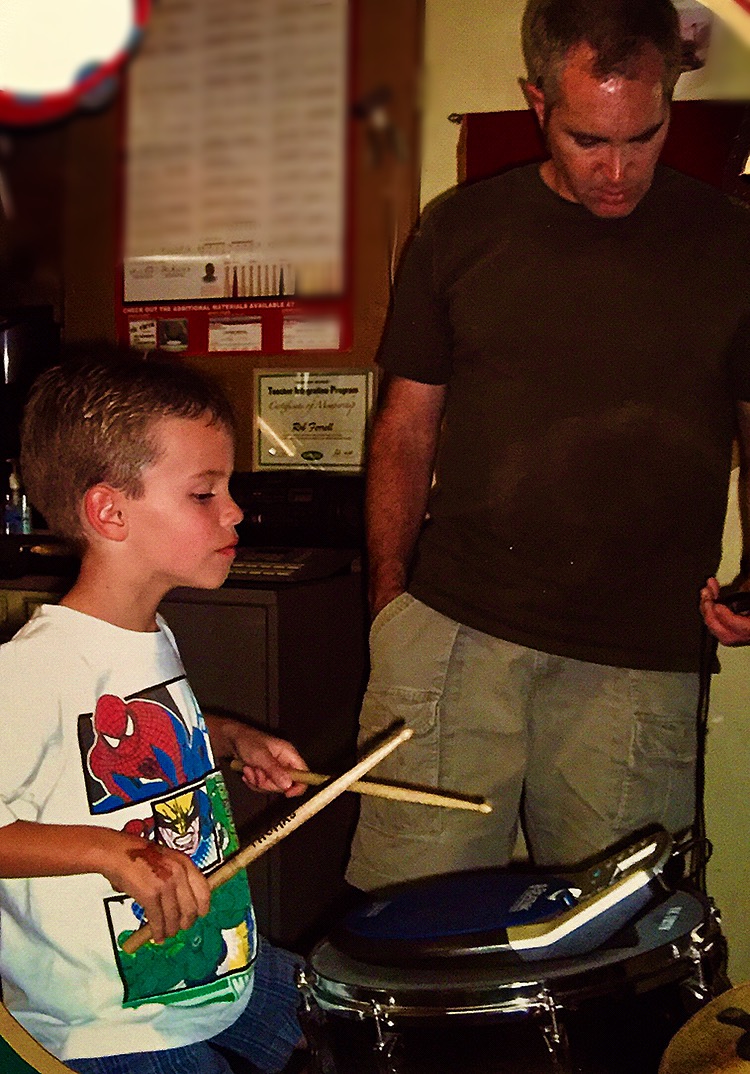 Question: If you could talk drums with your favorite drummer, who would you chose?
Rob: "Hands down for me it would be Steve Gadd. Steve epitomizes the quintessential drummer for me. When I was a kid, he was the first drummer who "did it all." He'd play pop with Rickie Lee Jones and Paul Simon, and then some heavy fusion with Chick Corea. He was the first drummer I encountered who played more than one style of drumming AND did it authentically. His attitude over the years has always remained one of positivity and gratitude. His credits, both for playing live and for recording, are staggering. His influence is as undeniable as his groove!"
Pic above:  Rob would always end our practices with the chance for me to play the drums and show him what I was working on that week.  I'd play solos, or,  to a play back of a song I liked.  That was the reward – the fun –  for all the hard work …
Question:  You have been teaching drums for well over 20 years, to over 100 students. Can you remember when a 6-year old kid named Thomas Lowrey came in for his first lesson with you at Rob Ferrell Drum Studio?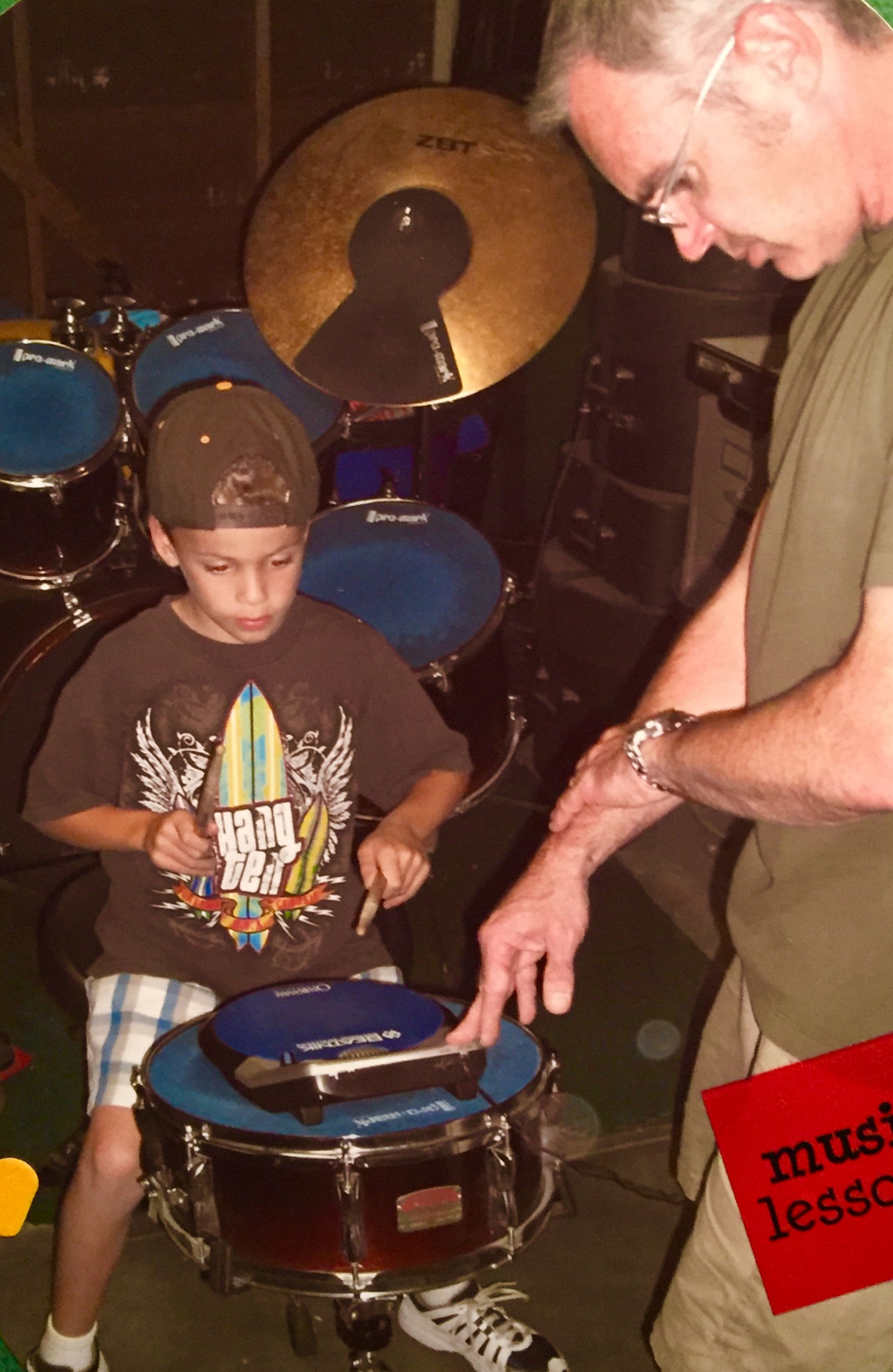 Pic above:  Rob watching/keeping time to how many strokes per minute I was playing…
Rob: "Unfortunately I remember it like it was yesterday! Time is moving too fast! I remember when he first came in, his parents were almost apologetic about him being so young. He couldn't even reach the pedals! I learned a long time ago to never discount a student for being too young. Even at 6 years of age, Thomas displayed incredible maturity. He was well behaved, his attention span wasn't like that of a gnat. I'd give him things to work on for the week. The following week he'd come in completely prepared. He never once complained or griped about something being too hard. Super polite and well mannered. He already had a great sense of rhythm and was reading music in no time."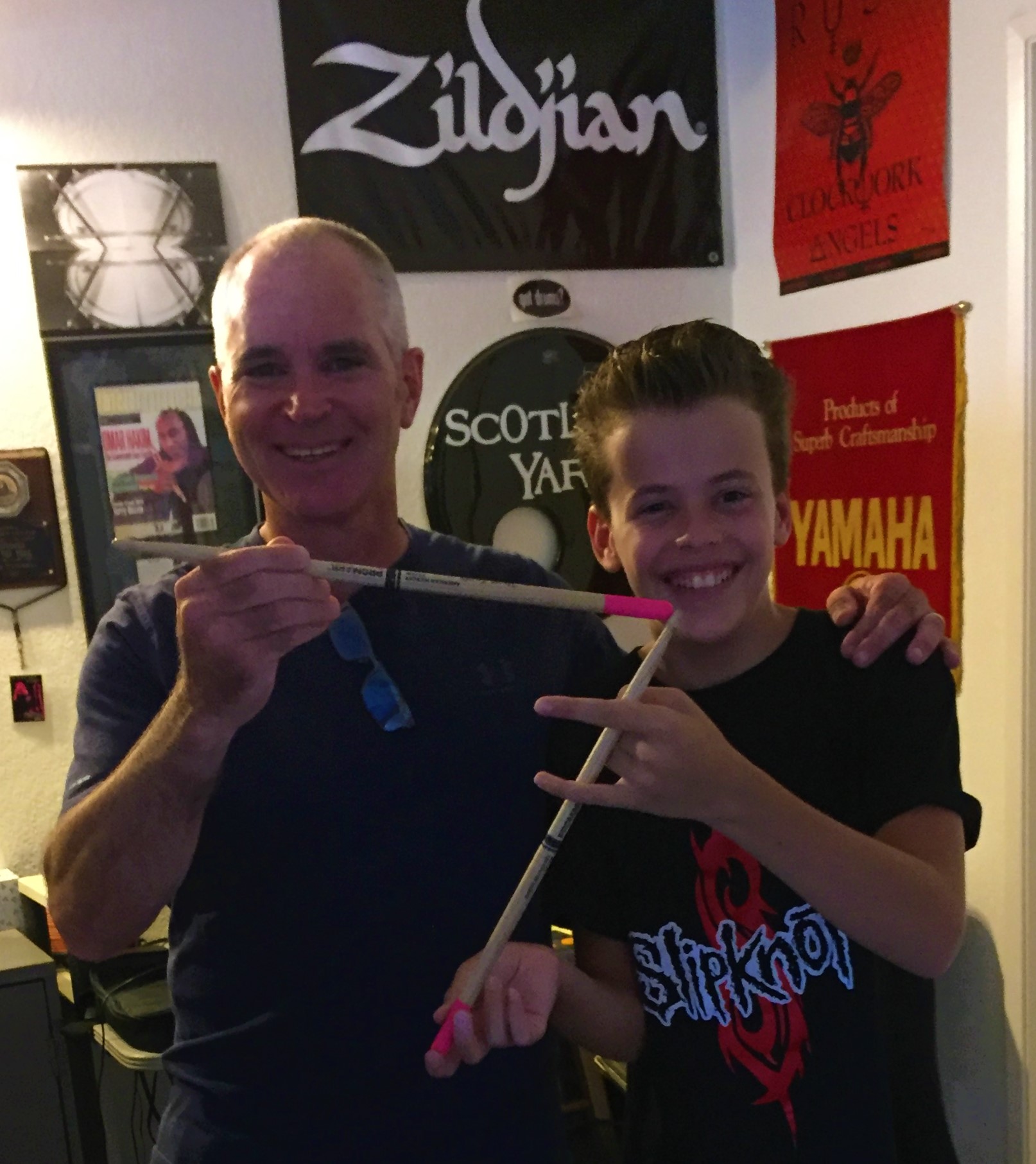 Pic above:  Rob and I make the drum sticks into a '7' to celebrate 7 years for me at his studio!
"One unique thing about Thomas that I think contributes to his inimitable style is that he is naturally left handed. His dad is a drummer and is right handed. Thomas was already playing around on his dad's drums before his first lesson with me, and was naturally playing open. I'm not a dogmatic teacher in any sense of the word. I try to hip my students to different techniques and let them choose the ones that are most comfortable for them. I explained that he could play right handed on the righty set, open on the righty set, or lefty on a lefty set. He chose open on the righty set, and in my opinion, it had made him an even better drummer. Working on his non- dominant hand and foot for so many years  has made his chops all the more wicked. Thankfully he exercises extreme maturity when performing and doesn't switch into "shred fest" mode when not appropriate! Because of my experience with Thomas, I've been much more receptive to allowing my left hand students to play open."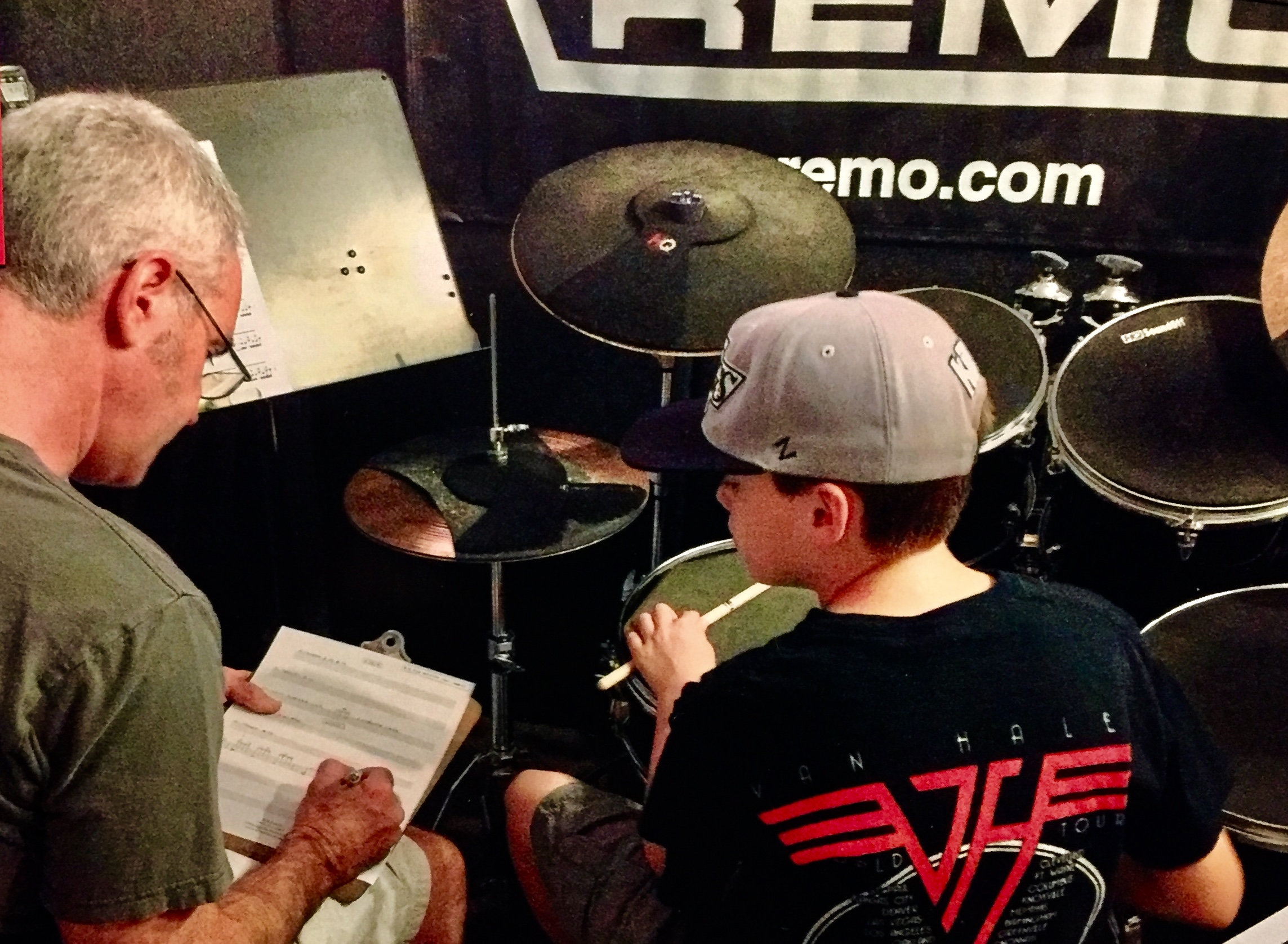 Pic above:  Reading, always reading…
"Thomas from a very young age was very clear about wanting to play the drums as a career. To see his progression from a 6-year old, who couldn't reach the pedals, to a 15 year old who has re-recorded the first Van Halen album at Sunset Sound, to gigging regularly with Johnny Vatos' Oingo Boingo Dance Party, to maintaining outstanding grades at the prestigious Orange County School of the Arts Commercial Music Program – and has been featured on Drum Channel with Don Lombardi  – has been nothing short of overwhelming. I am so proud of Thomas and all his accomplishments. To think he's done all this and so much more, in his 15 years of life is pretty amazing. I'm very grateful to be along for the journey!"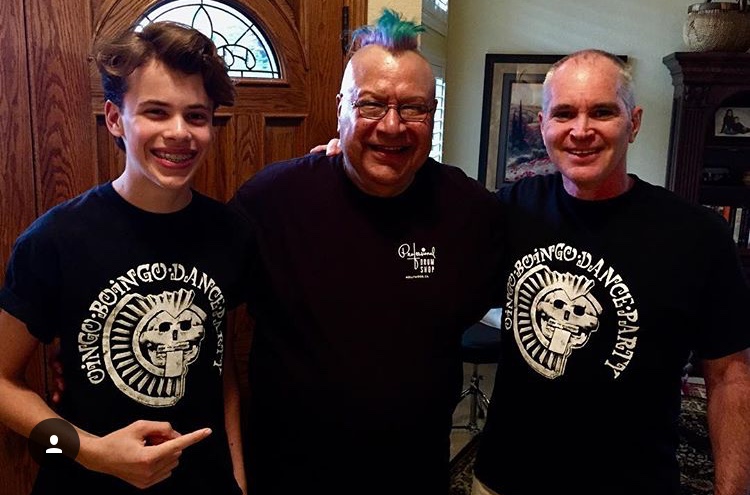 Pic above:   Fun day talking drums with Johnny Vatos!  Rob and I have our new 2017 tour T-shirts on!
Question: Rob, in your opinion, what makes a #hardestworkingdrummer?
Rob: "To me there are several things. Work ethic is huge. Always show up on time. Always be over-prepared. Always be grateful for the gig. Always stay positive (even when things are going badly, stay professional)! Constantly be working on your craft, and never rest on your laurels. It's not about maintaining your status as the fastest gun in the West. It's about knowing the only real competition is yourself. Roy Burns once told me not to say, 'I want to be the best drummer in the world.' Instead, Roy suggested I say, 'I want to be the best drummer I can be.' Those words are so simple, yet so liberating and powerful!"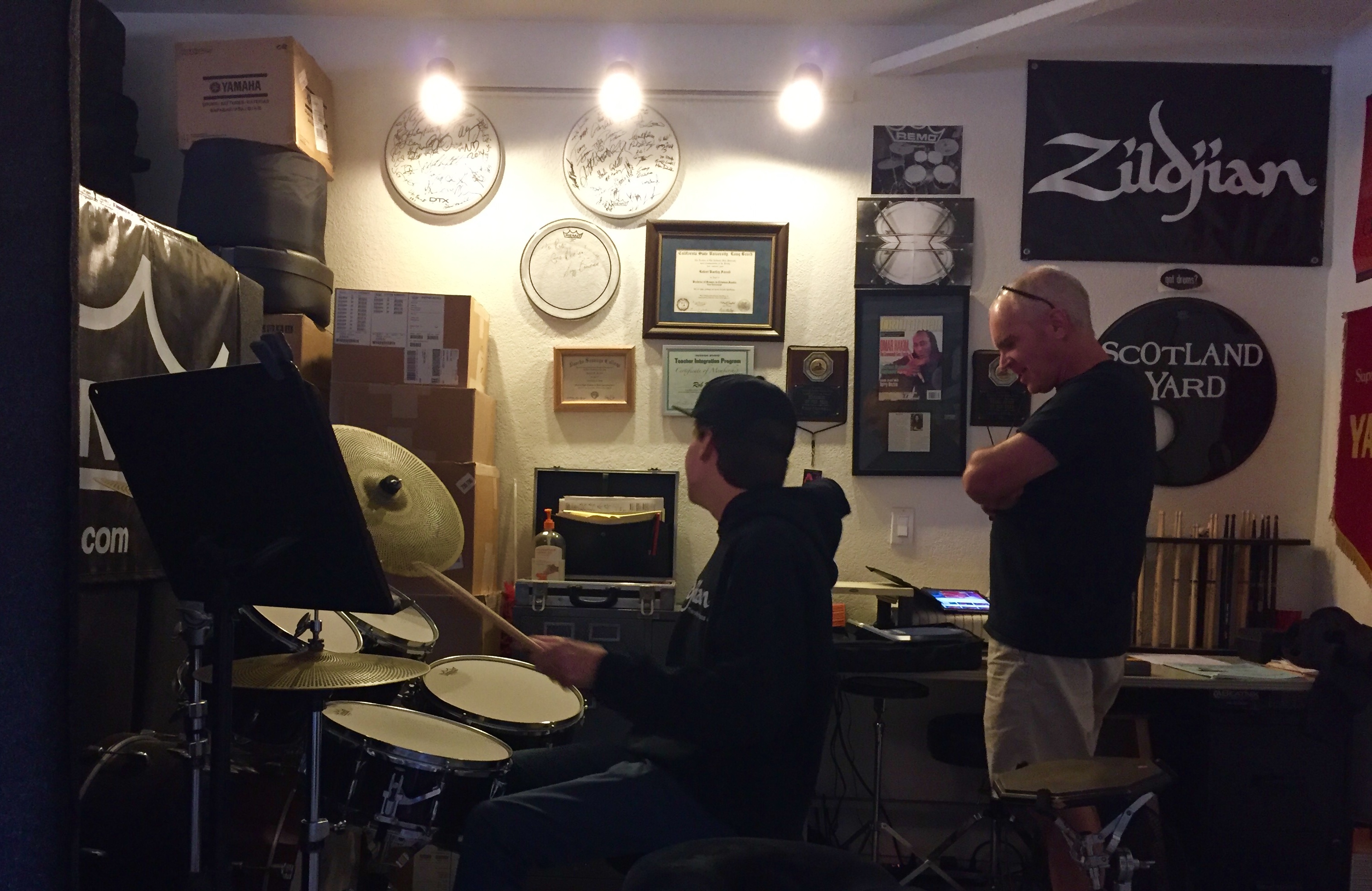 Pic above: Getting ready for shows at Rob Ferrell Drum Studio is always fun for me and Rob.  He can listen to me play songs from my set lists, and give me that little tip to make my drumming sound even better!
"The drum brotherhood has always been about sharing, encouraging and motivating.  All drummers, regardless of status or level, have something to say on the instrument. Ours is the oldest instrument there is, and we have a responsibility to the craft."
I want to thank Rob Ferrell for taking the time to do this!  I also want to send out a big thank you to my mom! She is the one that did the research online and found Rob Ferrell Drum Studio!  Thanks Rob for all you have done for me, so far, on my journey with the drums! – Thomas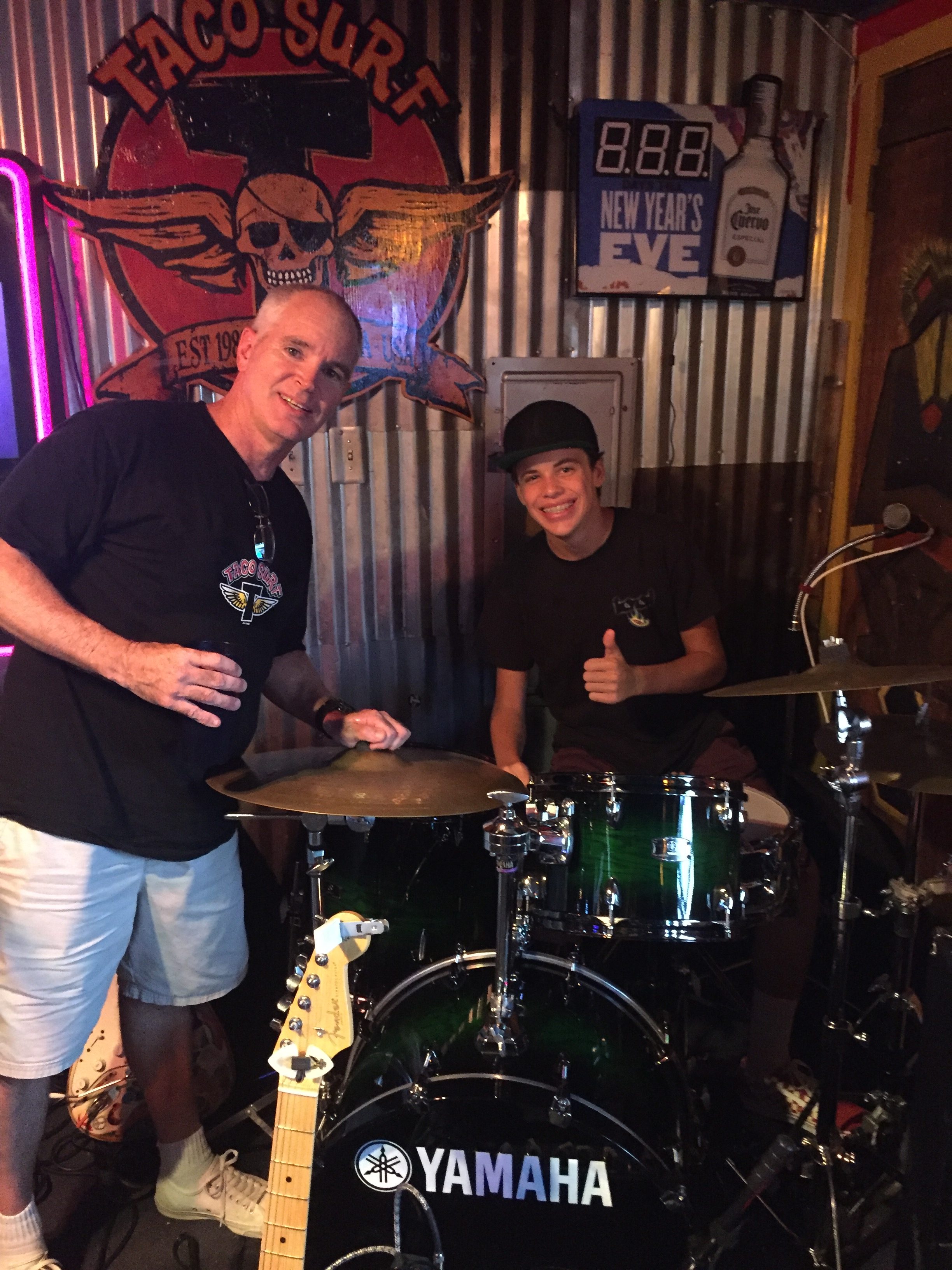 Pic above:  Rob and I at Taco Surf in Huntington Beach, CA.  Rob asked me to sit-in and play a song with his band Party Jones on his green Yamaha Live Custom kit!