thomasondrums:  Halloween 2018 LIVE shows with Oingo Boingo Dance Party & Orange County School of the Arts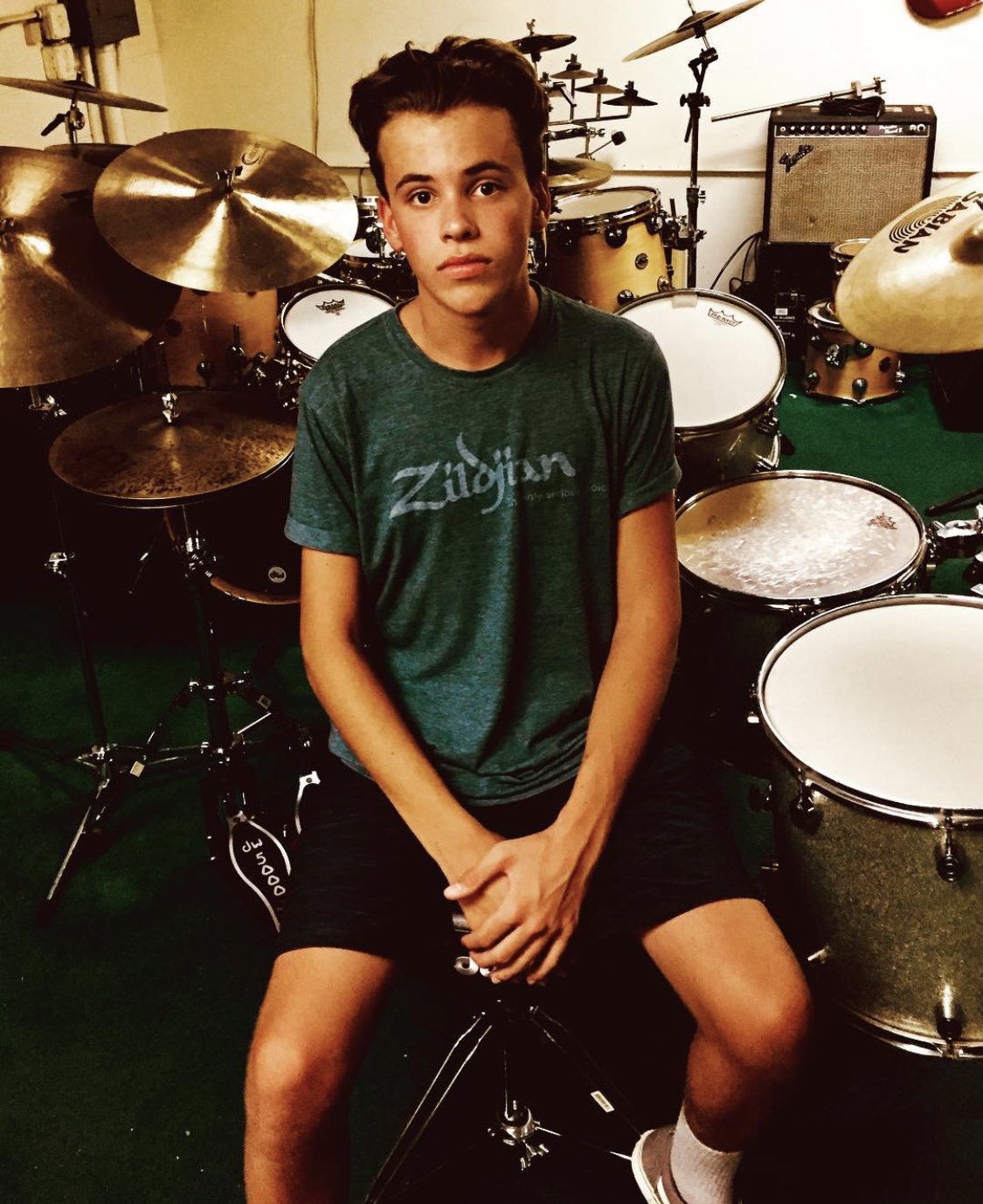 Photo above:  at  Johnny Vatos' drum studio rehearsing for the Oingo Boingo Dance Party Halloween 2018 shows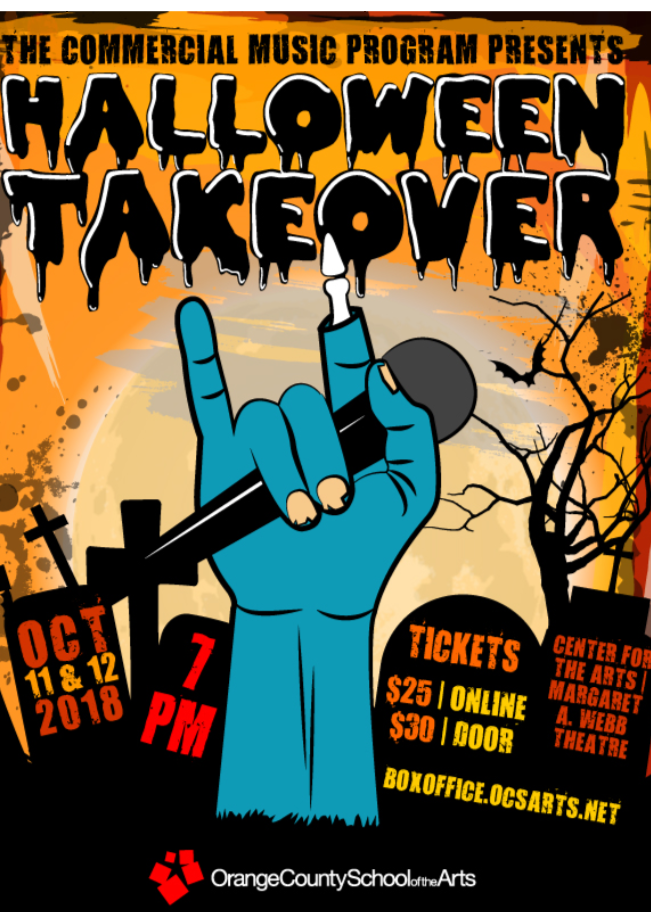 The Show Bill for the OCSA Halloween Takeover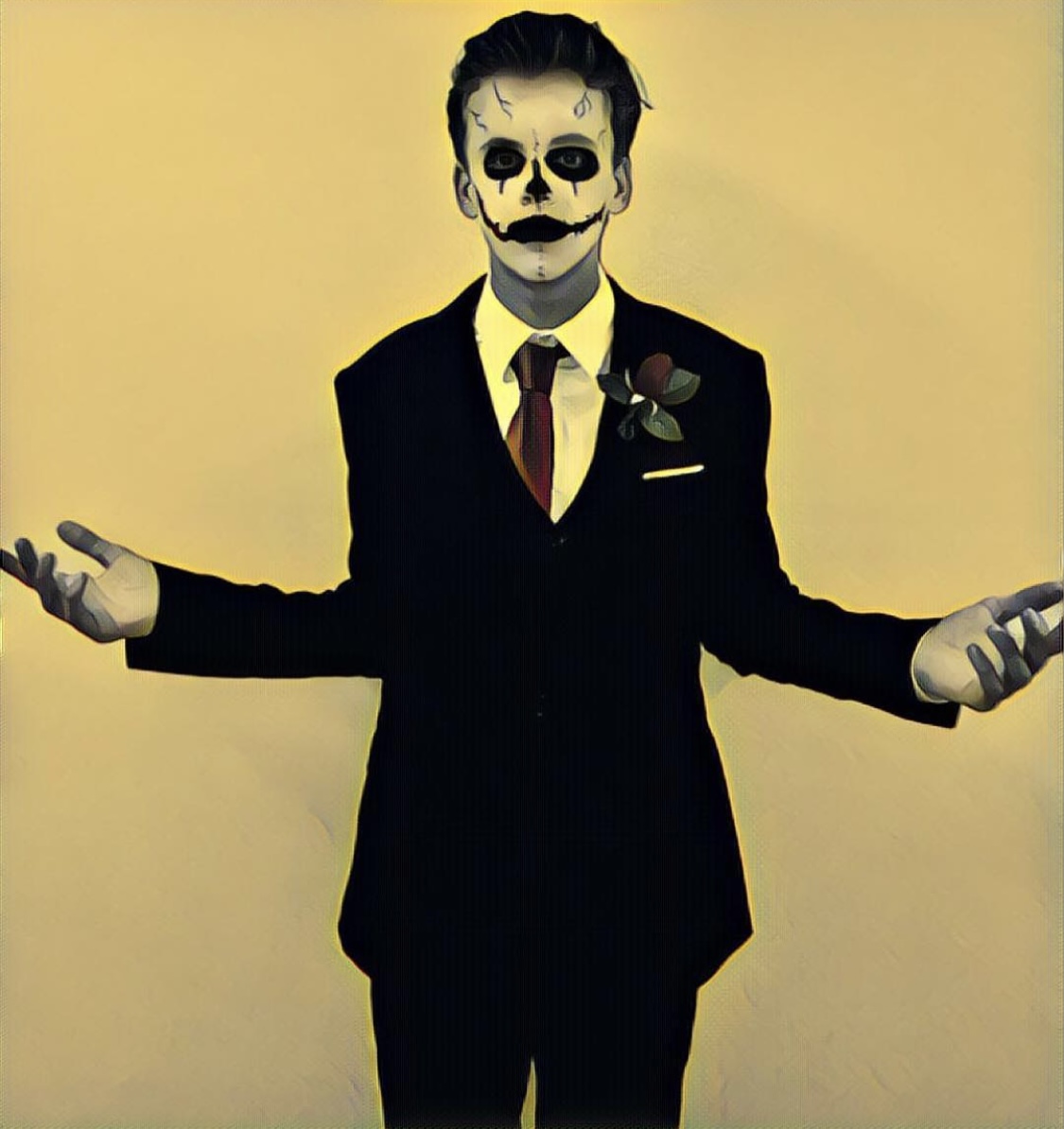 Photo above: thomasondrums "all dressed up and ready to go"
Halloween Shows – at OCSA – Take One & Take Two: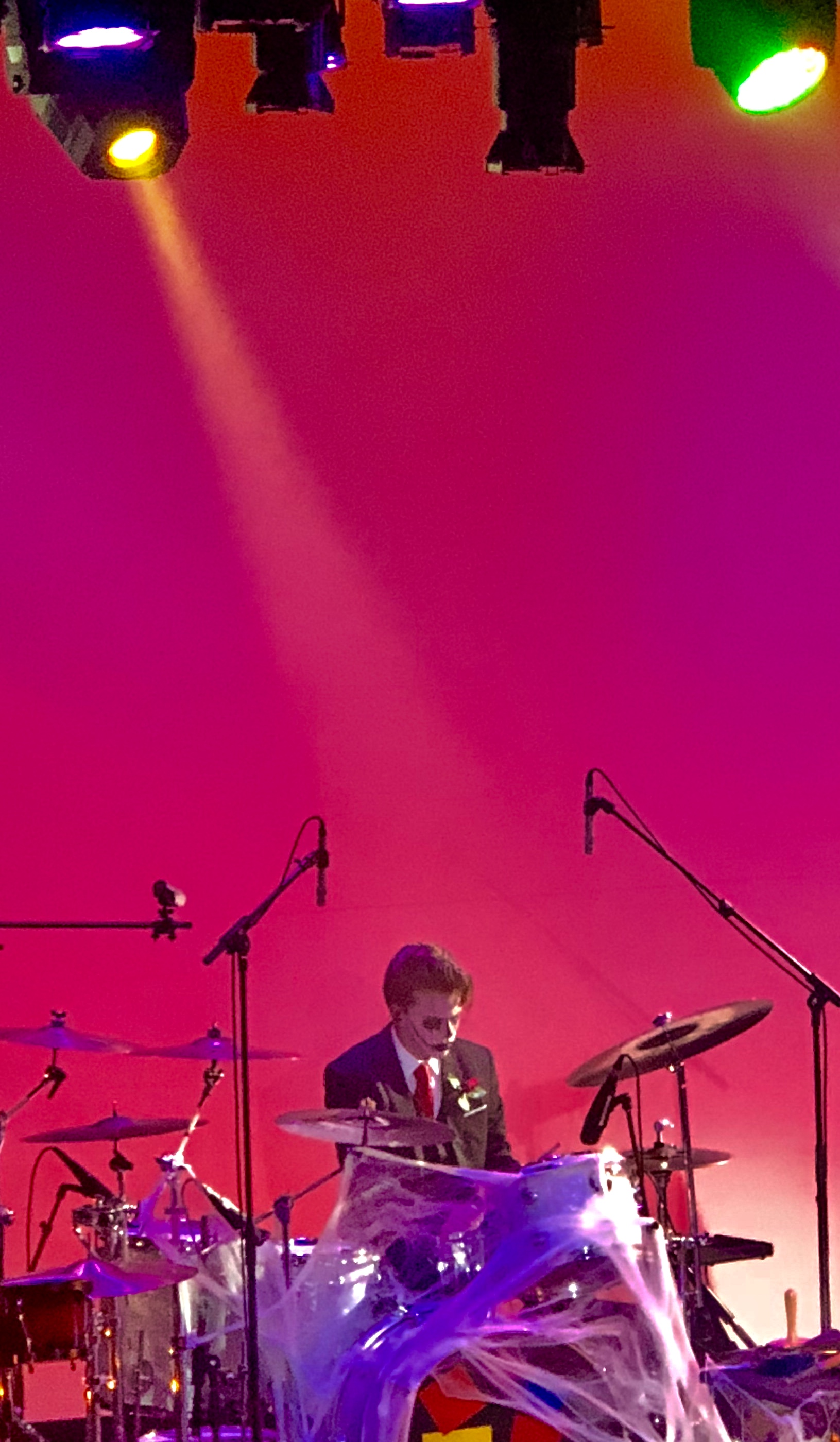 Photos above:  Show time at the Webb Theater…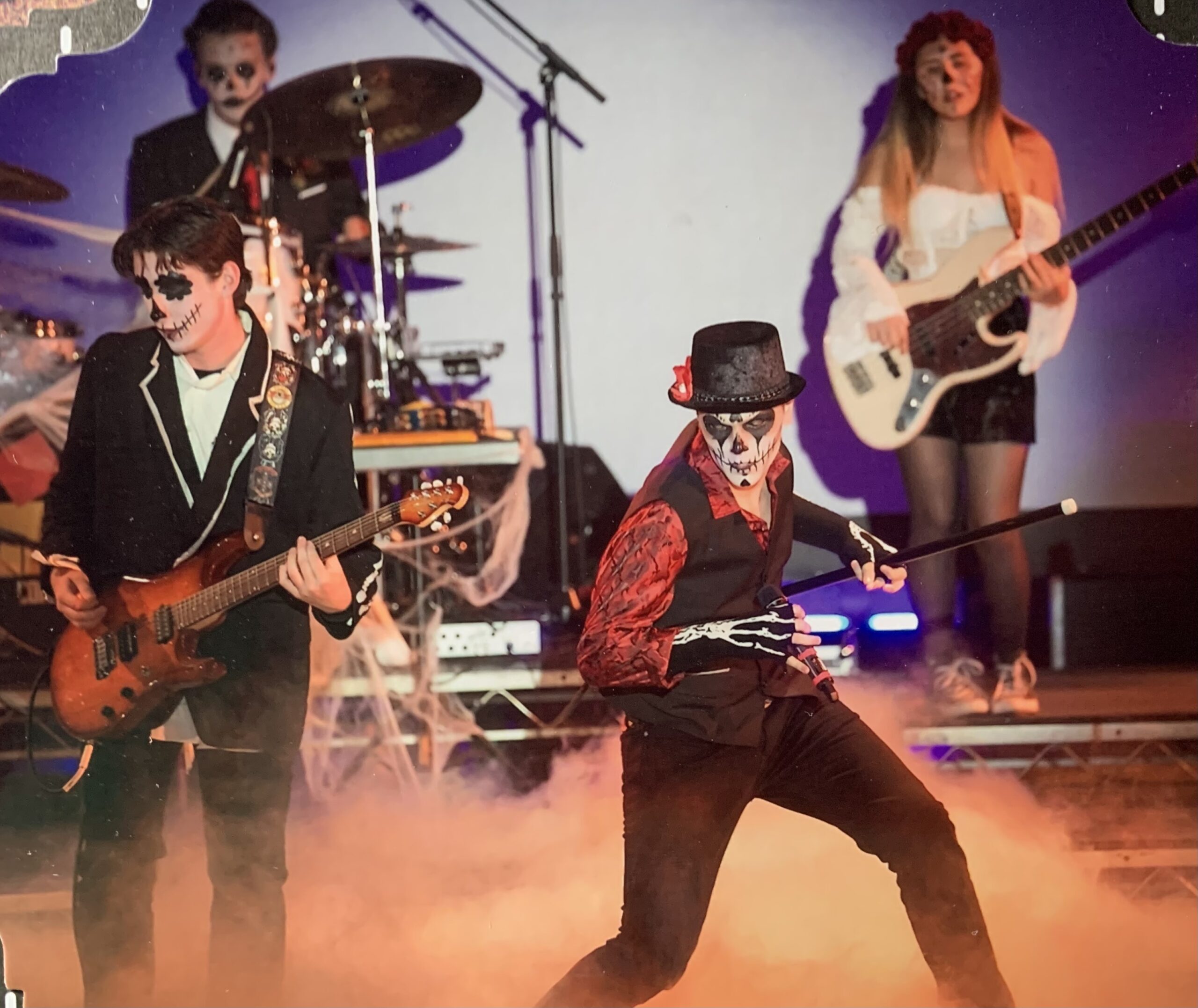 October 2018's Halloween season was all about what I love to do most – performing LIVE music!  It started with two shows for Orange County School of the Arts, Instrumental Music Conservatory – Commercial Music Program's Production, "Halloween Takeover!"  The highlight for me was opening those shows on drum set with a song I am very familiar with, "Dead Man's Party" by Oingo Boingo!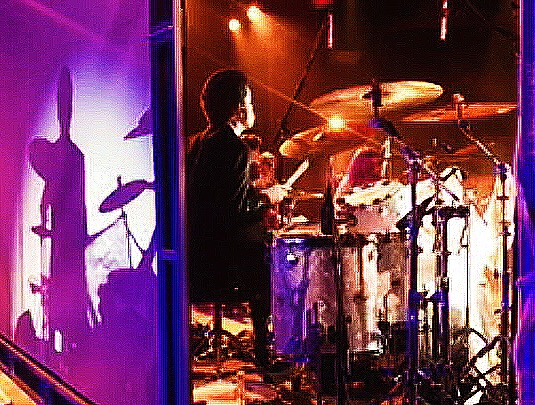 Photo above: thomasondrums at the Webb Theater drumming in one of two "Halloween Takeover" shows
After the OCSA shows, I posted a clip of our version of the classic song, 'Dead Man's Party' to my Instagram.  And check out one of the cool comments that was posted:
"Hey OCSA!  Just enjoyed you guys and gals knocking it out of the park on a song I know too well, Dead Man's Party!!  The band, the horns and great front man owned it!  Thanks Thomas Lowrey for representing all things Boingo, proud to know you man! – Johnny Vatos!"
12 hours later, I was loading in gear and setting up drums for the first Halloween 2018 Oingo Boingo Dance Party show.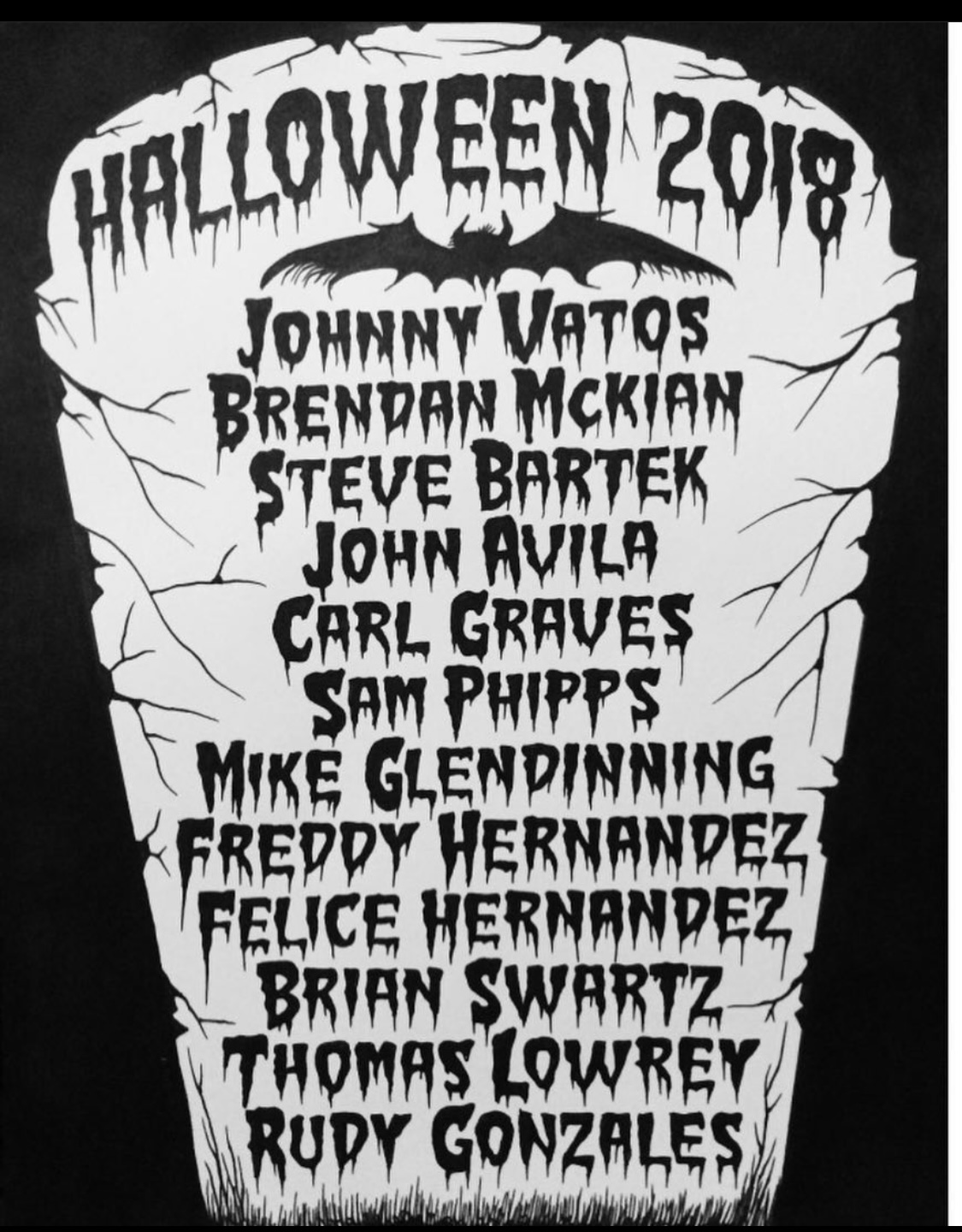 Photo above: This was the back of the Oingo Boingo Dance Party Halloween 2018 Tour T-shirt.  It is the first tour T-shirt that ever had my name on it!
Halloween Shows – Take Three: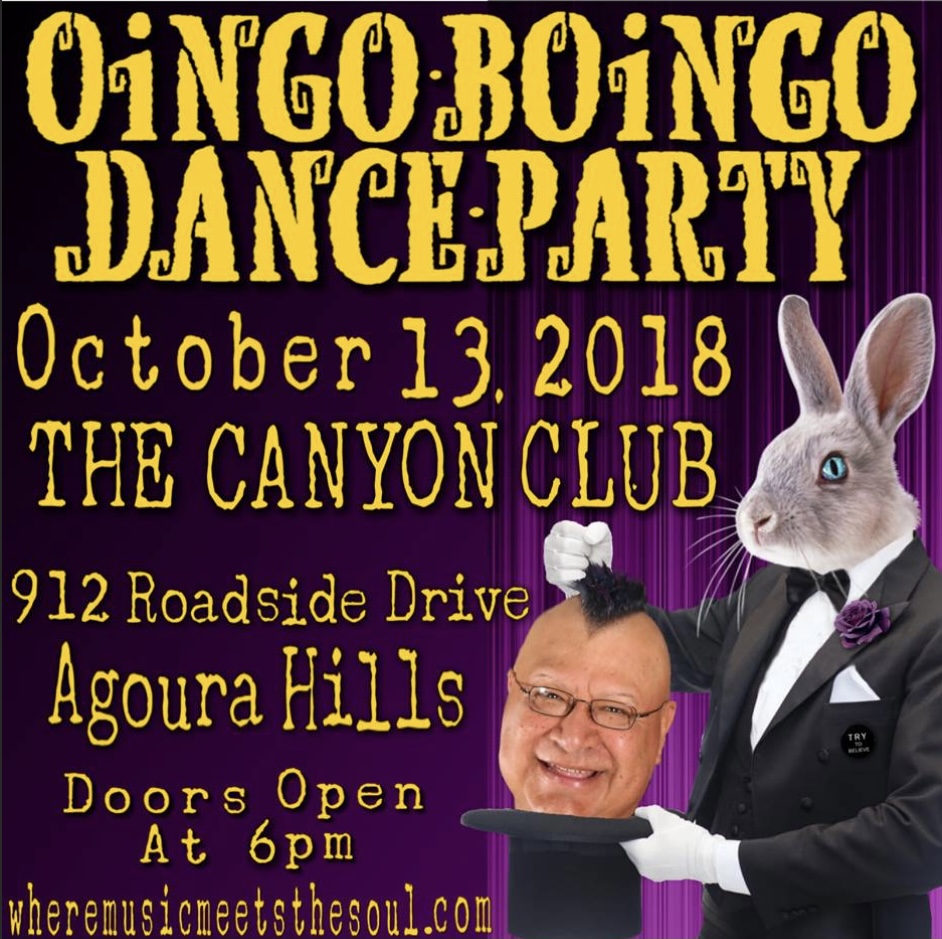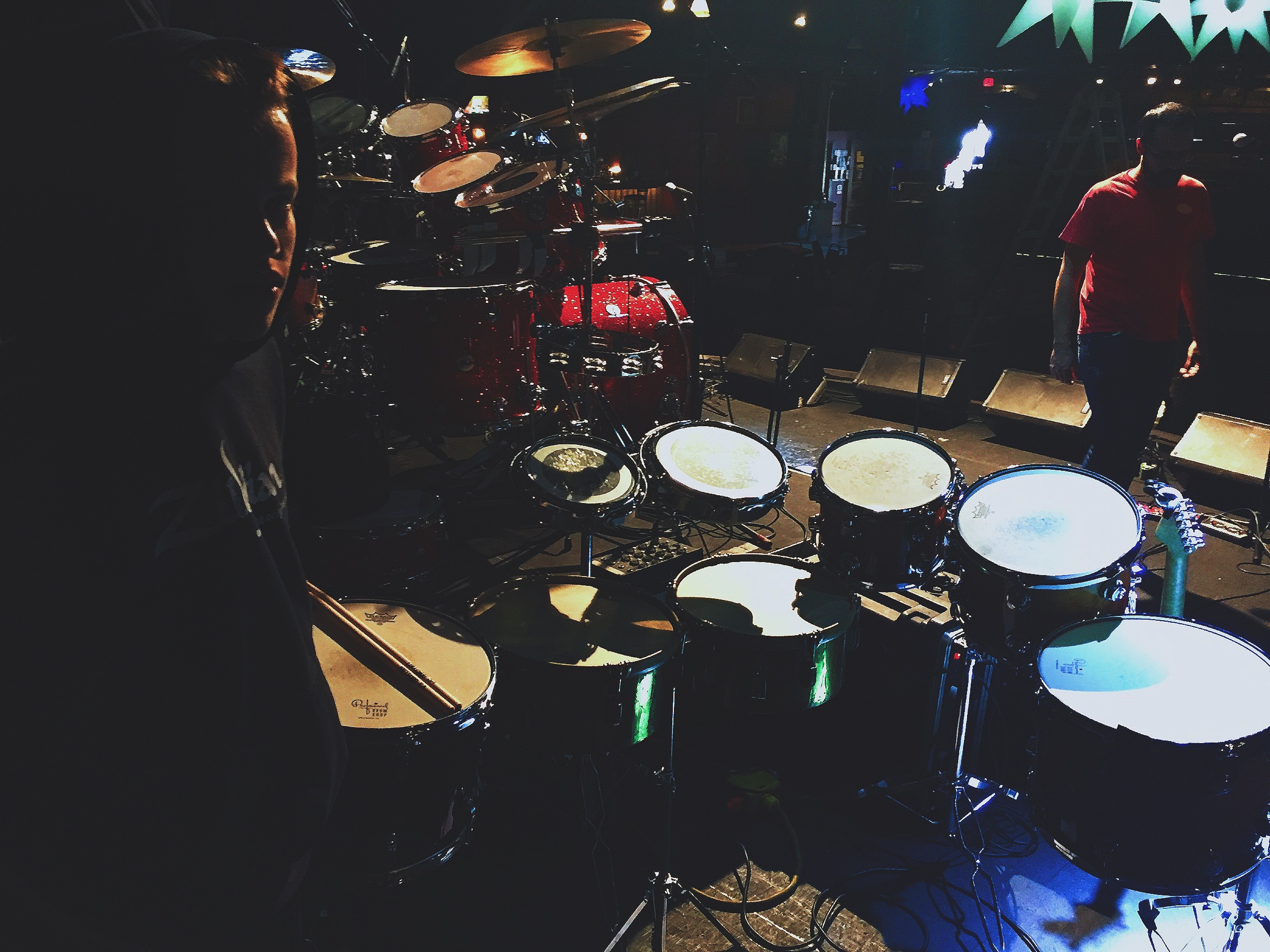 Photo above: all set up prior to soundcheck at the Canyon Club behind my drums
My third live show for Halloween 2018 was at the Canyon Club in Agoura Hills, California.  The Canyon Club always gets packed with excited Boingo fans! They have a great time, and sing along to all the classics.  You gotta be careful too.  One time at the Canyon Club a drunk woman climbed on the stage during our set, and tried to grab "Slugo" – and in doing so, she knocked over and bent one of his precious saxophones!
The thing that people that don't play in a band realize is the time commitment it takes to play live shows like these.  Typically we arrive at the venue by 1:30pm.  And, depending on where the show is, it might be a long 2-hr or more car ride.  Of course, if we stayed at a hotel overnight that is much easier  (which we have done).  As the band members arrive at the venue, we load-in our gear, and set up and tune our instruments. Then the sound crew begins running cables and putting microphones all around – and for an 11-piece band like ours, that takes time.  Then we soundcheck, and play through a handful of songs.  The lighting crew is usually working while we soundcheck.  By the end of soundcheck it is almost time for doors.  We eat dinner together as a band – usually at the venue, and then the really slow down time starts.  As time passes, you can hear the din of the people in the audience as the venue fills up, and that is when you feel it coming on.  Guys do different things to get ready for showtime.  I usually get dressed and then do some drum rolls and rudiments on my drum pad backstage.  Then we go on, sometimes later than others, but usually around 9pm.  We play a solid 2-hour set, and then we meet and greet the fans, and then our drum tech Rudy Gonzales and I start to pack up both sets of drums.  By the time I leave the venue, it is about 1:00am.  And in a case like the Canyon Club in Agoura Hills, that means a 2-hour drive home.  But, you know what?  I love it all.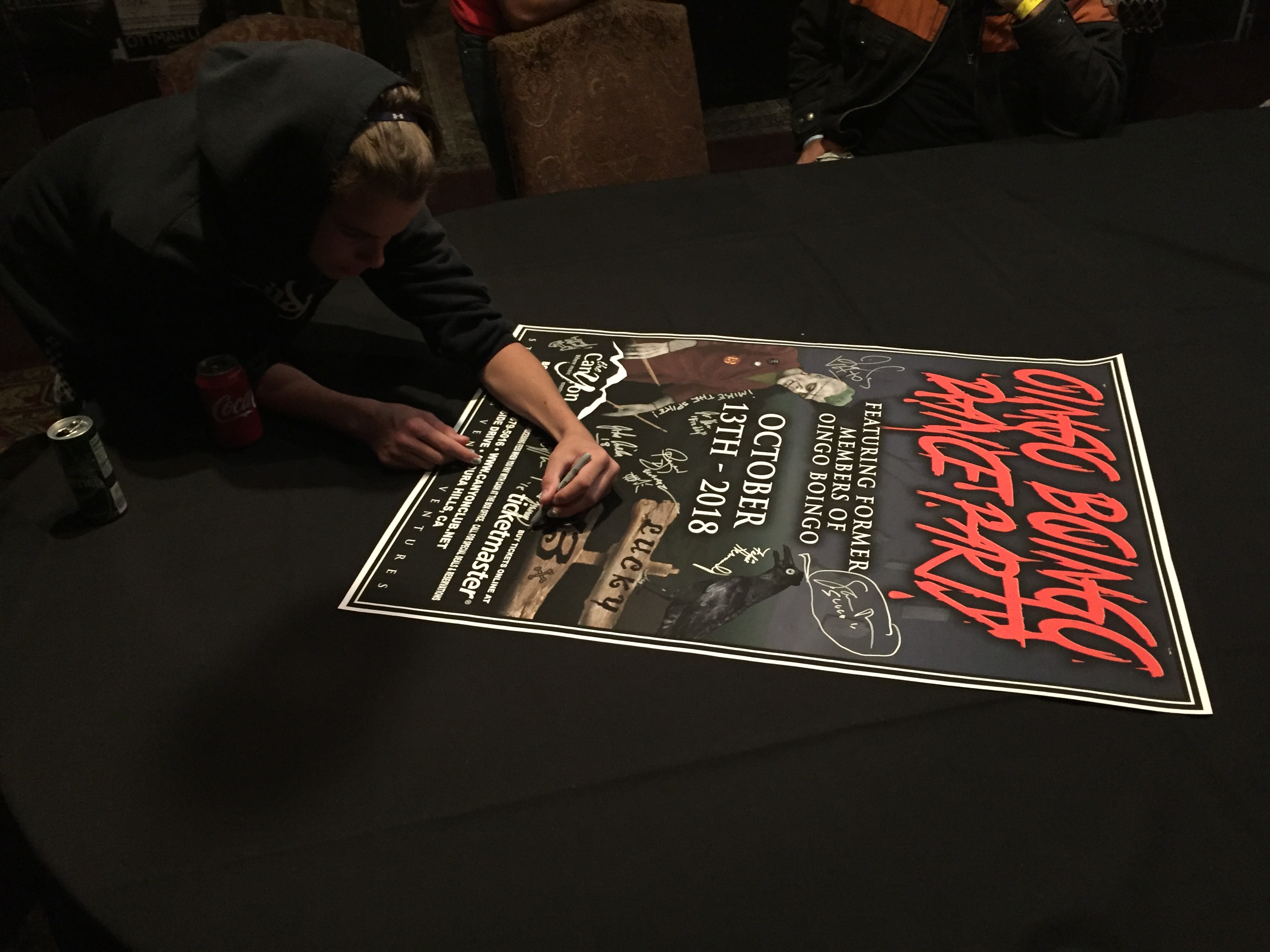 Photo above: backstage after soundcheck, signing the band show poster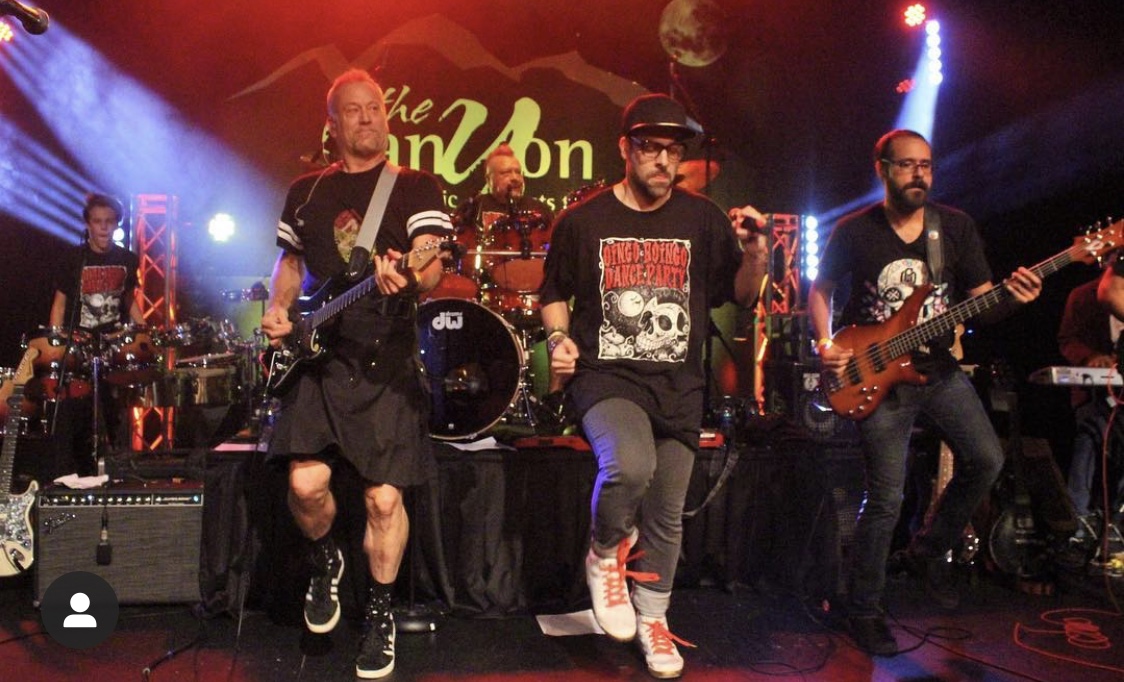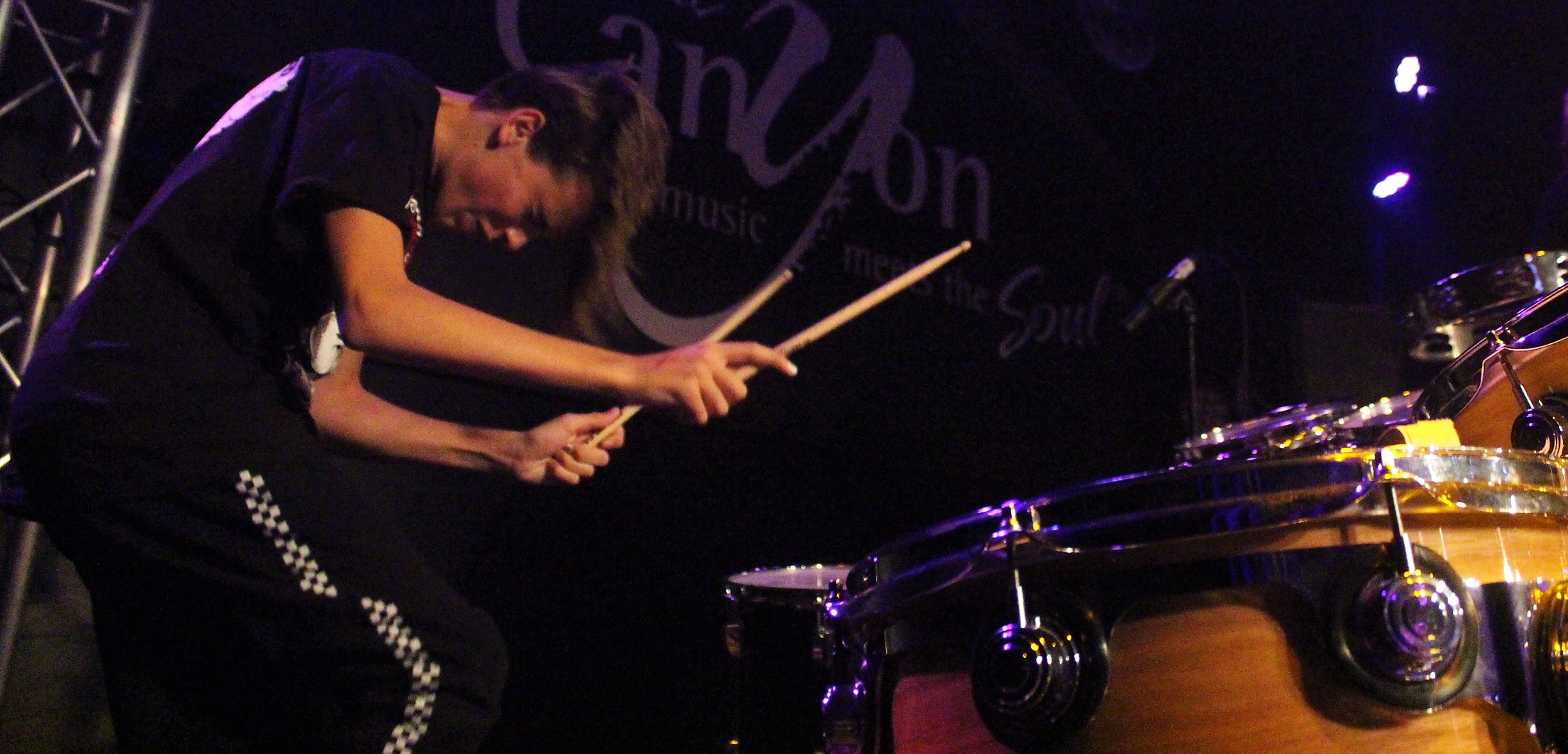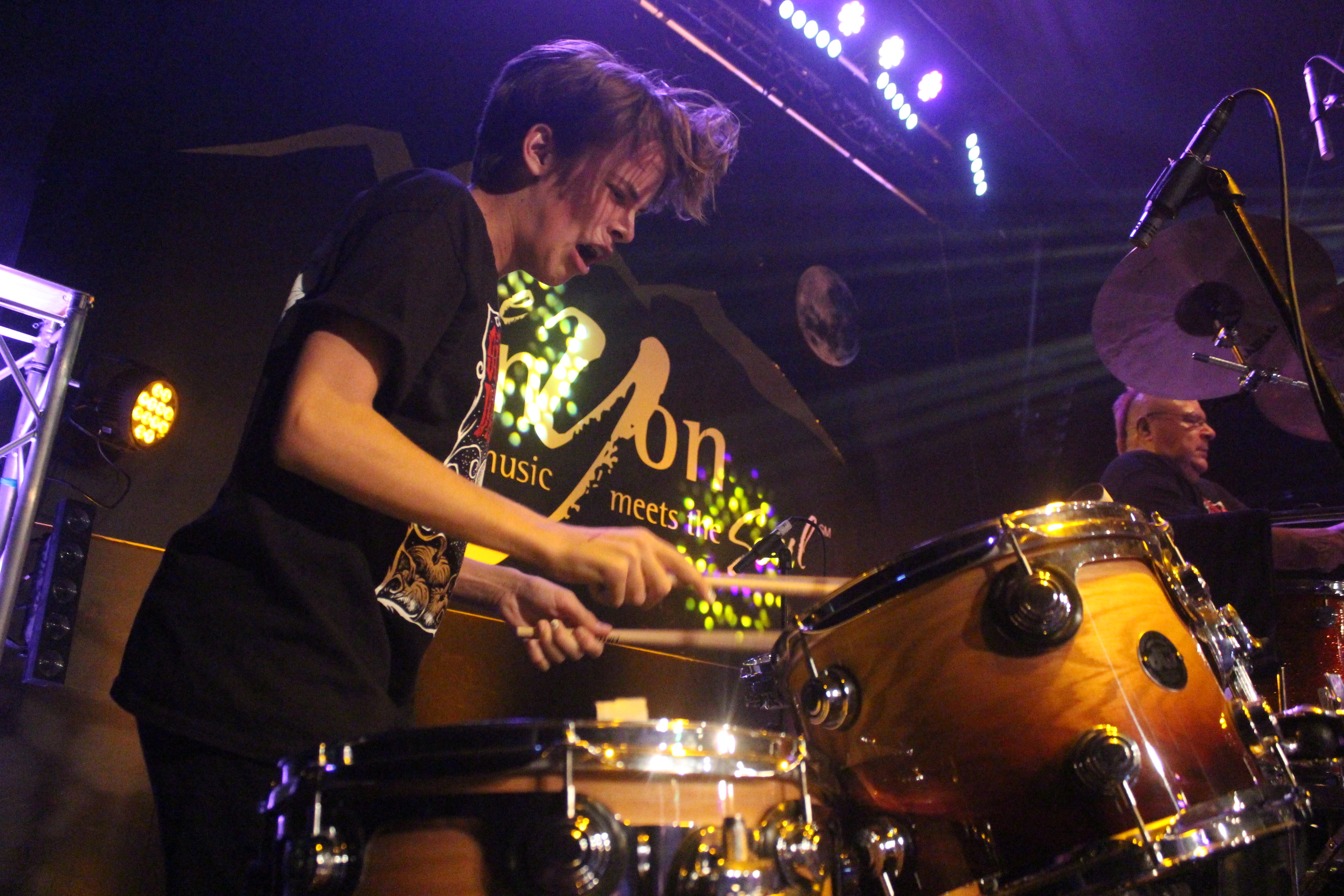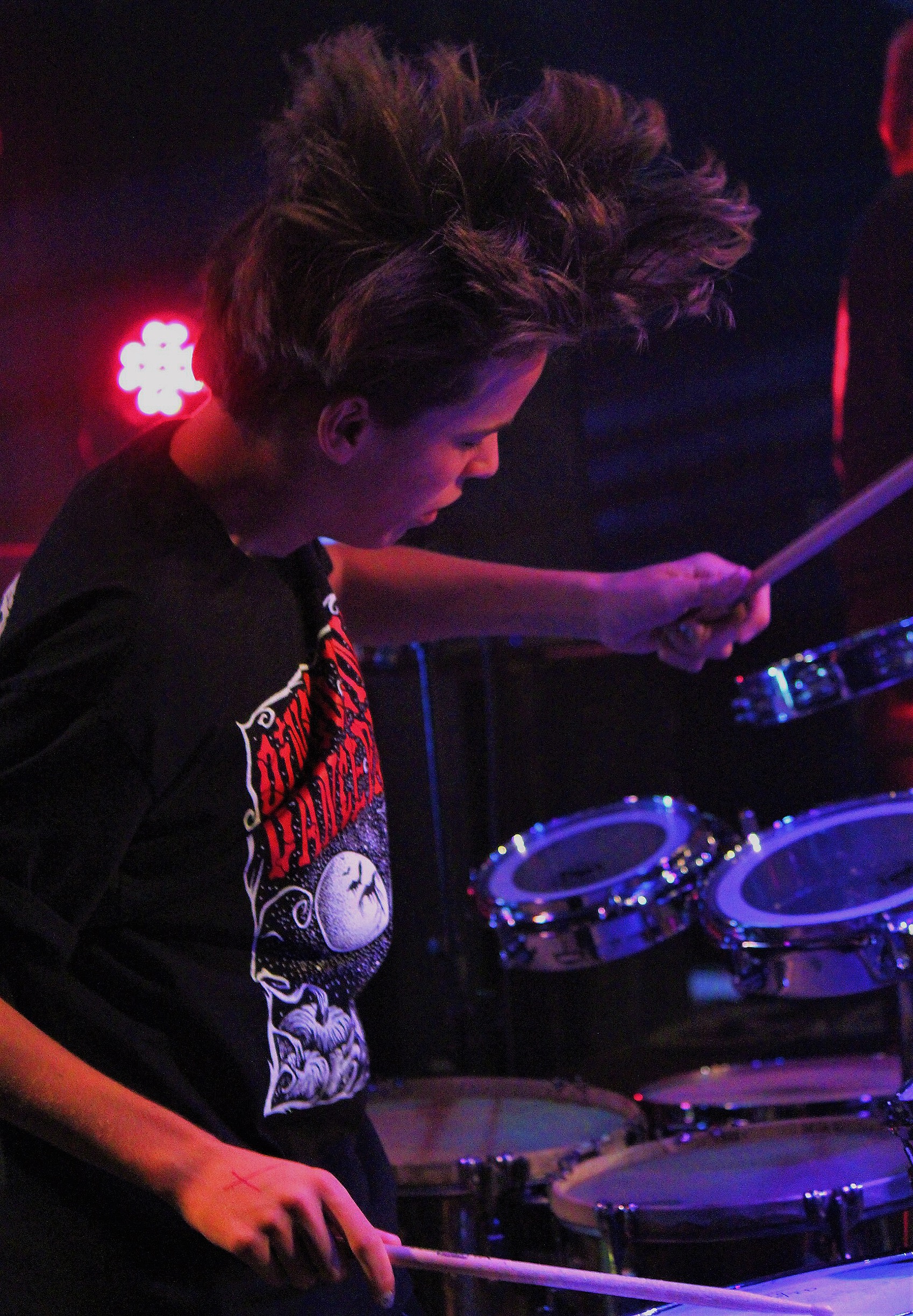 Agoura Hills, California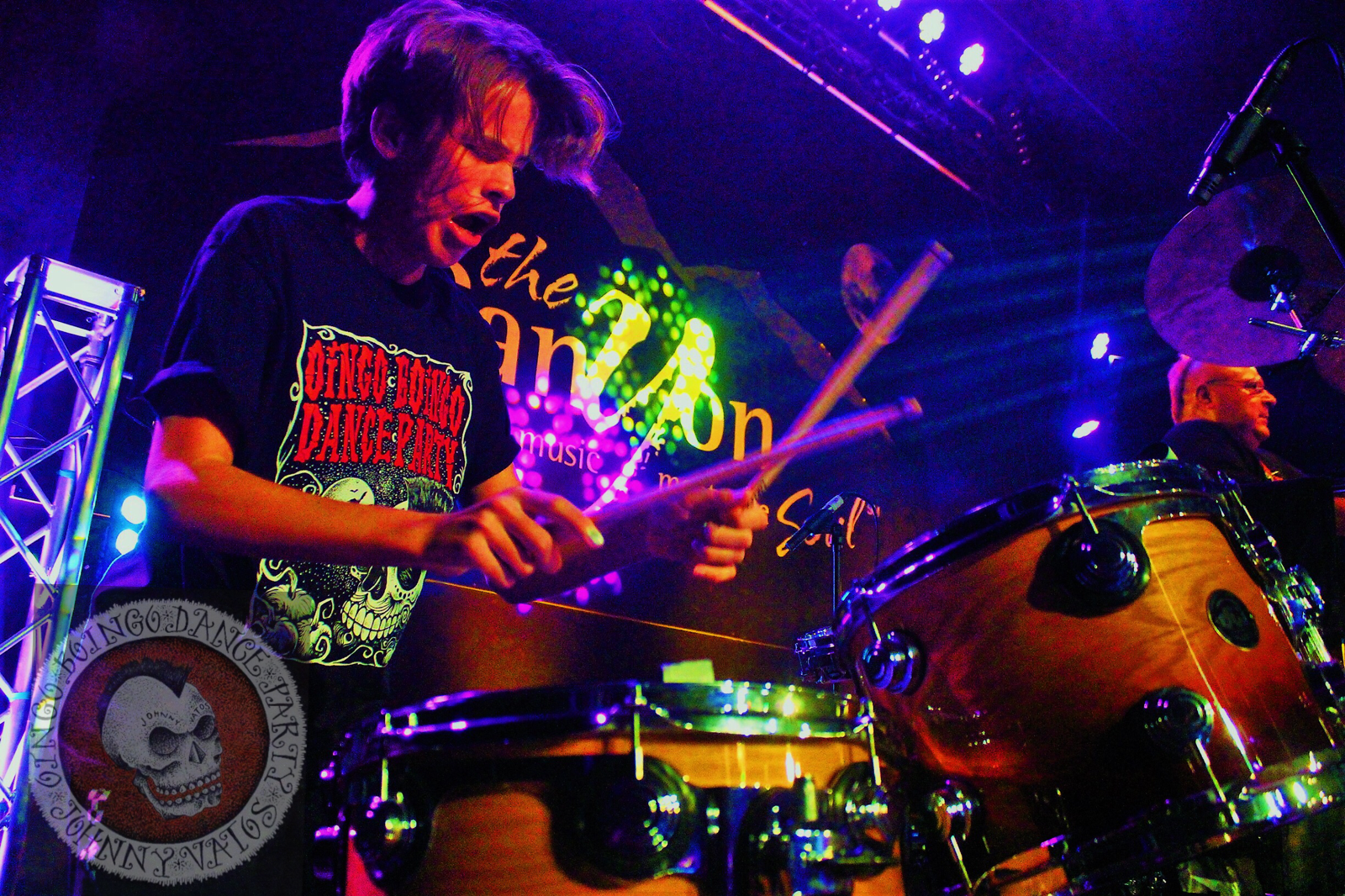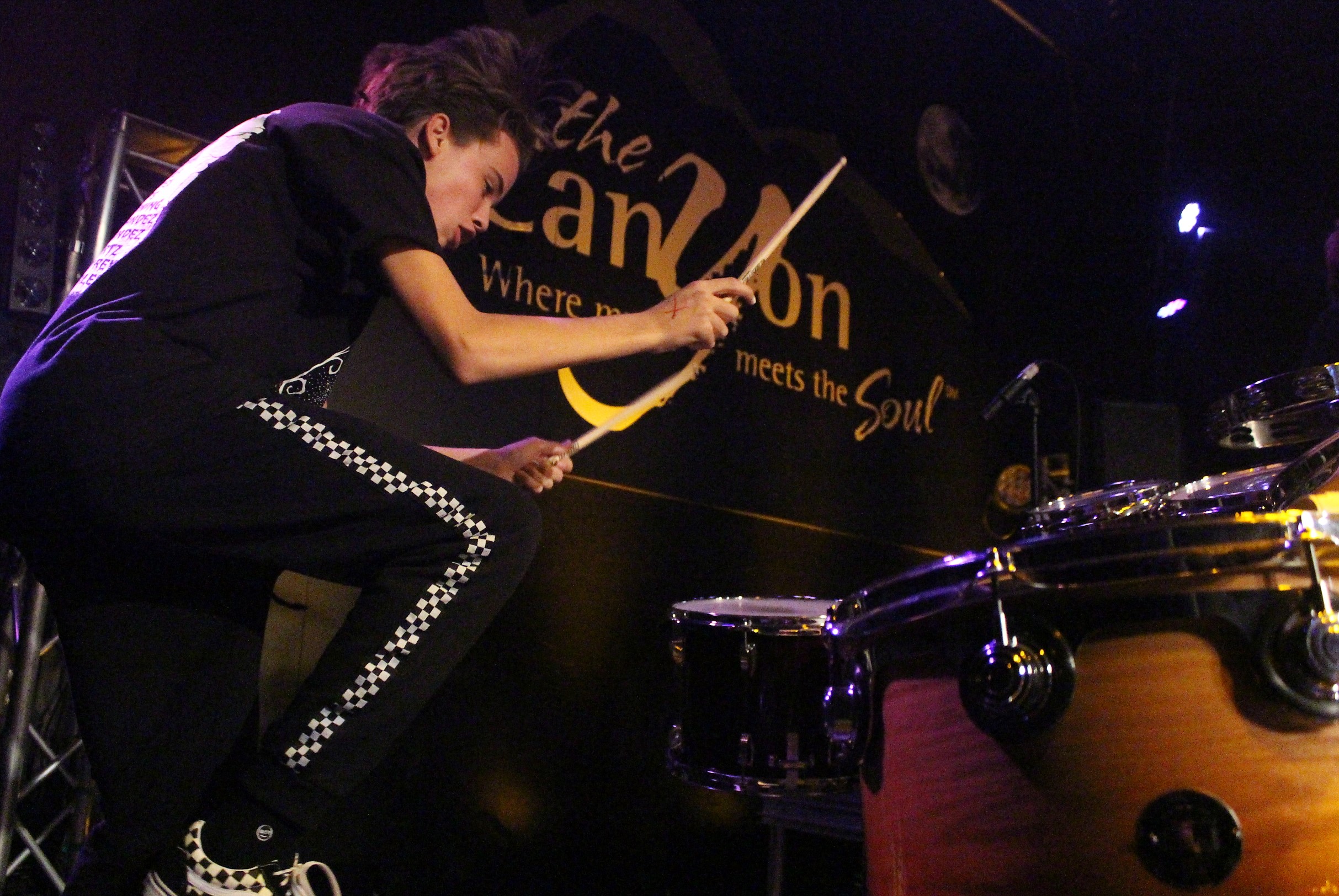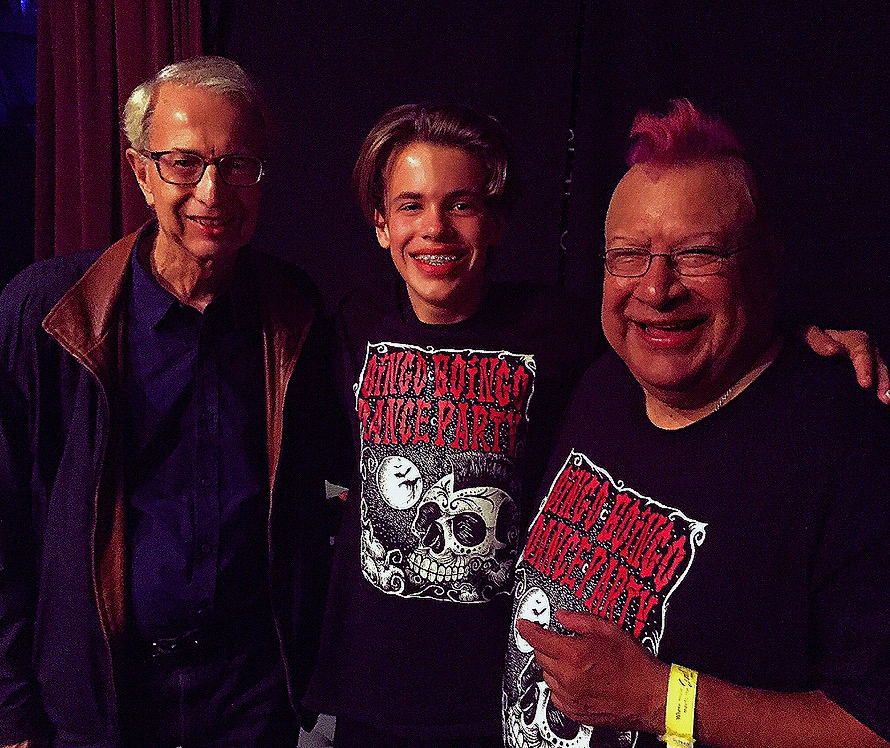 Photo above: Photo op backstage after the show at the Canyon Club with Don Lombardi, Host of Drum Channel with Johnny Vatos and me. It was the first time we had seen Don since I had my debut on Drum Channel back in July.  When Don saw me, he said – "Thomas, you are quite the performer!"  That made my night!
Halloween Show – Take Four: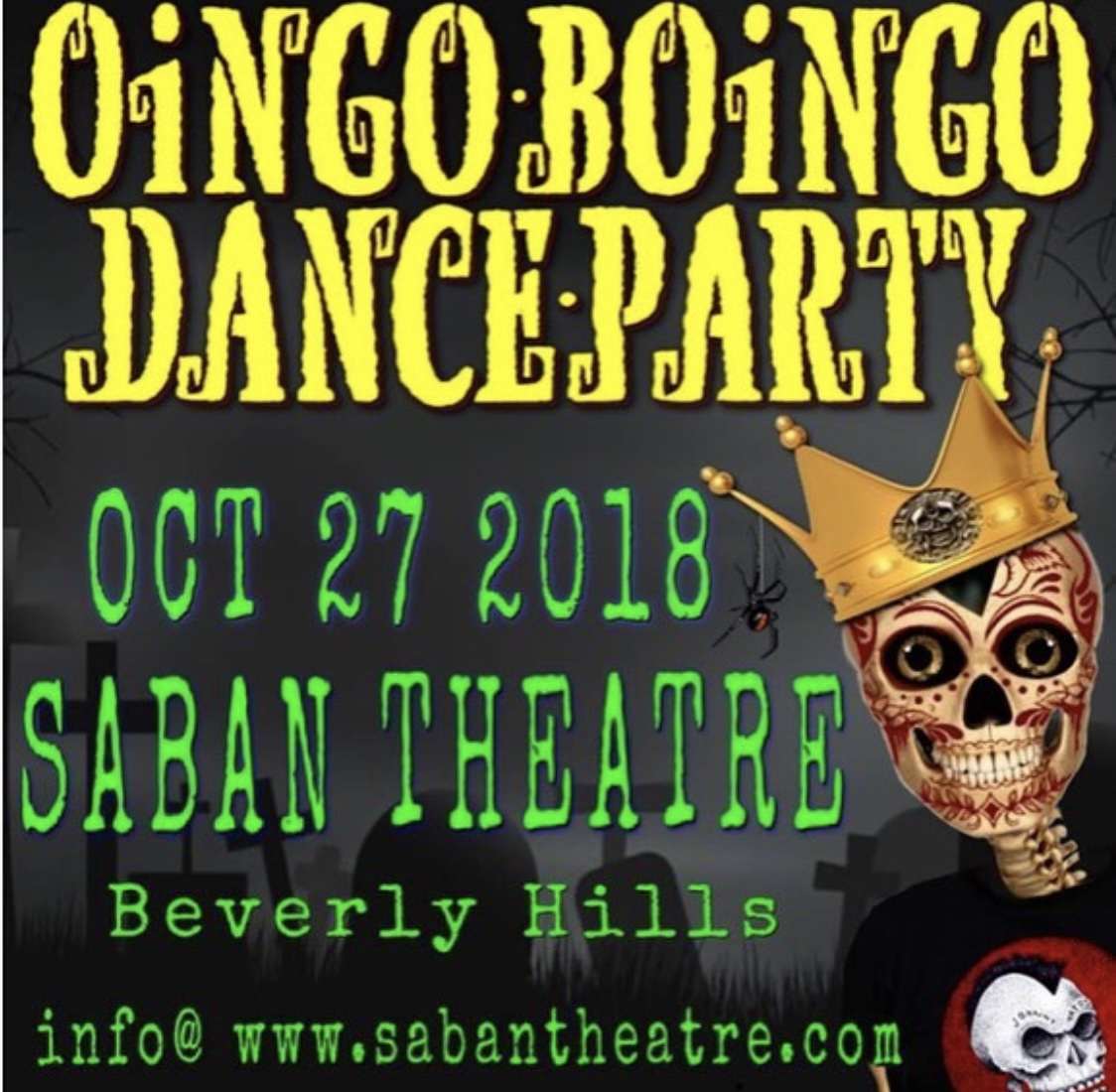 My fourth Halloween show of the month was at the Saban Theater, in Beverly Hills.  The Saban is an old-school, art decco- designed, very beautiful looking, and even better sounding theater!  The band all loved the sound in this theater, and we hope to play there again…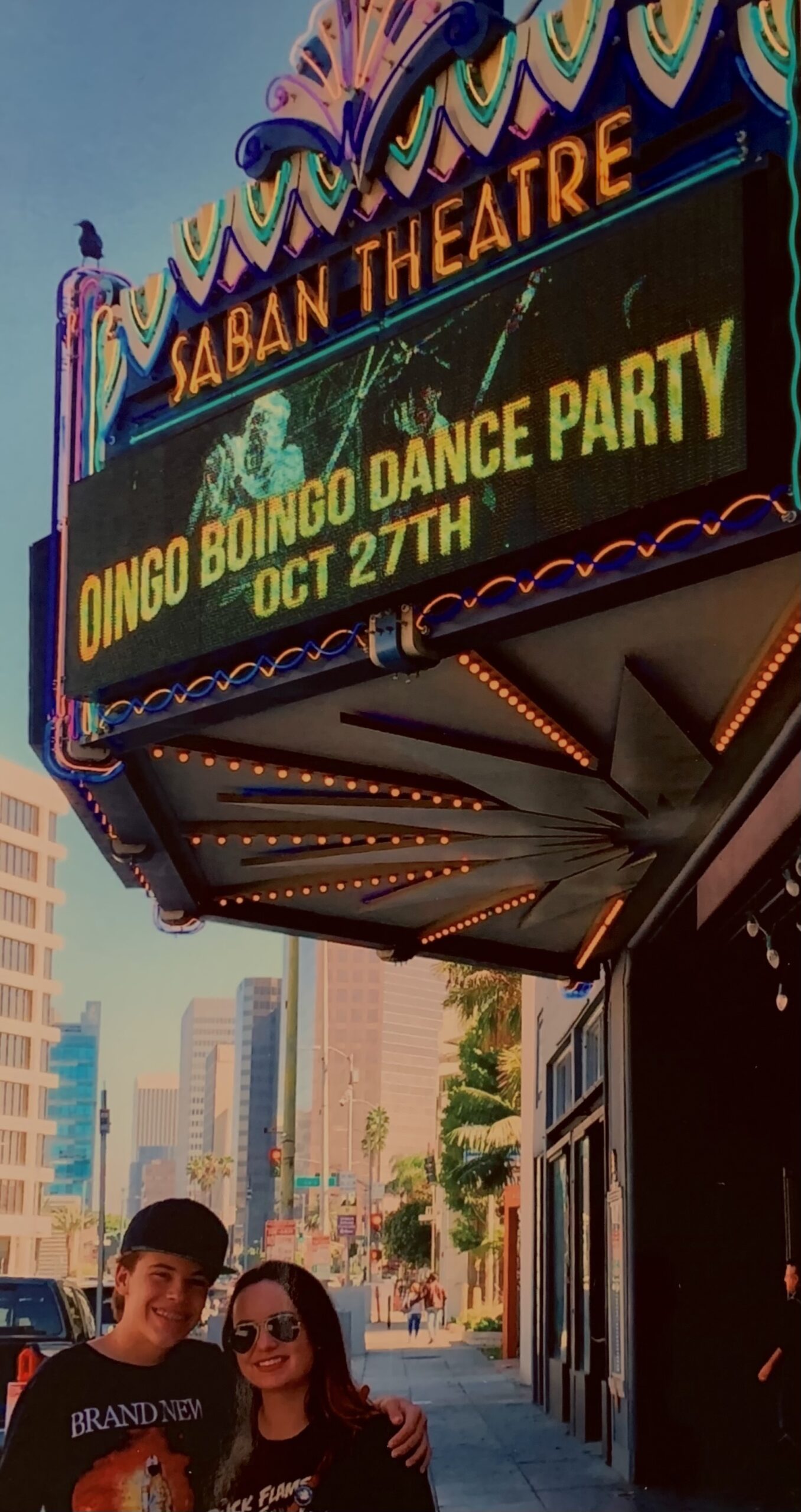 Photo above:  This was a very cool show for me, because it was the first time that my sister, Kylie got to take the day off from work to come to our show! Here we are under the Saban marquee.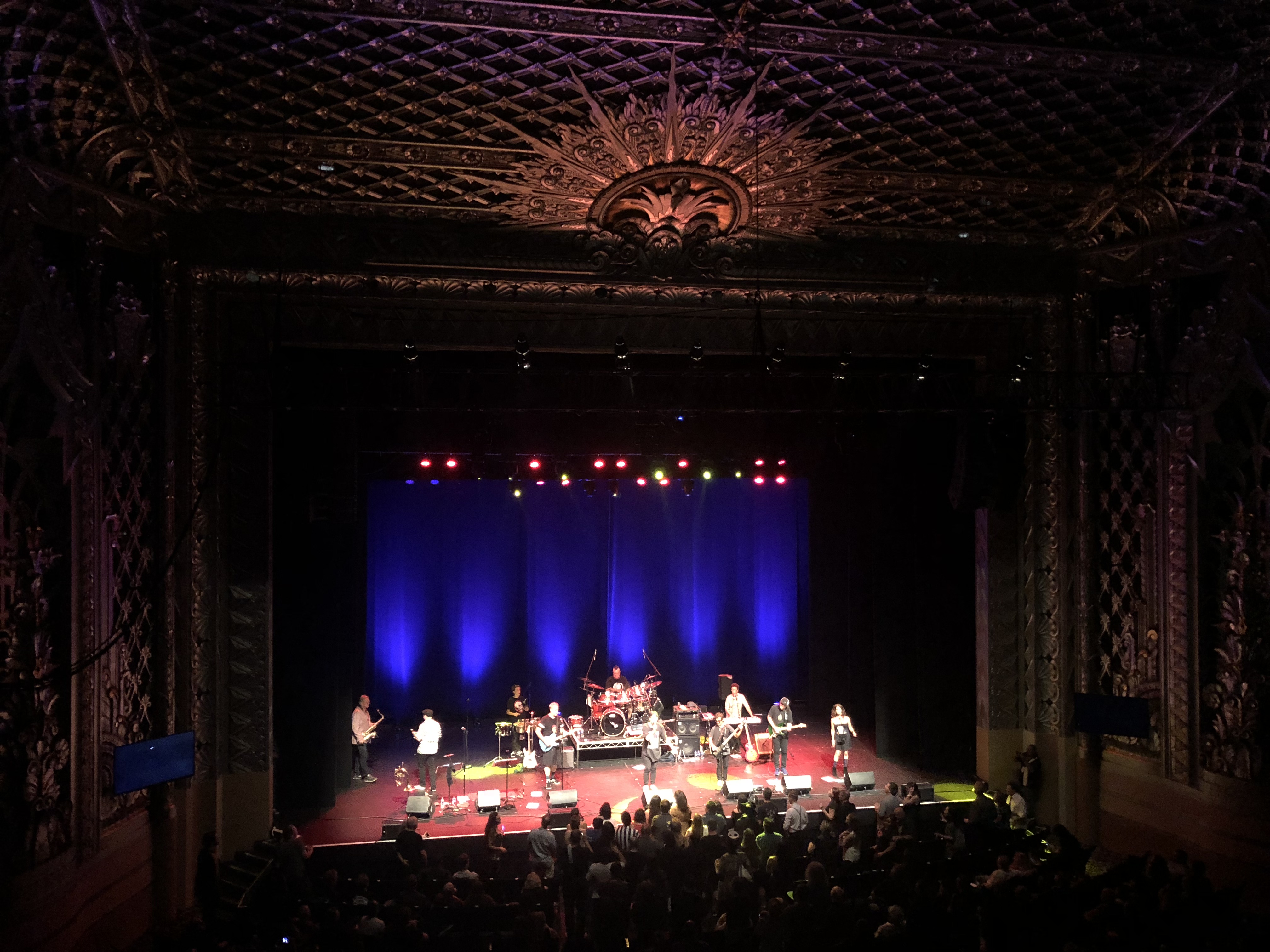 Photo above:  Oingo Boingo Dance Party at The Saban Theater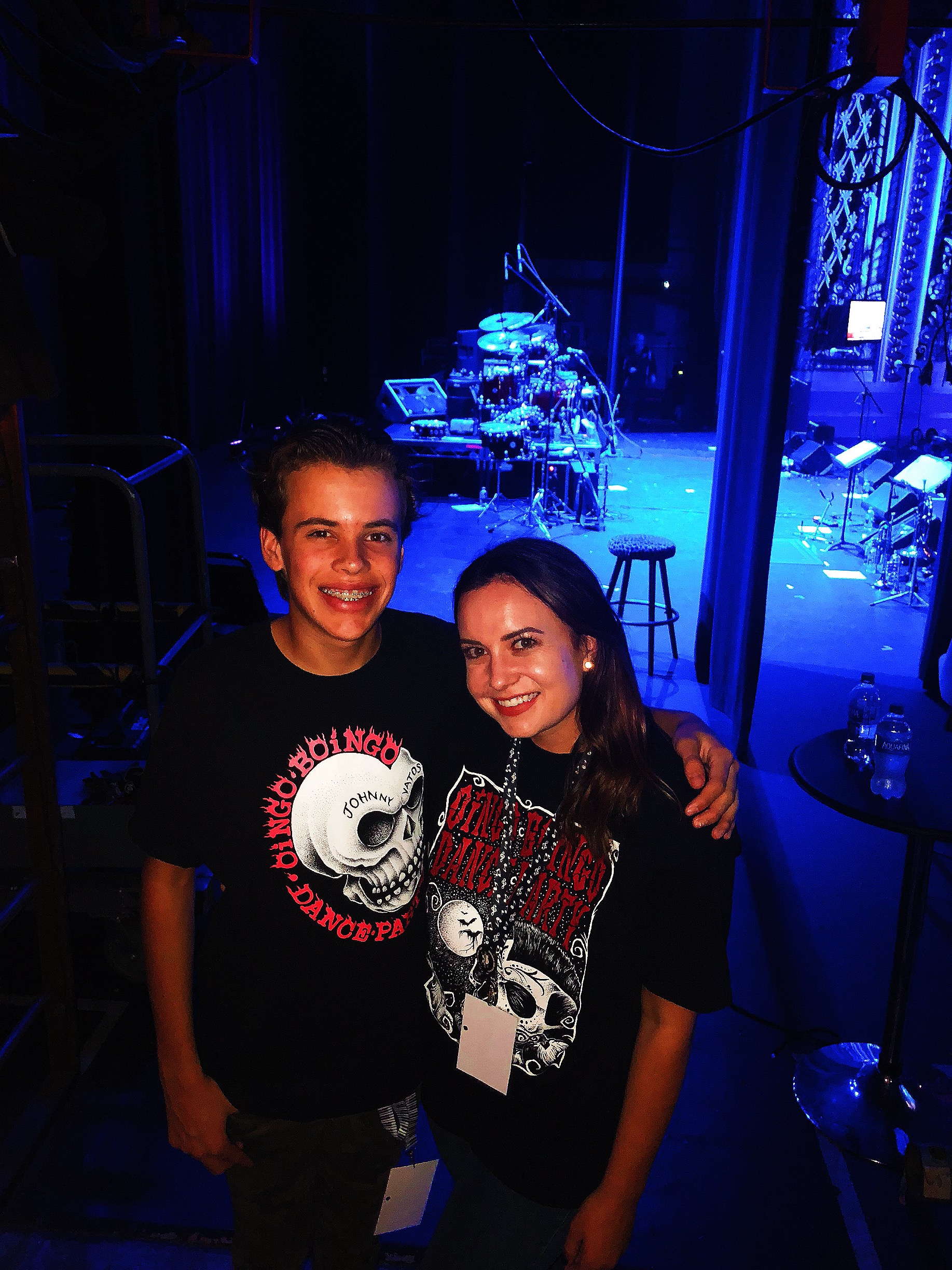 Photo above: With my sister Kylie a few minutes before show time! She hung out and watched the show from that spot.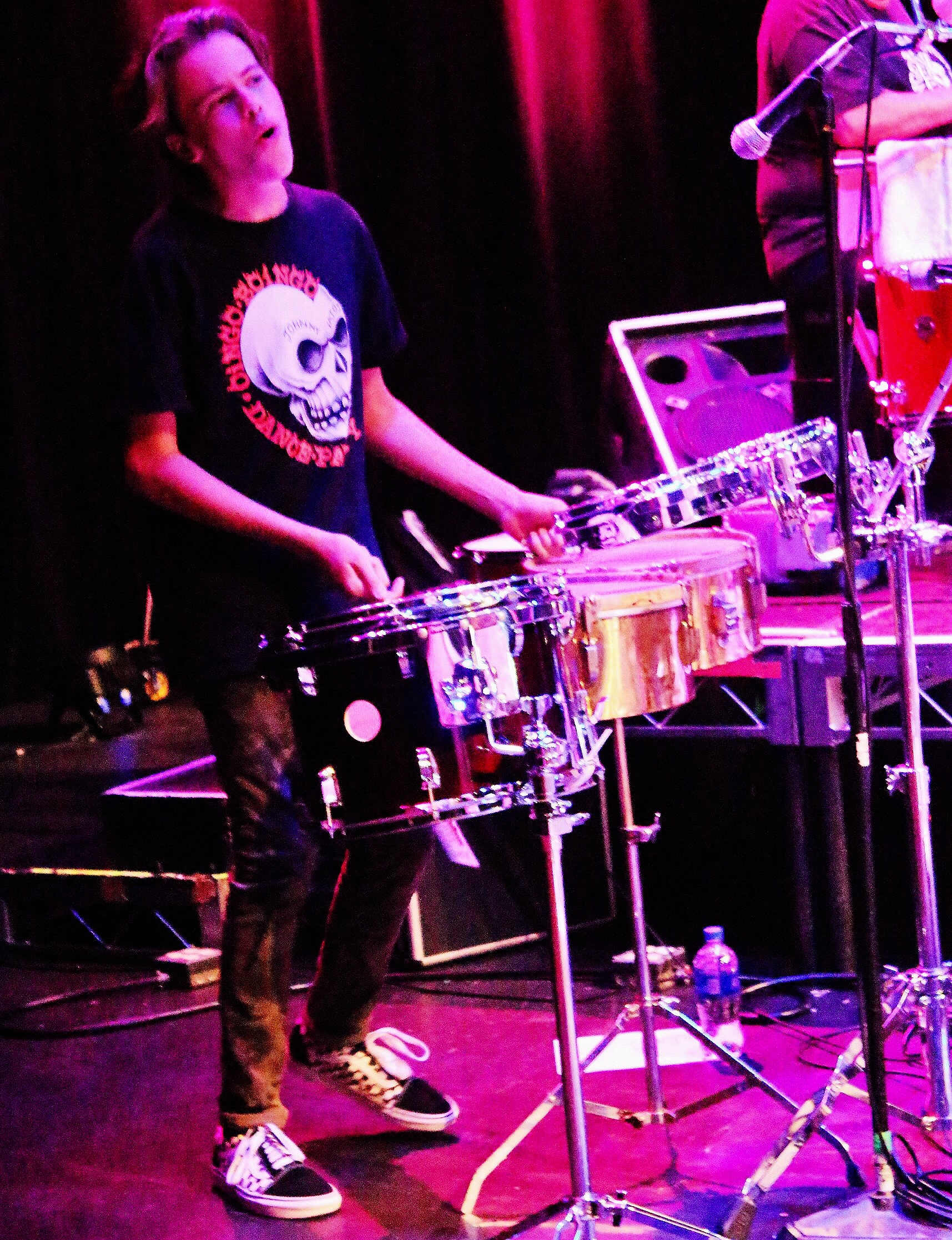 Beverly Hills, California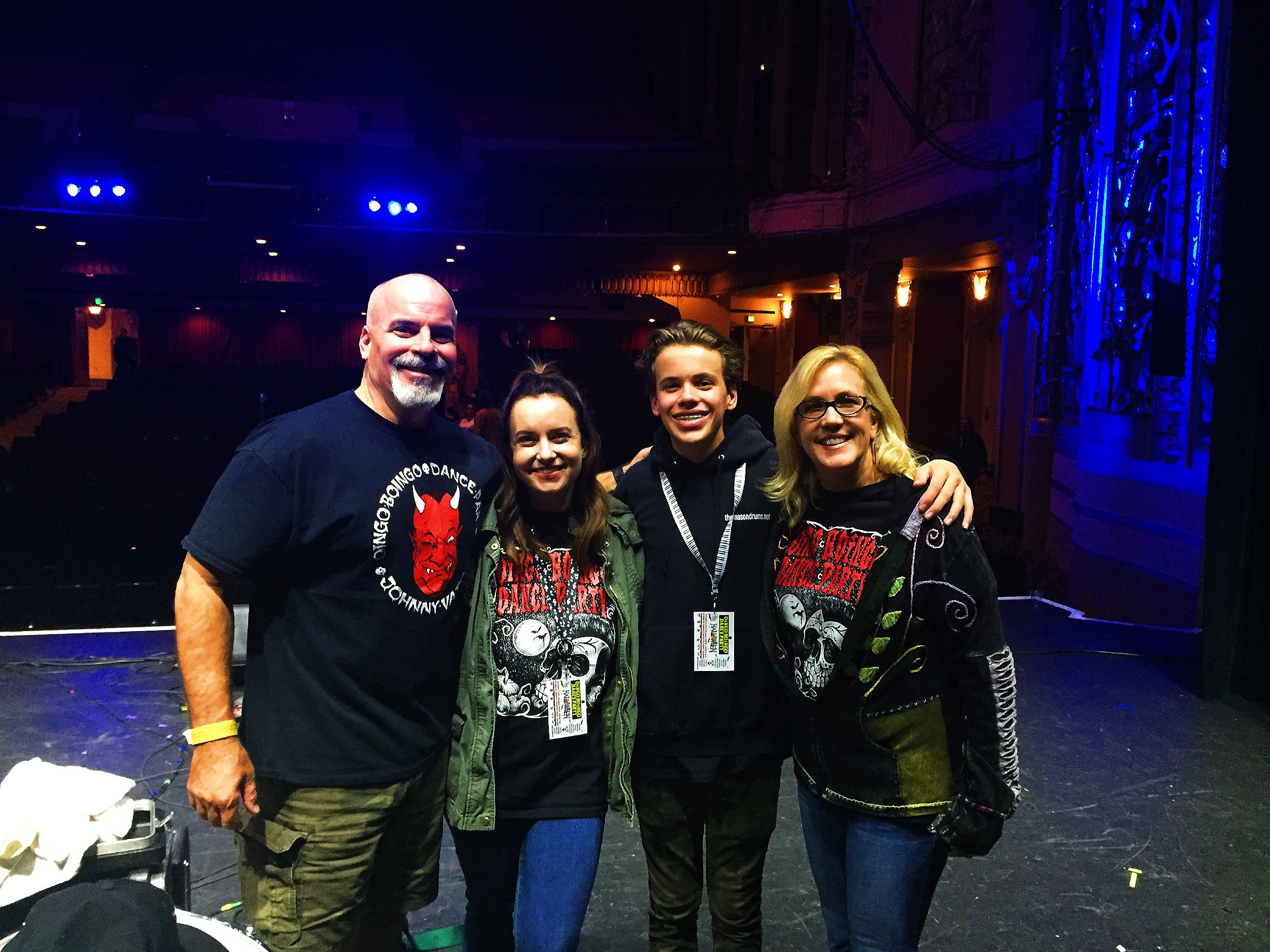 Photo above: With my family after the show at the Saban Theater. They are so supportive of my journey with music and the drums!
Halloween Shows – Take Five: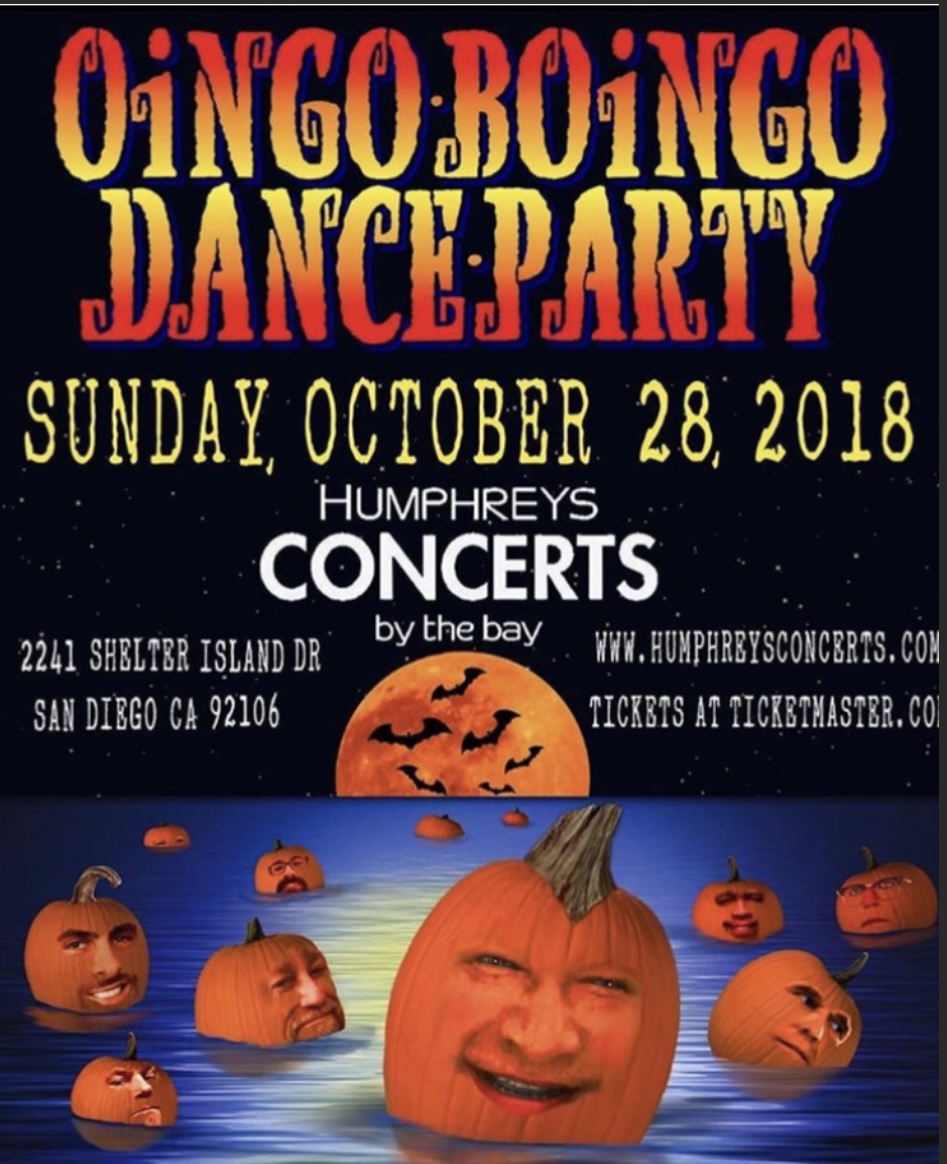 For my fifth show of the month, Oingo Boingo Dance Party traveled south to beautiful San Diego.  And yes, all day during load-in and set up guys were quoting Ron Burgundy! We played at Humphrey's Concerts by the Bay, which is located right in the marina there.  I mean, the side of the stage is maybe 20 feet from the ocean!  It is one of the most scenic places I have ever played.  There was a full crowd of about 1,400 people – and everyone was singing along and having a great time!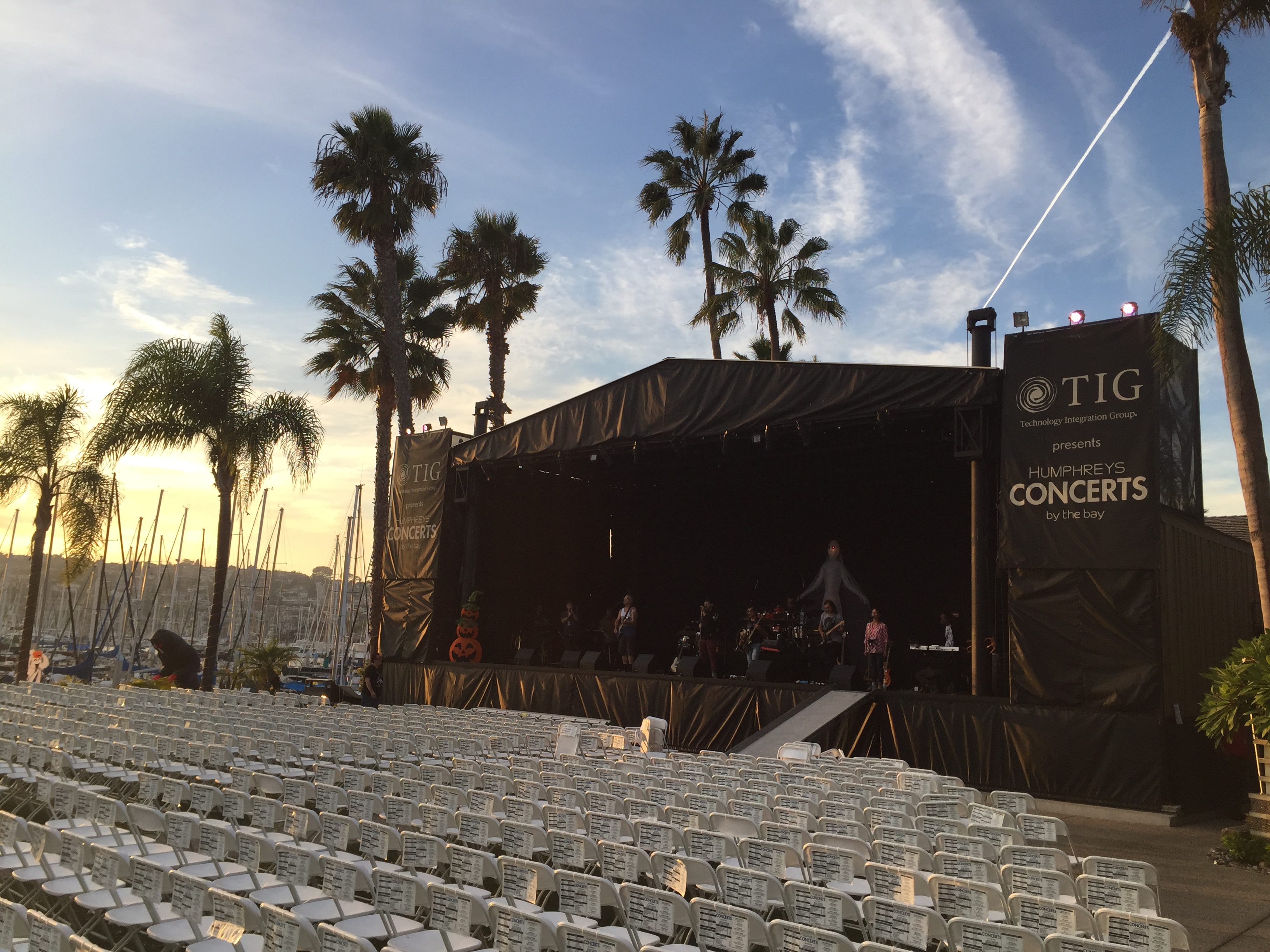 Photo above: Soundcheck at Humphrey's by the Bay, San Diego…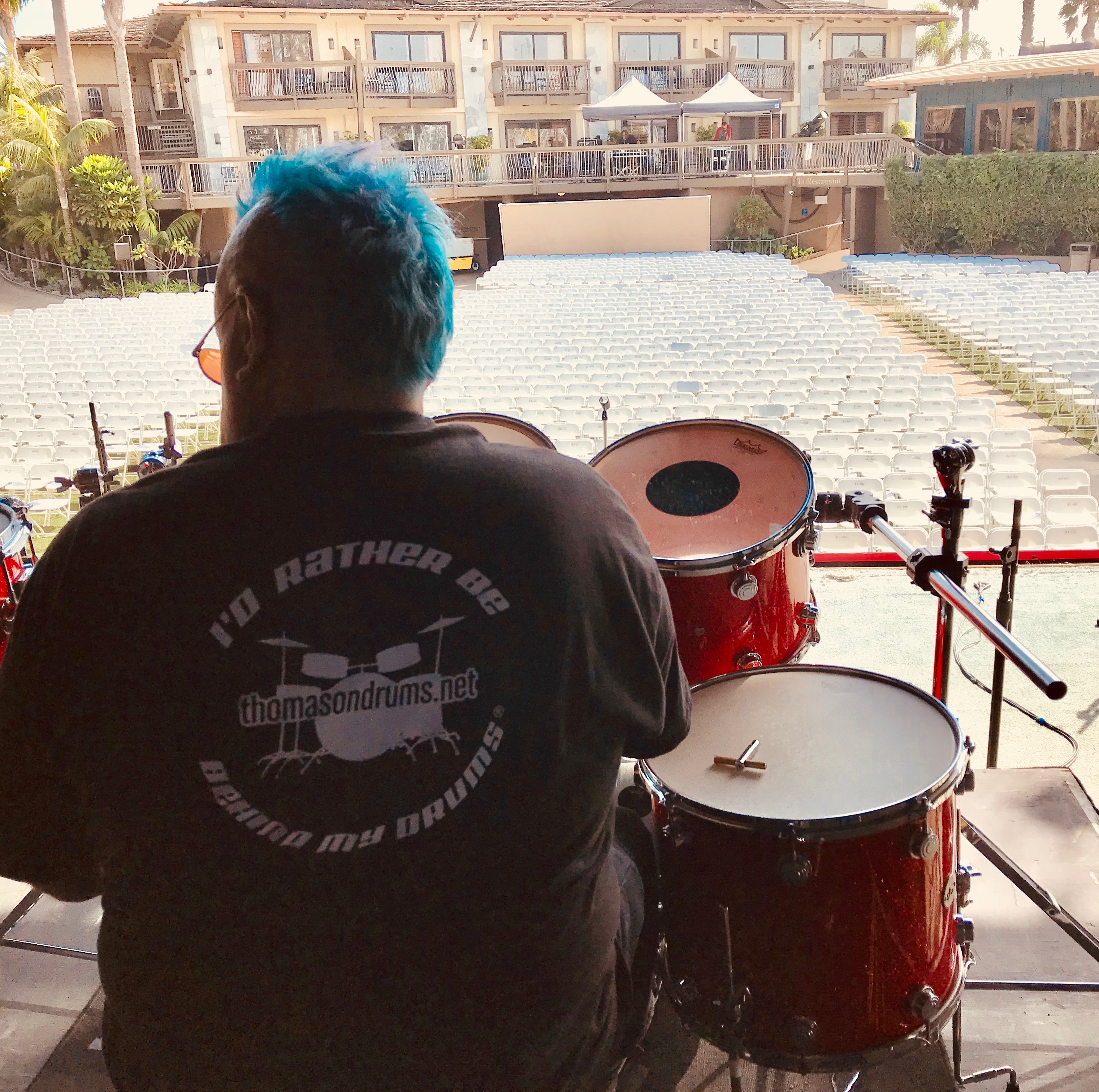 Above: Johnny Vatos always tap-tunes his drums "for the room."  On this day in San Diego, he was reppin' a very cool T-shirt!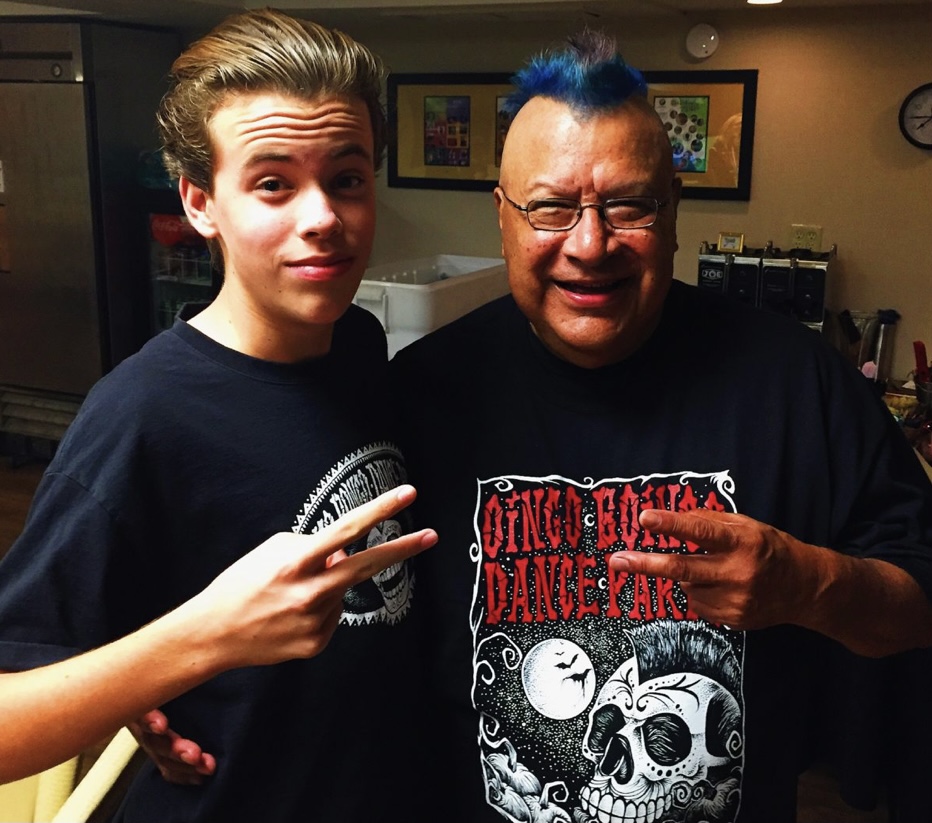 Photo above:  Backstage in San Diego, just before showtime – The two fingers usually means Peace – but, this time we were celebrating 2 years to the day I started playing drums with Johnny Vatos' and Oingo Boingo Dance Party!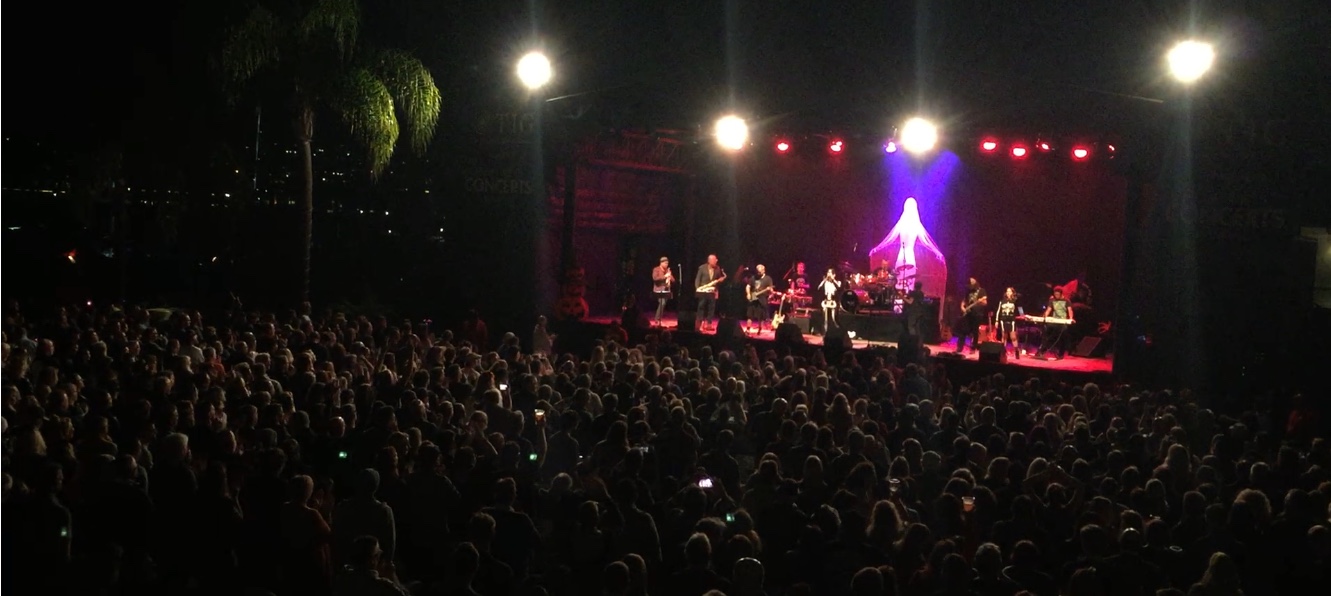 Photo above: what an awesome show it was in San Diego!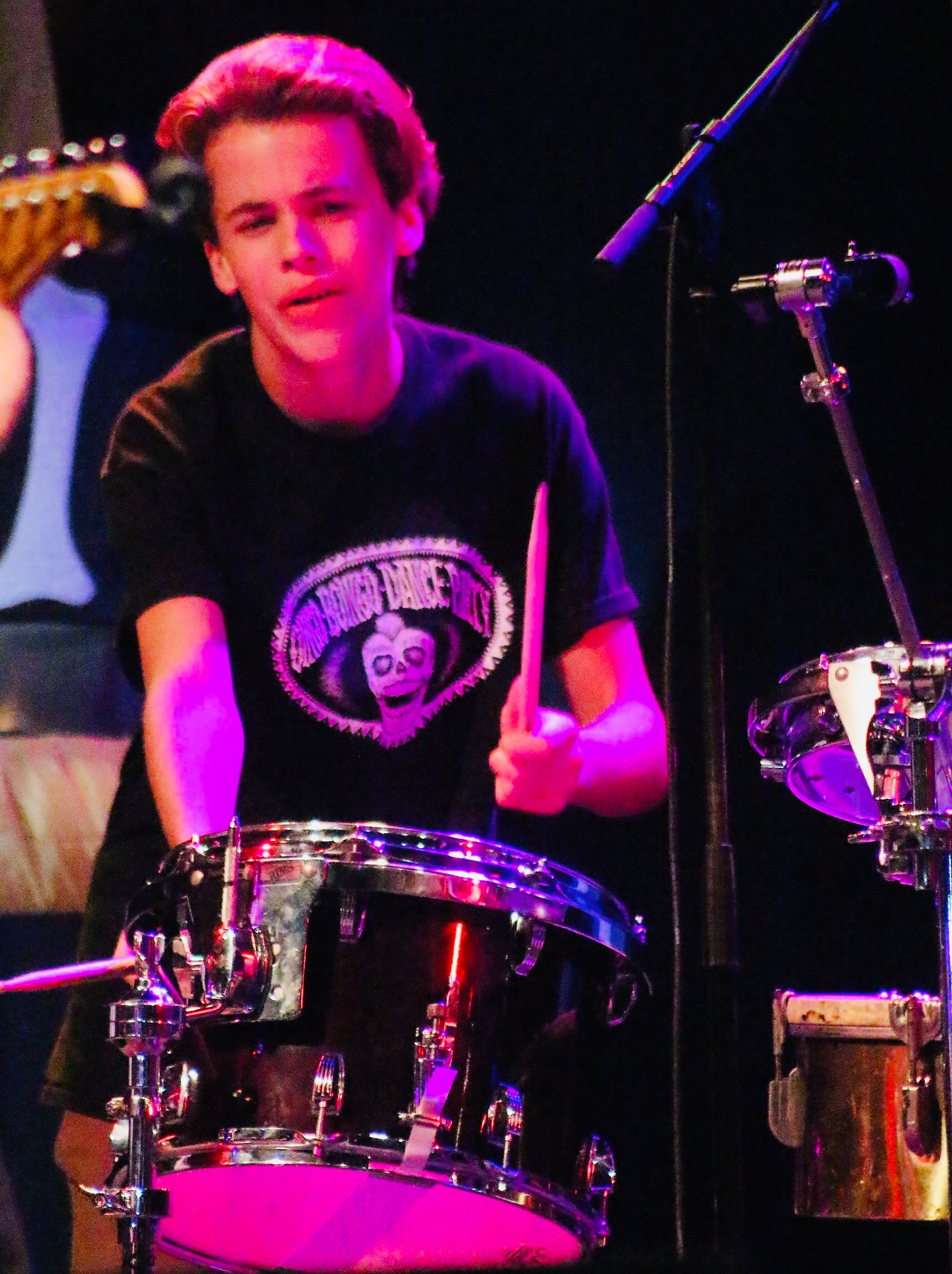 San Diego, California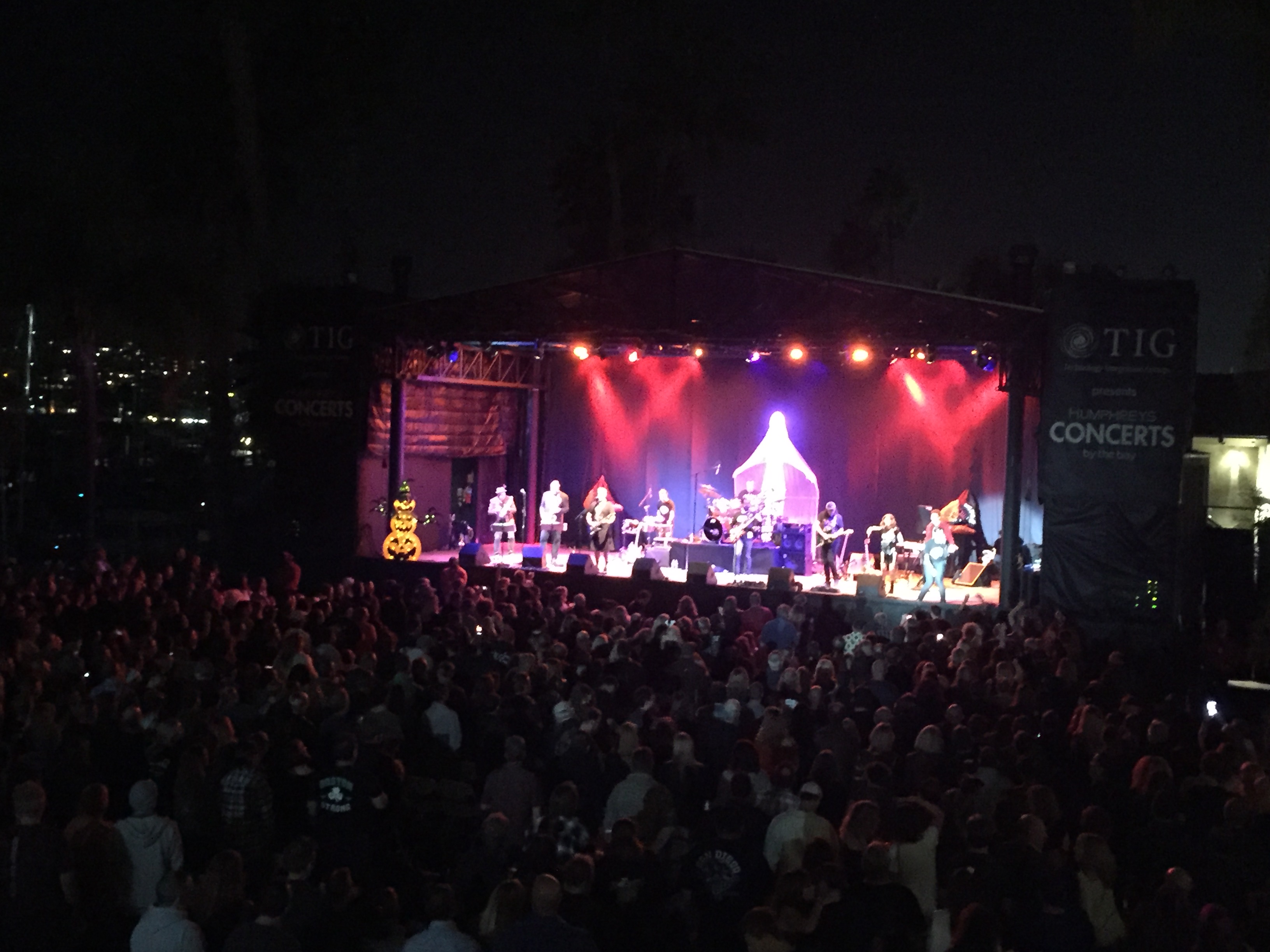 Halloween Shows – Take Six: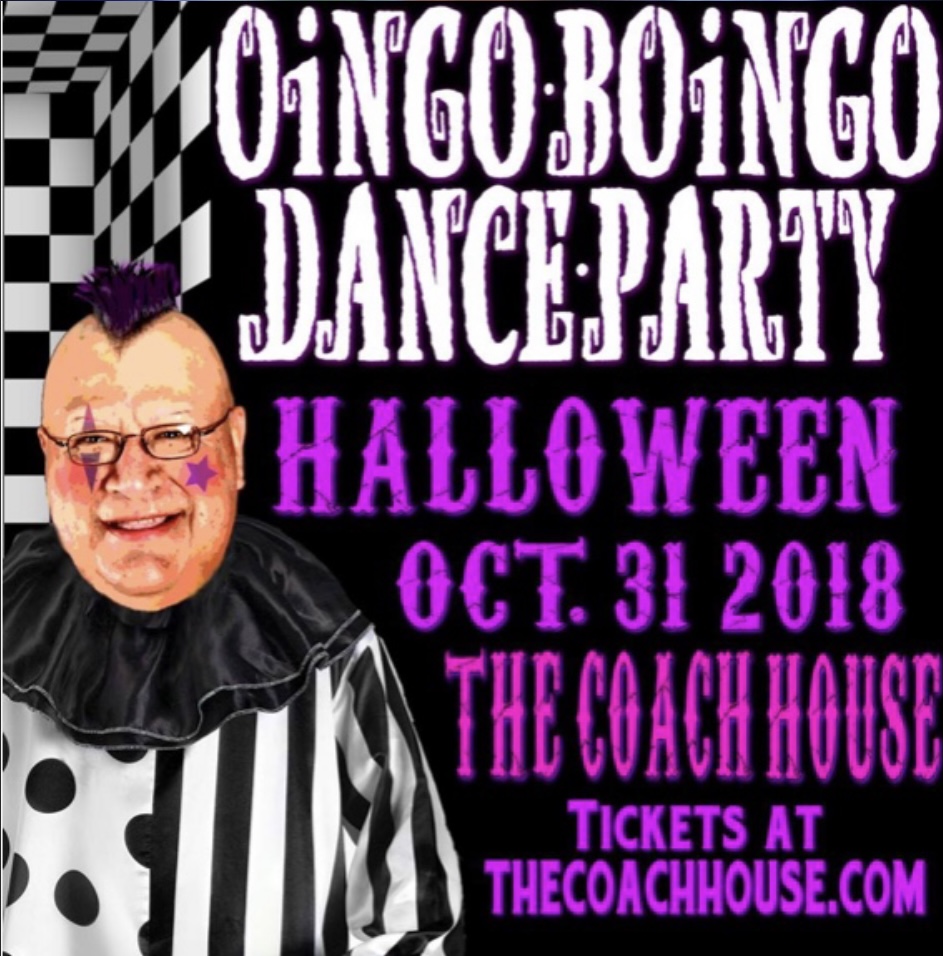 My sixth and final show of the month came ON Halloween, for another sold out Oingo Boingo Dance Party show at the Coach House in San Juan Capistrano.  I always love playing at the Coach House.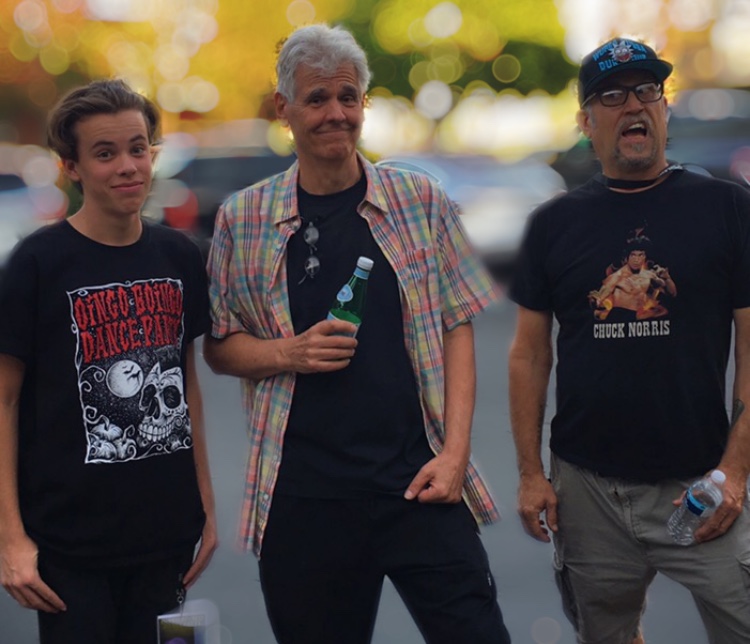 Photo above: Fun hang after soundcheck outside the Coach House with the legendary Steve Bartek and Mike 'The Spike' Glendinning! I love Mike's mash-up T-shirt too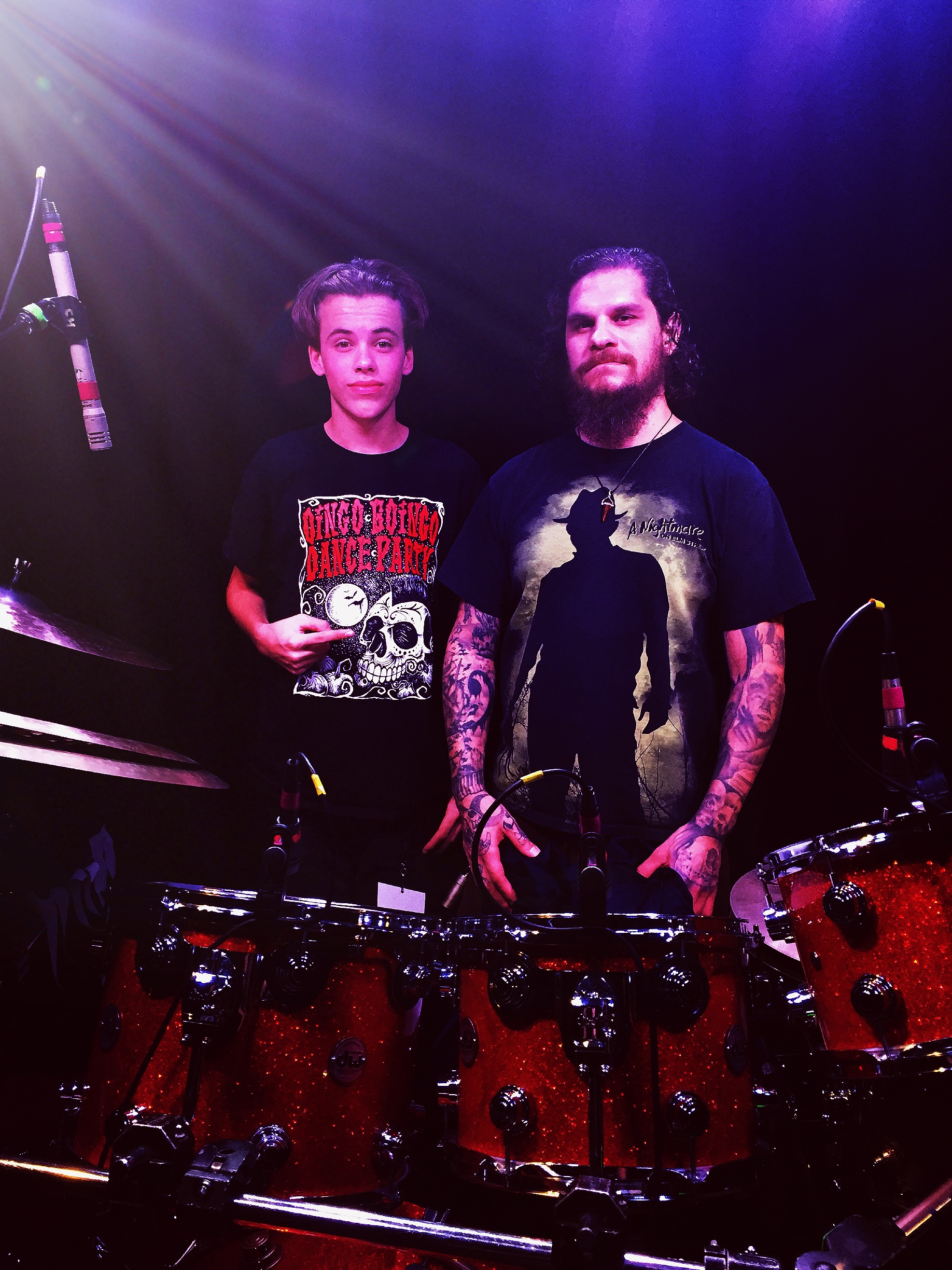 Photo above: Just after soundcheck at the Coach House with Rudy Gonzales our drum tech.  Rudy is an awesome guy, and is also an amazing artist.  He also designs our cool tour T-shirts like I'm wearing here.  Thanks Rudy!
The Halloween show at the Coach House was sold out and really great, especially considering it was on a Wednesday night! There are always so many family and friends at shows at this venue, being so close to home. The music in these 2018 Halloween shows came full-circle for me. I started the month playing "Dead Man's Party" with Orange County School of the Arts – and I ended the month playing the exact same classic song, only this time with Oingo Boingo Dance Party! And that is something I will never forget!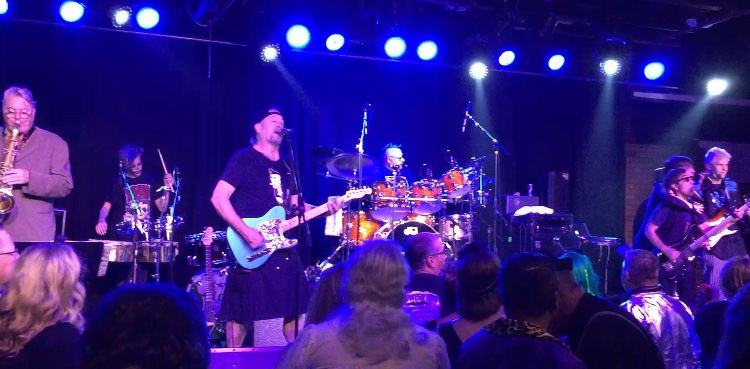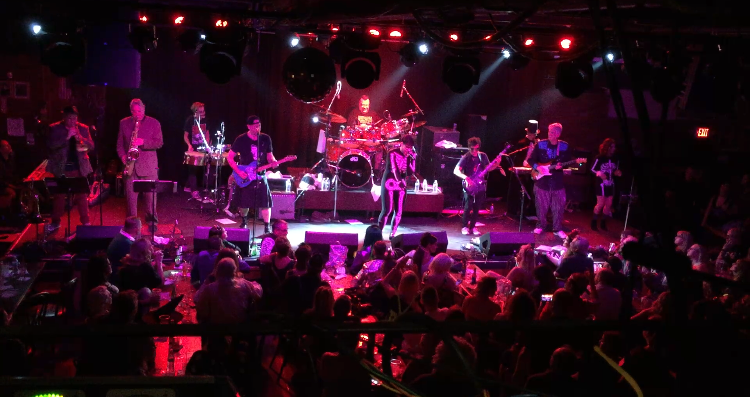 San Juan Capistrano, California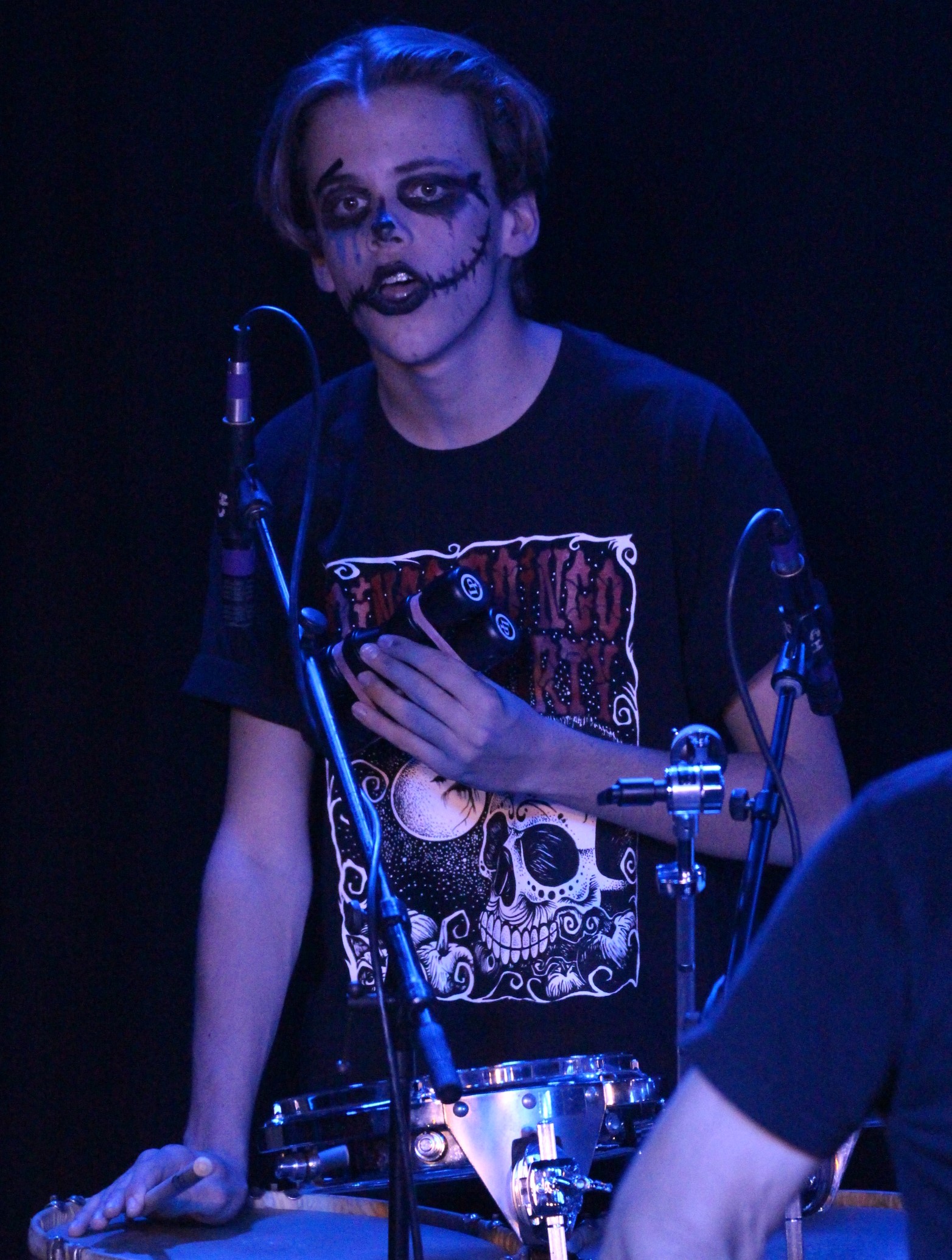 Thanks Fred Zermeno photography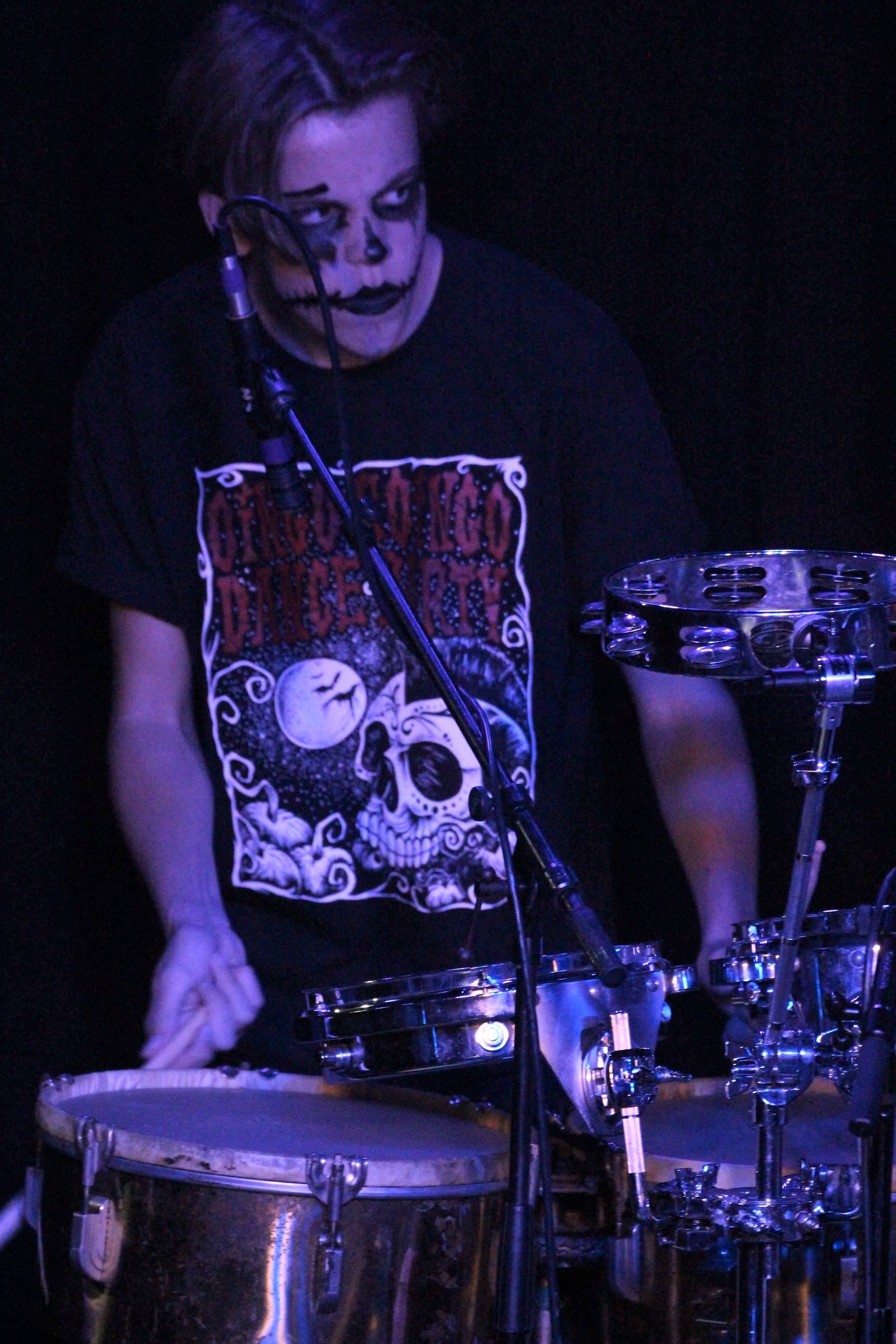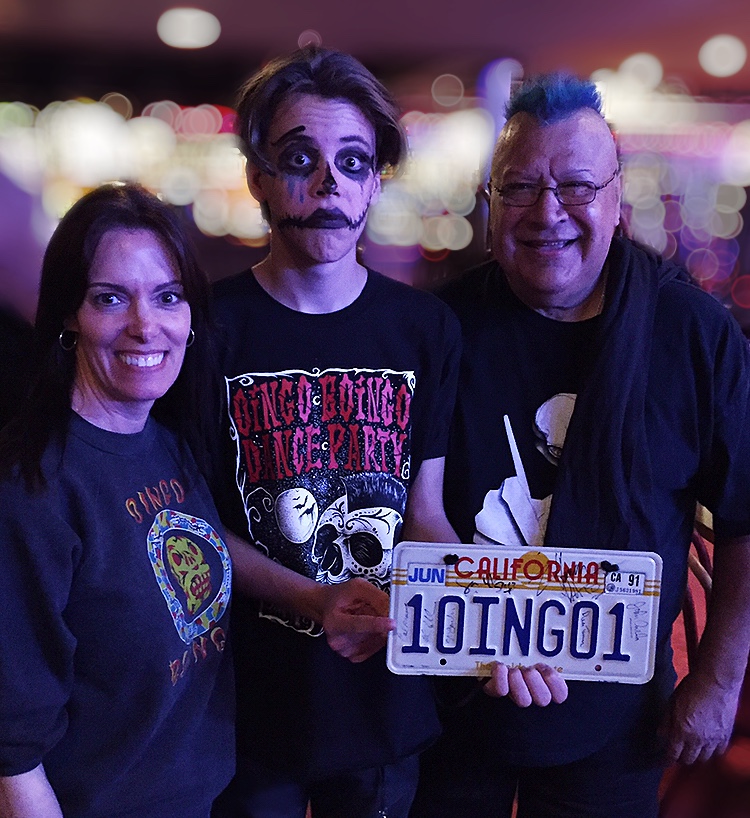 Photo above: Post show Meet and Greet at the Coach House. Sharon, a life-long Oingo Boingo fan brought her classic license plate!  It is always cool to meet nice people after the show!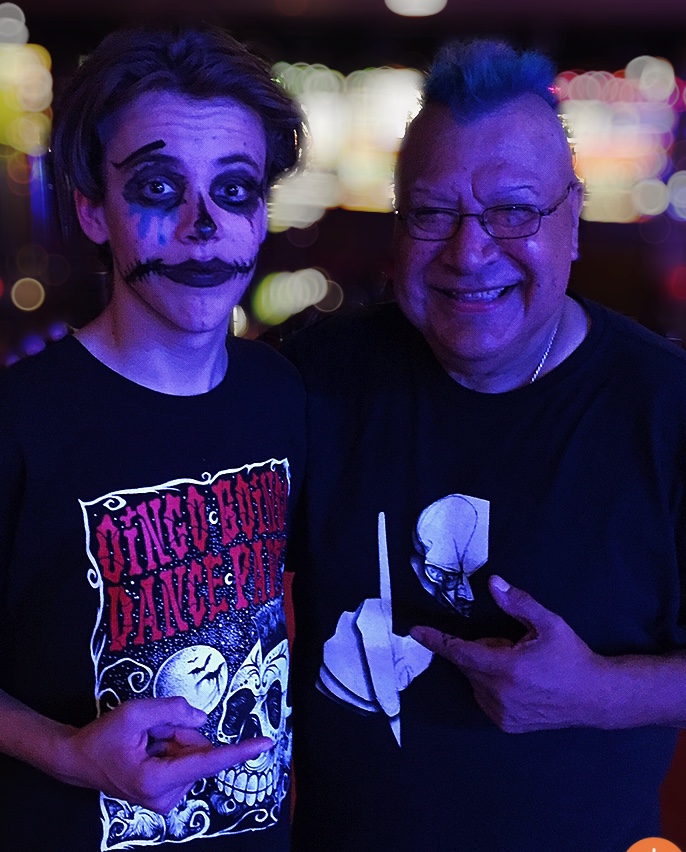 The Halloween 2018 shows were a great success and a lot of fun.  I always have a blast bangin' dem drumz with the man, Johnny Vatos! Thanks John!
Thank you very much for checking out thomasondrums.net! I hope to see you at the next show!
– Thomas
Special thanks to Fred Zermeno Photography for the awesome show images!