"The Official Website of Drummer Thomas Lowrey"

Thomas Lowrey is an American Drummer, born in 2003. He literally began holding drum sticks as a baby, and hasn't let go!
It's just another day in Southern California, and Thomas sits down behind his drum kit. He plugs in his ear protection, picks up his sticks, and he's off into his comfort zone. This is the same place he's been since before he could walk, or read, or play sports. "I'd Rather Be Behind My Drums!" is his motto, and when you watch him play the drums, you can see why!
Thomas Lowrey has been playing the drums since he was handed drum sticks at 8 months old. He began formal drum lessons at age 6, and played his first live shows at age 10.  Thomas made his pro-stage debut, at age 13, as a percussionist with Johnny Vatos' Oingo Boingo Dance Party!
Biography:
Thomas Lowrey was born in 2003, premature, at only 28 weeks, 5 days gestation.  He spent the first 2 months of his life, in Neo Natal ICU at Children's Hospital of Orange County (CHOC). Thomas weighed 2 pounds, 14 ounces and fought hard to survive.   His lungs were under-developed.  Following 2 long months, Thomas grew healthy enough to go home, thanks to God, and the doctors and nurses at CHOC!
At about six months old, Thomas began physical therapy.  The Physical Therapist would hand Thomas objects to hold to work on his dexterity.  At 8 months old, Thomas' dad handed him a set of drumsticks…that was it!
By age 4, Thomas could play an impressive single-stroke roll, but he was still too small to reach the foot pedals on the drum set!  By age 5, he was playing the drumset as often as he could.  At age 6, on his first day of First Grade, Thomas began formal drum lessons at Rob Ferrell Drum Studio, in Mission Viejo, California.  Thomas was still unable to reach the foot pedals!  On the first day, Rob Ferrell began working with Thomas on reading and rudiments… And, yes, eventually getting to use the pedals too!  Thomas has remained with Rob Ferrell Drum Studio to-date!
After 2 years at Rob Ferrell Drum Studio, at age 8, Thomas was playing 13-minute drum solos and playing along to his favorite hard rock music.  Rob began filming Thomas playing and posting the videos on YouTube.  By age 10, Rob Ferrell told Thomas' parents that he was "ready to start playing with live bands."  Thomas had already spent 4 years with Rob…
At age 10, Thomas joined and started playing live shows in the Performance Group at the Tustin, California,  School of Rock.  Thomas came alive on stage… and playing live with an audience confirmed for Thomas that he wanted to play the drums professionally.  That same year, Thomas attended a Drum Demo in Hollywood, California with drummer, Shannon Larkin of Godsmack!  Watching Shannon perform and speak with the audience that night motivated Thomas to work even harder toward his dream!  Thomas credits Shannon Larkin  for "Inspiring" him to go for it!
At age 11, Thomas was a Featured Artist for "Custom Stix" drum sticks web site.
At age 12, Thomas had a private drum lesson at Uncommon Studios, in North Hollywood, California, with Kenny Aronoff (John Mellencamp, John Fogerty and many others).  Kenny spoke with Thomas about the music business, and worked with Thomas on the drum set, with technique, and what Kenny calls the "cake and glue" of drumming.
Also at age 12, Thomas met and had a private lesson, on his drum riser before sound check of a live show, with John Hernandez, a.k.a. Johnny Vatos of Oingo Boingo & Oingo Boingo Dance Party. John taught Thomas about balance and keeping time.  He told Thomas, "the most important part of playing time isn't getting there on time, but preparing on time."  Thomas had no idea that this meeting with Johnny Vatos would lead to something big, only one year later!
In February 2016, at age 12, Thomas left the School of Rock, and took his talent south to Los Rios Rock School in San Juan Capistrano, California. He was immediately placed in their "Advanced Red Group" and was performing on their float in a parade, and in a live show within 3 weeks of his arrival there! While there, Thomas was selected as their one and only "Classic Album – Van Halen" show drummer, as well as their only "Metal Band" drummer, and their only elite, "Showcase Band" drummer.
Also at age 12, Thomas jammed with professional guitarist, Nick Perri (check out the "Videos" section to see a few minutes from the jam) Nick has remained a good friend with Thomas, and they have attended each others' live shows!
In April of 2016, thomasondrums.net was created!  Thomas chose to use his personal slogan on the website, "I'd Rather Be Behind My Drums!"  That slogan eventually (January 3, 2017), became a Registered Trademark with the United States Patent and Trademark Office.
In October, 2016, at age 13, and in the 8th Grade…and one year after meeting Johnny Vatos, Thomas made his Pro-Stage debut!  He performed in 3 live shows as a percussionist for Johnny Vatos' Oingo Boingo Dance Party!  Playing on stage, next to Vatos and all of the talented musicians in the band was a thrill for Thomas…And still is, as he continues to play with OBDP to date!  Thomas has developed close friendships with all the members of the band, and calls them "Brothers to the End."
In 2017, Thomas played drums for the Los Rios Rock School's "Classic Album" Van Halen shows.  There are videos of these gigs on YouTube, and on thomasondrums.net, including an "Iso Drum Cam" video of Thomas drumming at the Yost Theater.  On May 3, 2017, less than 2 weeks after Thomas turned 14 years old, he played drums at Sunset Sound Studio 1, in Hollywood, California for the YouTube Program, "Produce Like a Pro" with Warren Huart.  There, Warren Huart recreated and rerecorded the debut Van Halen album where it was created, in the exact same studio, using the same equipment and room set-up, in which they recorded live!  Please read Thomas' own "Blog News" of this event, in the "News" section of thomasondrums.net, and check out the videos on YouTube!
In 2017, Thomas auditioned for, and was accepted as a drummer, at Orange County School of the Arts, Commercial Music Conservatory.
Also in 2017,  Thomas played drums in the "Strange 80's – Sweet Relief Benefit" concert at the Fonda Theater, in Hollywood, California.  This was a very exciting show, as Thomas' group shared the stage with performers like Tenacious D's Jack Black & Kyle Gass , Weird Al, Corey Taylor (Slipknot), Jane Wiedlin (Go-Go's), and so many others! Check out the "Videos" section to see Thomas and his bandmates at the Fonda Theater!
On September 2, 2017,  The LRRS "Classic Album" Van Halen group opened the show for Vince Neil of Motley Crue, aboard the USS Iowa, at LA Fleet Week! This show was an honor for Thomas, performing for our U.S. Military and their friends and families.
Thomas Lowrey continues on his musical journey with the drums!
Some recent highlights:
Playing drum set at Orange County School of Arts,Commercial
Music Conservatory
Playing 2nd drums for Johnny Vatos' Oingo Boingo Dance Party
Featured in Drum! Magazine (April 2018 – "New Blood")
Endorsed Artist & Ads for Collision Drum Sticks
Featured in Nick Nanton's documentary feature film
'Rudy Ruettiger -The Walk on'
Featured in the book, adapted from the film,
'Rudy Ruettiger – The Walk On'
Endorsed Artist, Drum Dial Tuners
Guest on Drum Channel (Episode title: 'Johnny Hernandez Introduces
Thomas Lowrey)
More projects coming soon! Stay informed with Thomas' news here at thomasondrums.net
You can Follow Thomas and his journey with the drums, here, on thomasondrums.net and also on Instagram and Social Media @thomasondrums
Message from Thomas: "Thank you all for visiting thomasondrums! I love music, playing the drums and performing! I want to thank my parents, my friends, my drum teachers, my drumming influences and my band mates for "keeping me in time!"  – Thomas Lowrey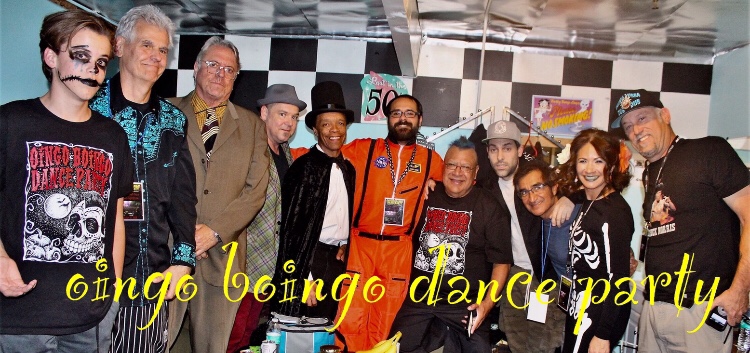 Oingo Boingo Dance Party (from right to left): Mike "The Spike" Glendinning,
Felice Hernandez, John Avila, Brendan McKian, Johnny Vatos, Freddy Hernandez,
Carl Graves, Brian Swartz, Sam "Sluggo" Phipps,
Steve Bartek, Thomas Lowrey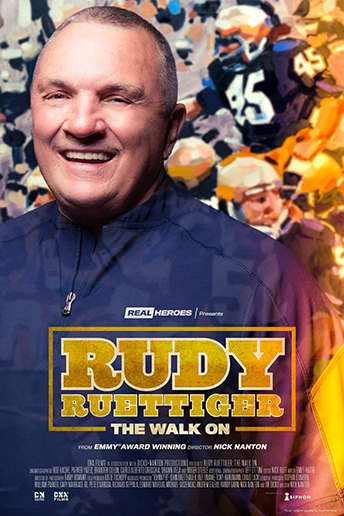 Thomas can be seen in director
Nick Nanton's new documentary feature film,
'RUDY RUETTIGER – THE WALK ON'
Coming to iTunes and Amazon Prime Video, October 2018!
Check out the Videos section to see a promo with Rudy and Thomas!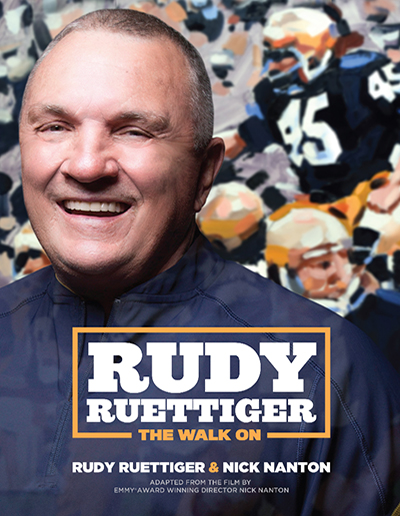 'RUDY RUETTIGER – THE WALK ON'
And check out the book adapted from the film

Goes on Sale August 21, 2018!
Go to http://rudybook.com/ to order
*Be sure to read Thomas' blog news about this project!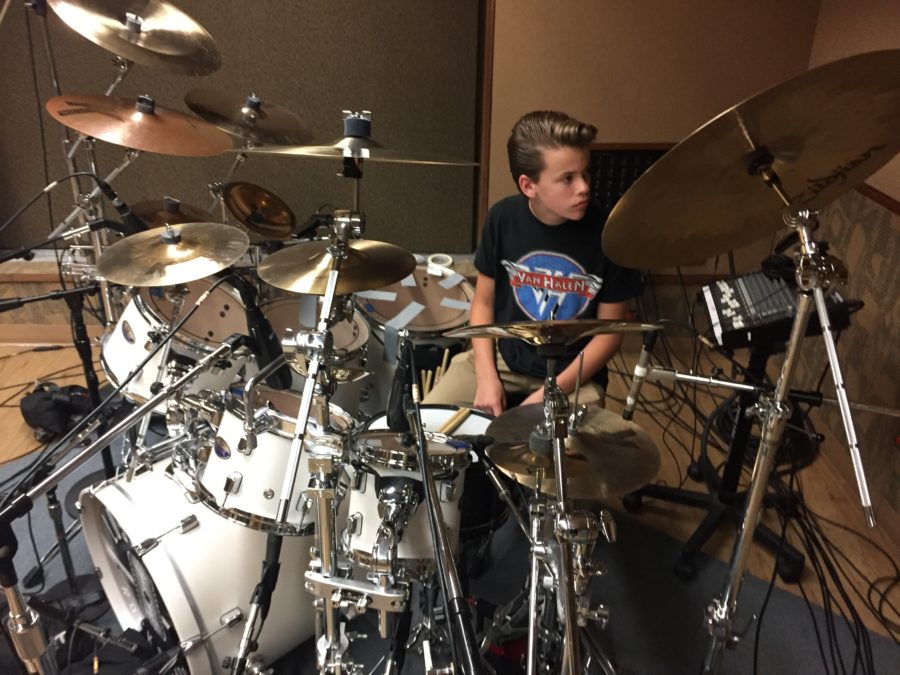 Thomas Lowrey
Thank you very much for checking out thomasondrums.net!  The last blog post was at the start of May, and since then I have been drumming all around Southern California, with different bands, and very different [...]
Thomas Lowrey
On Friday, May 24th and Saturday, May 25th I will playing LIVE MUSIC in four different shows in two days!  I will playing drum set with Orange County School of the Arts, Instrumental Music Conservatory, [...]
Thomas Lowrey
On April 17, 2019 I joined professional guitarists, Nick Perri and Steve Johnson in the studio, where we laid down 2-hours of R&B! Nick had started playing guitar with Steve when he was 17-years old, [...]
*Be sure to click on 'News' to read past Blog updates
for details and photos!
Quotes and Tips from Pros:
"Awesome! Great Musical Intuition!"
"The hi-hat, kick and snare are the 'cake'… but, the hi-hat is the 'glue!'"
"The most important part of playing time is not getting there on time – it's preparing on time."
"When you form a band, be selective. Surround yourself with the most talented people …and that you all get along."
"It starts with a dream- and it is always too soon to quit! "
" If you can dream it – You can do it"
" If you've got a problem, take it out on a drum"