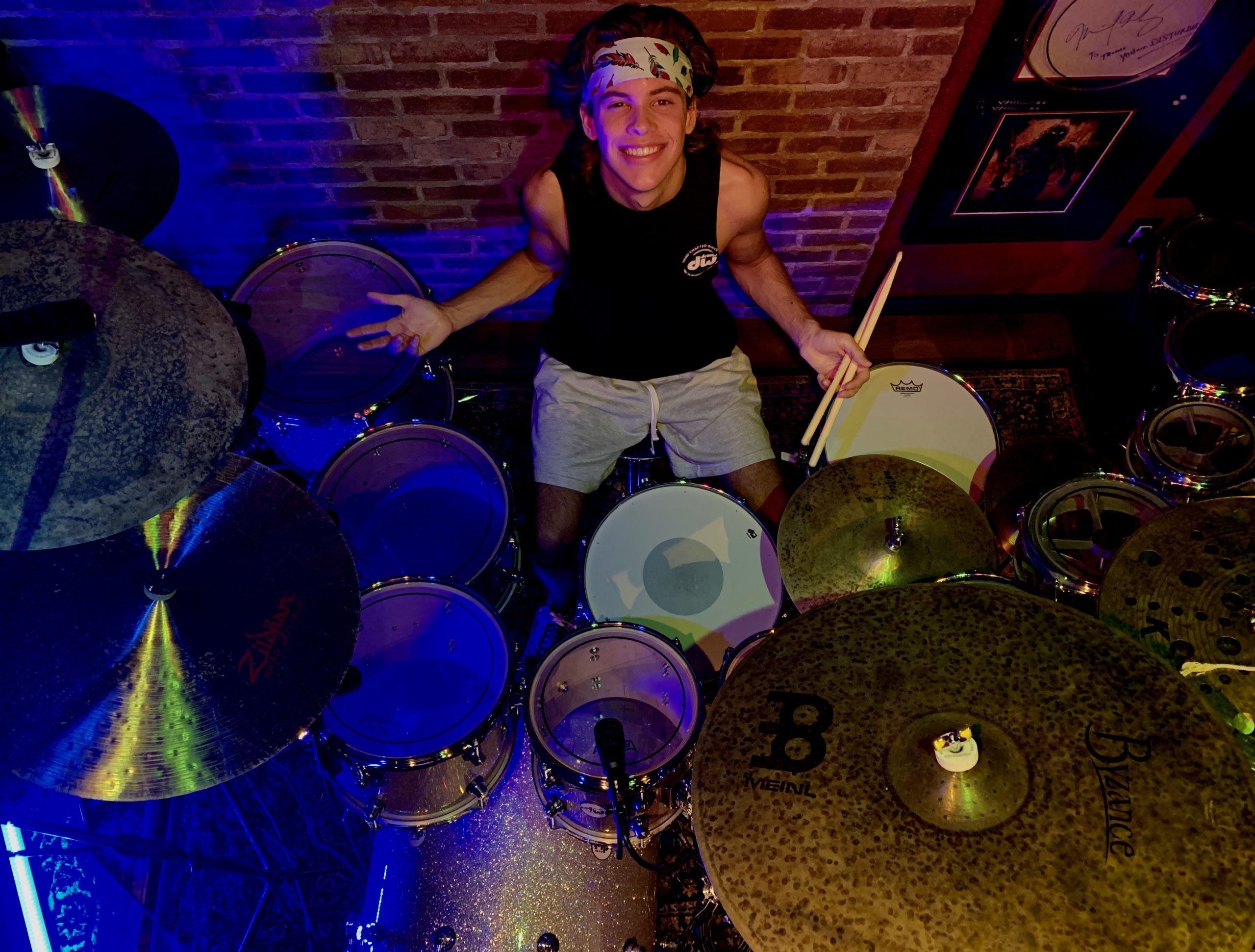 Photo above: thomasondrums
Thank you very much for checking out thomasondrums.net!  I apologize for such a long delay since my last drummer's update.  This web site was originally designed and maintained by Greg Dyer Designs.  Unfortunately, in the summer of 2019, Greg became gravely ill and went into a coma.  He awakened months later, only to learn that he had a very short time left.  He had run this web site since it's inception.  In doing so, Greg and my family became friends.  We were very saddened to learn that Greg Dyer passed away.  May he rest in peace.
Since my last Drummer's Update in May of 2019, so much has happened in the world, and on my journey with the drums.  That being said, let me try to catch you up since my last Blog News:
In the summer of 2019, I drummed and performed in two music videos with a metal band out of Los Angeles called, Crisis Couture. Check out the videos:  'Waiting on the World to Burn' and 'Take Back the Power.'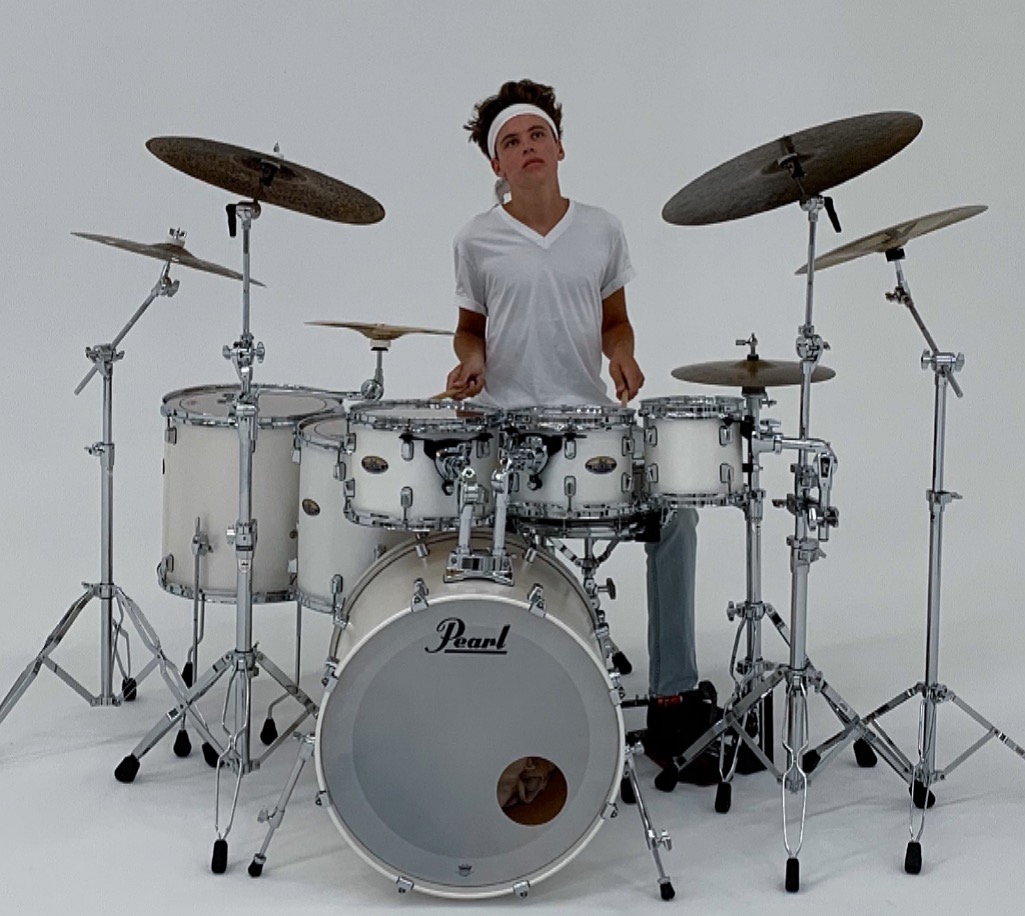 Photo above: In Hubble Studios in Los Angeles, on the set of Crisis Couture music video shoot
In the summer of 2019, Fred Zermeno, the manager/event organizer of the "10th Annual Beatles Fest" in Los Angeles, contacted me and asked me to form a tribute band to open the 10th Annual Beatles Fest at Santa Anita Park.  I gathered musicians and friends from Orange County School of the Arts to form a Beatles tribute band – which became known as "The Taxman." We had:  Sawyer Kooyman on bass guitar, Christian Somoya on keys, Julia Lane on Lead Guitar, Nathan Bowden on Rhythm Guitar, James Bergren on Lead Vocal, and thomasondrums!  We opened the Beatles Fest with a ten-song journey through the Beatles catalog.  It was a very hot summer day at Santa Anita Park, and we "gave back" by playing live music at this charity fund raiser for the Whittier Regional Symphony.  Thank you again, Fred!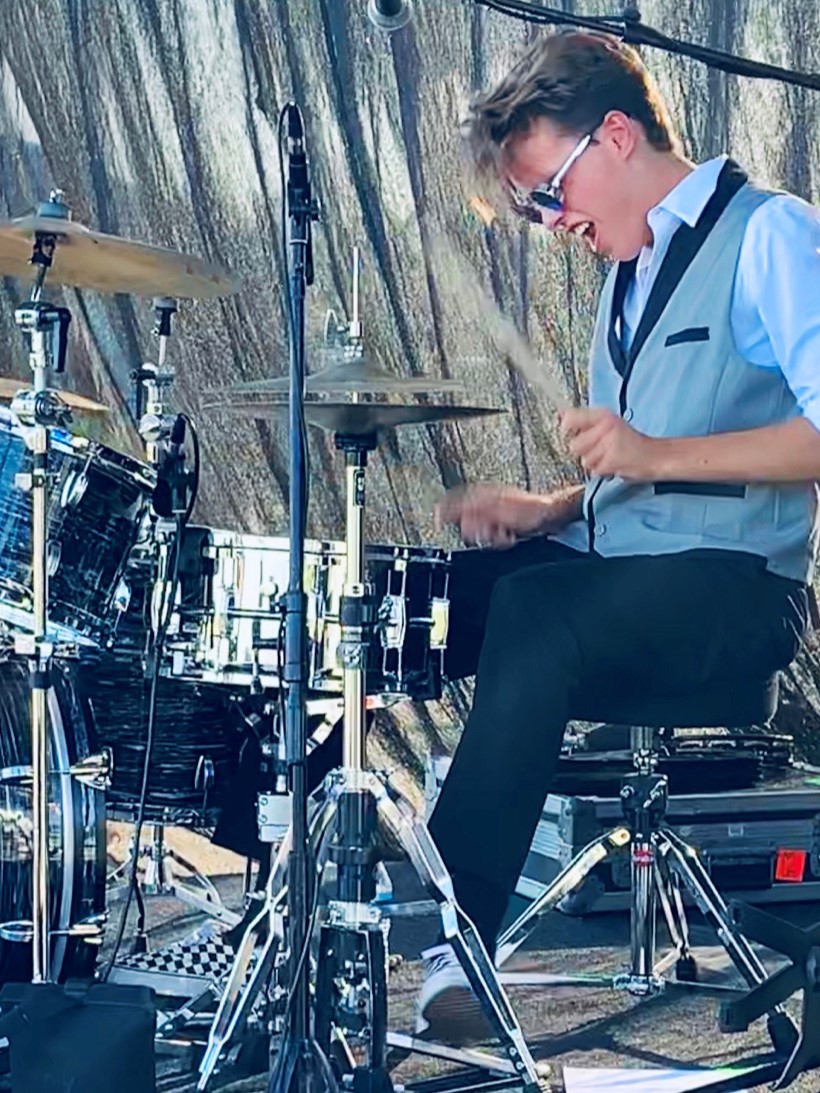 Photo above:  Playing with "The Taxman" at Beatles Fest 2019
After three years (2016-2019) playing 2nd drums and percussion with Oingo Boingo Dance Party – later renamed – Oingo Boingo Former Members, I decided to quit the band in the fall of 2019.  I will always be thankful to John Hernandez, a.k.a. "Johnny Vatos" for inviting me to join him and his band.  I will never forget those three years of playing live music, and the experiences that came with  it.  When I played my first professional show with the band, I was just 13-years old, and in the 8th grade.  I literally grew up on stage playing 2nd drums and percussion next to "Vatos."  And for that, I am forever grateful.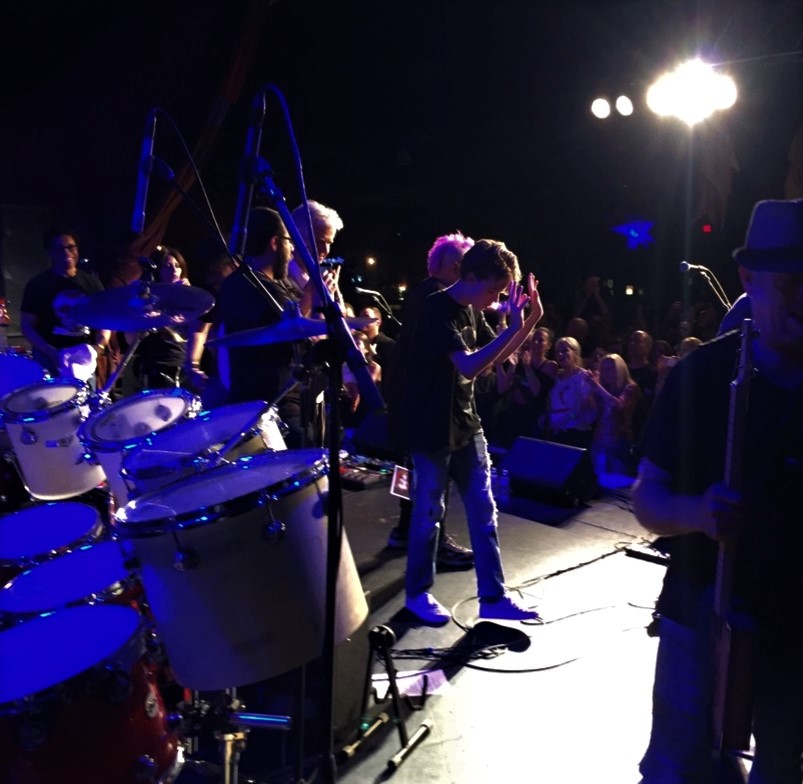 Photo above:  2016-2019, three years with Oingo Boingo Dance Party/Oingo Boingo Former Members. You know when it's time to go.
In the winter of 2019/2020, Orange County School of the Arts, Popular Music Conservatory classmate and kick-ass lead guitarist, Julia Lane and I joined forces and began to write and create our own music together.  Our new band is called ITERUM and we are currently recording our demo, with all-ORIGINAL material written by Julia Lane and Thomas Lowrey.  More info coming soon!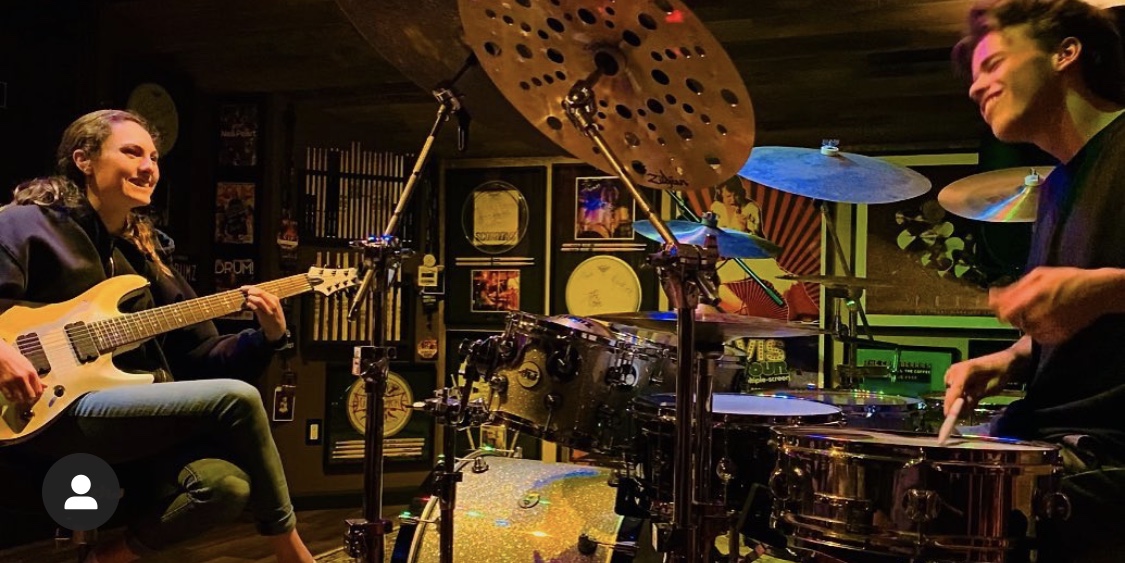 Photos above and below:  In the studio, writing and creating original music with Julia Lane.  Our band is called ITERUM, and we are recording NOW!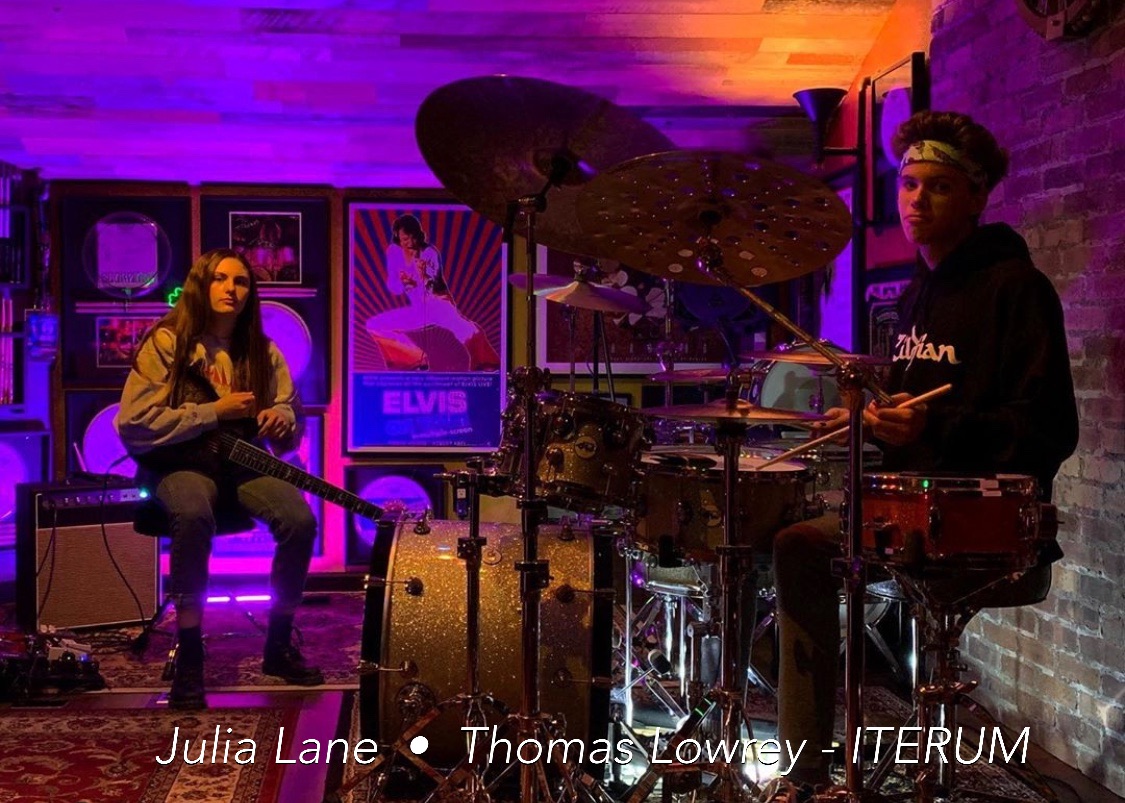 October 15, 2020 marked three years as an Endorsed Artist with Collision Drumsticks!  I want to thank Carlton Banks,  Collision Drumsticks, United Kingdom, and the entire Collision Drumsticks family for their continued support!  "Impact Your Sound" with Collision Drumsticks!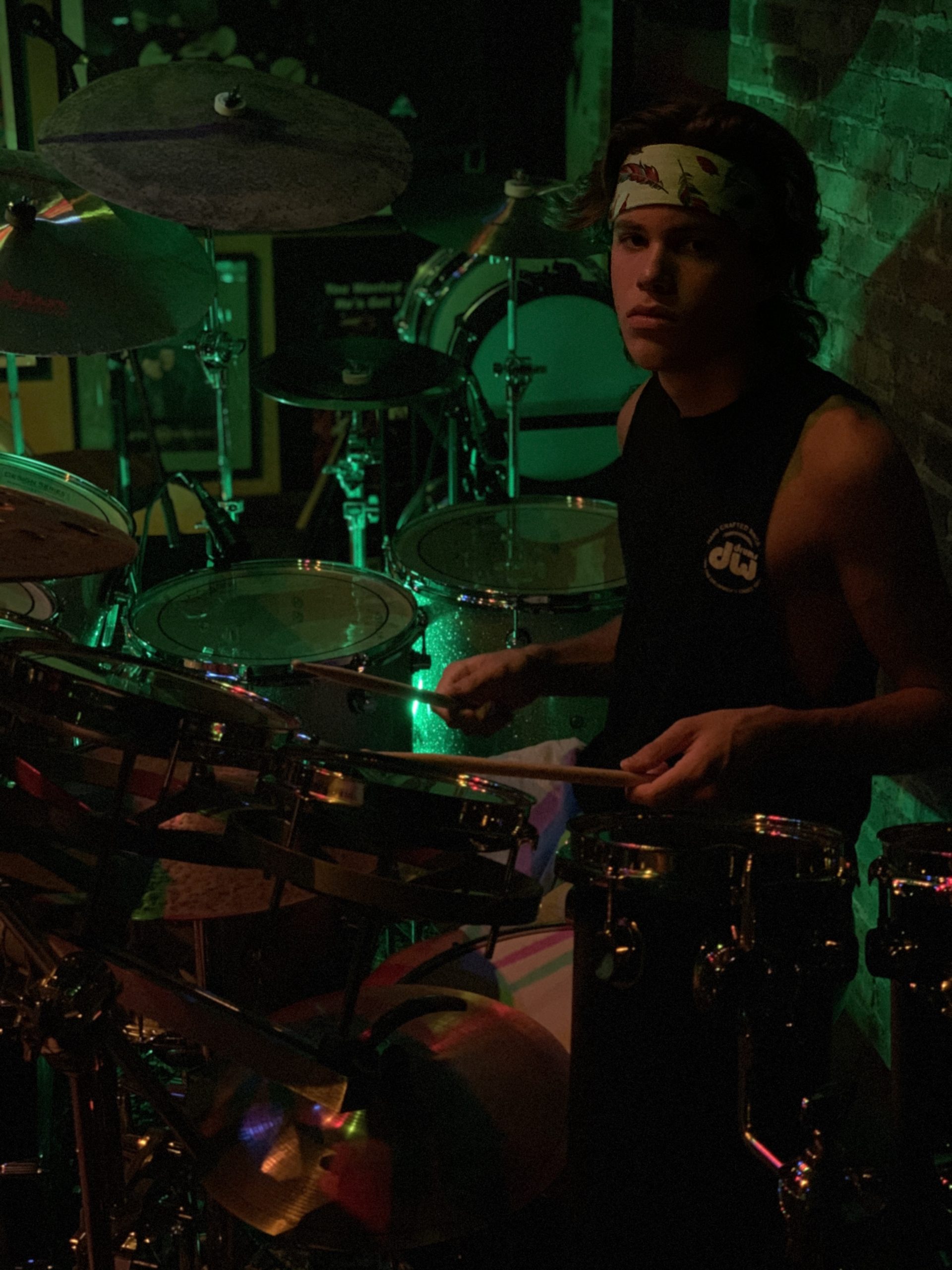 Photo above:  In the studio – 3 years as an Endorsed Artist with Collision Drumsticks!
I am also very proud to share that in September of 2020, we celebrated 11-years at Rob Ferrell Drum Studio!  I started lessons with Rob Ferrell on my first day of First Grade, and I've never stopped attending my weekly drum lessons with Rob.  Rob was the perfect teacher for me, and I cannot thank him enough for all he has done to assist me on my journey with music and the drums!  As I have said before, Rob laid down the foundation of my education with learning music and the drums. Whenever I was rehearsing and preparing for a live show, I would run through my set list on the drums for Rob.  Rob would give his feedback, and frequently gave me that little tip to make my drumming on a specific part of a song sound better!  So, drummers out there -If you are looking for a drum teacher, I highly recommend Rob Ferrell Drum Studio, in Mission Viejo, CA!
A note from my drum teacher, Rob Ferrell:
"As hard as it is for me to believe, Thomas has just celebrated his 11th year of taking lessons with me!  I remember how disciplined and focused he was as a 6-year old drummer.  That discipline and focus is even stronger now!  Thomas is a professional.  Most associate the label of professional with the ability to make money at one's chosen craft.  Thomas has done that.  He even subbed for me on a live gig that I couldn't make, and my band mates told me that he nailed it!  But, being a true professional is more than earning money.  It's about being prepared.  It's about showing up on time.  It's about being easy to work with.  It's about having a good attitude.  It's about delivering what is expected.  Thomas does all that – and more!  Thomas is a true professional drummer in every sense of the word, yet he never stops learning.  He is at a level now where it would greatly benefit him to study with some of the Masters of our craft.  I am so grateful to be a part of his journey, and look forward to following him as he achieves all of his goals!"
– Rob Ferrell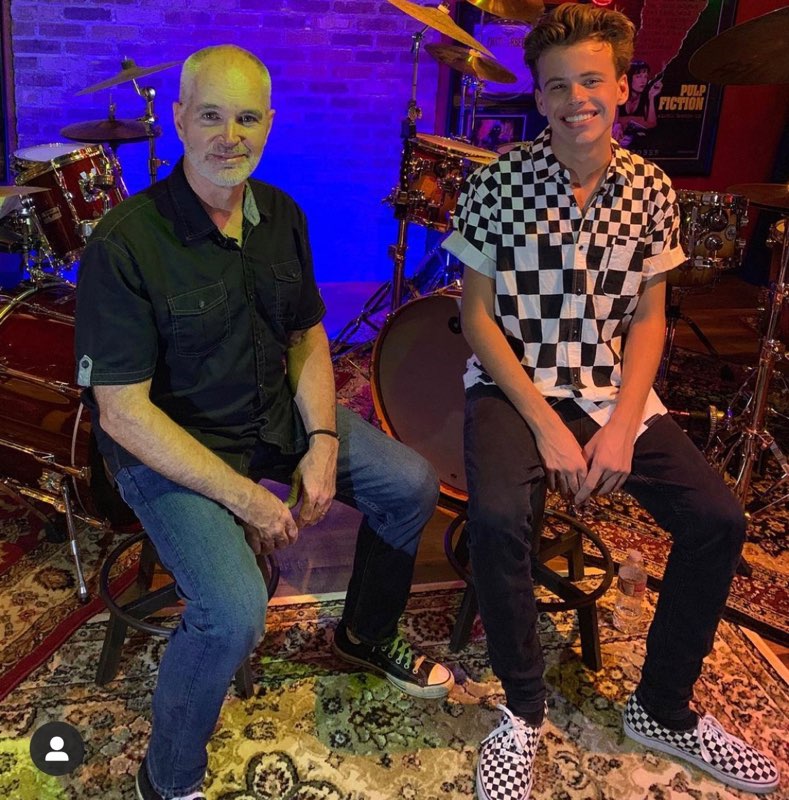 Photo above:  Drum Teacher, Rob Ferrell with thomasondrums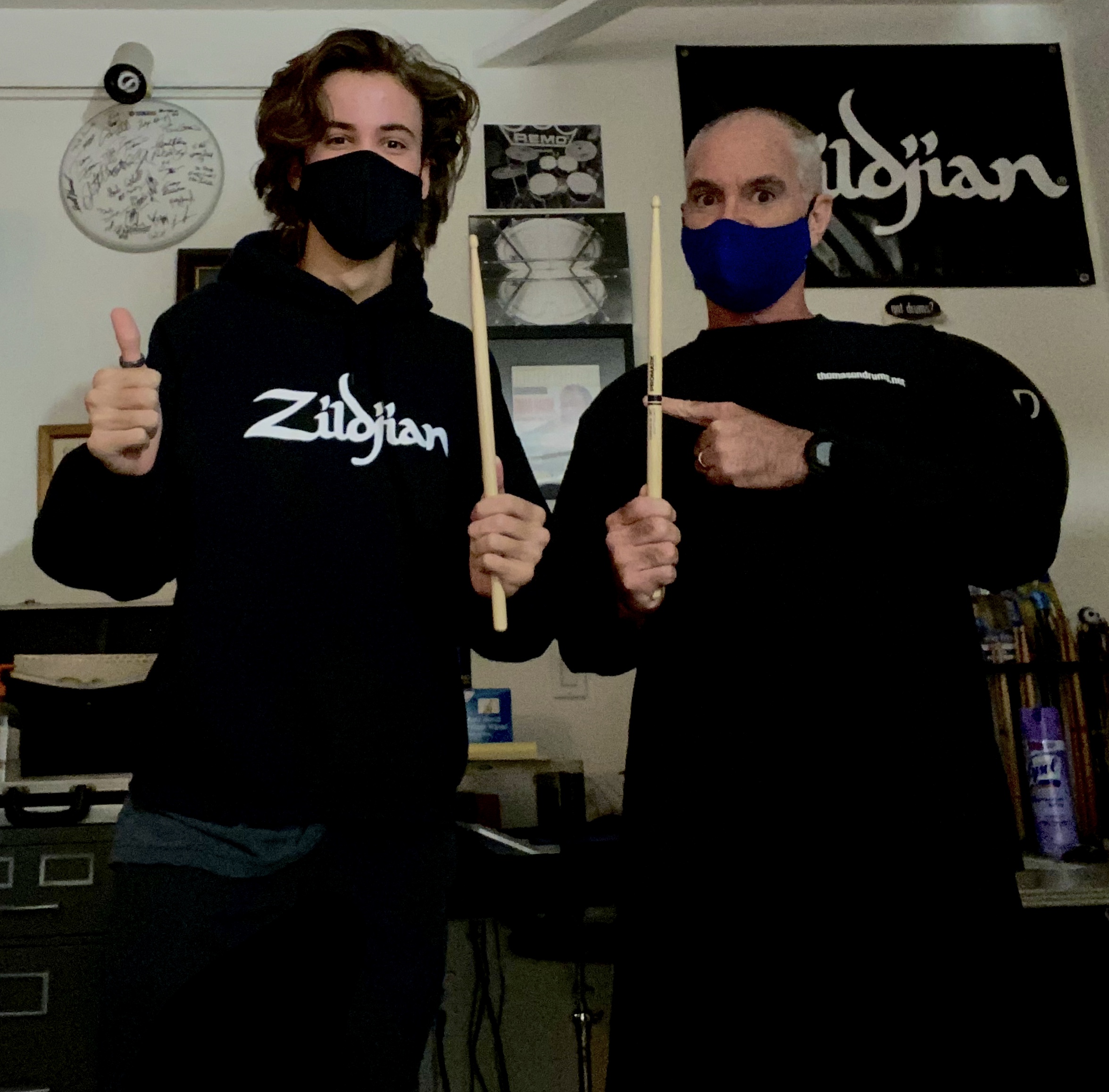 Photo above:  September 2020, the Covid-19-masked drummers, Thomas Lowrey and Rob Ferrell holding up the sticks to celebrate 11-years together as drum teacher and student! 
On November 14, 2020 Julia Lane and I (Iterum) were featured in a music video/comedy sketch with the band, Stillwell!  Check out the video which is posted on Instagram @stillwell_rock/Stillwell Official.  After the video shoot, we had a fun hang with the artists in the drum studio!  Thank you guys for a great day!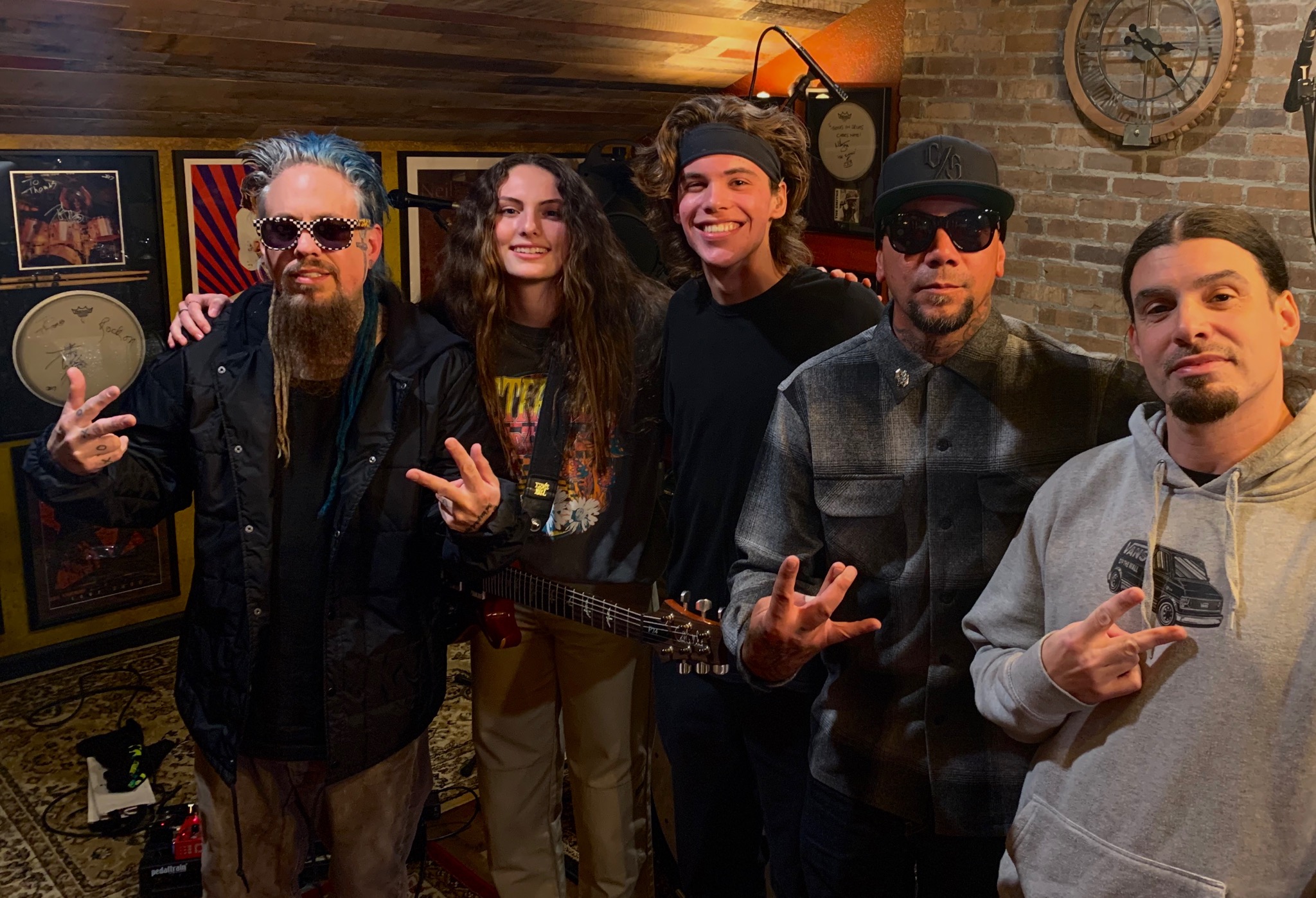 Photo Above:  Stillwell and Iterum in the drum studio after the music video/comedy sketch shoot:  "Fieldy", Julia Lane, Thomas Lowrey, "Wuv", and "Q-Unique".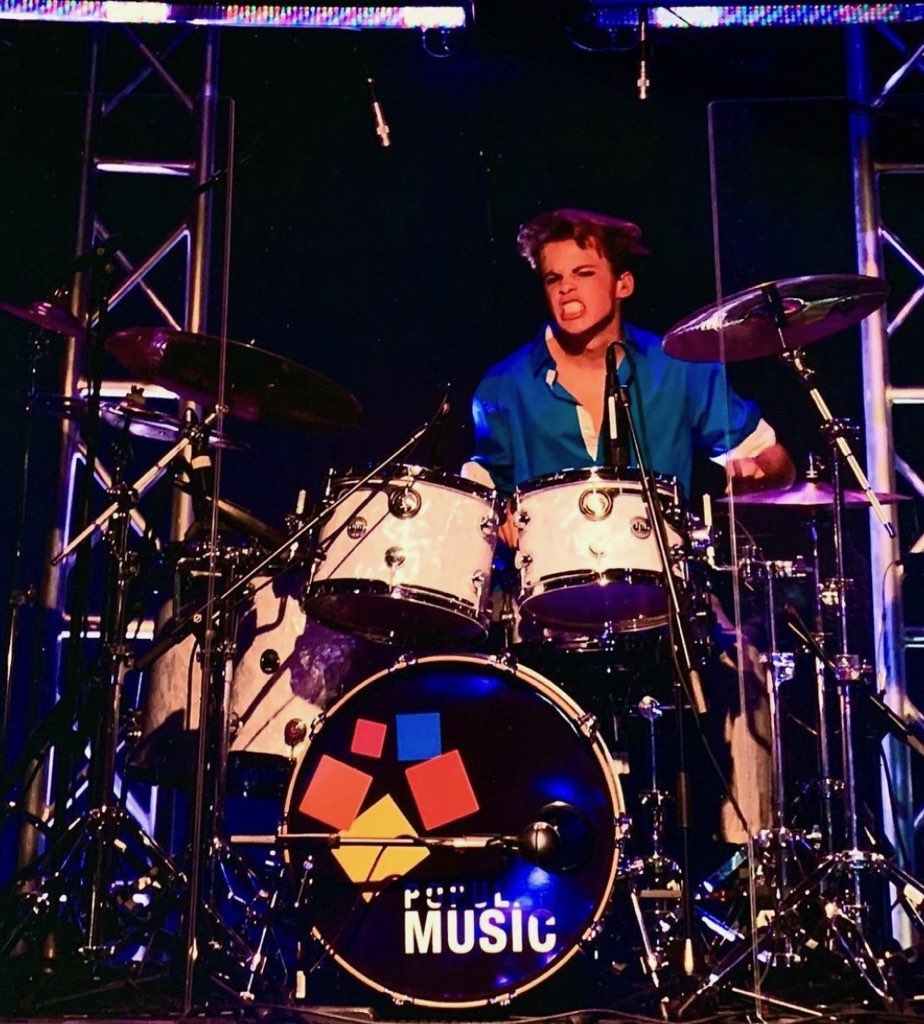 Photo above:  Live drumming for Orange County School of the Arts, Popular Music Conservatory
In December of 2020, I was interviewed by Orange County School of the Arts – Popular Music Conservatory for their Instagram/social media @ocsapopularmusic:
OCSA: How long have you been playing your instrument for?
Thomas: "Since before I could reach the pedals, but, I started formal drum lessons at 6 years old."
OCSA:  What's your most memorable performance and why?
Thomas: "Probably when I performed in a charity show for 'Sweet Relief Musicians' Fund', sharing the stage with Jack Black, Corey Taylor, Jane Wiedlin and other unstoppable acts!  It was truly a night to remember."
OCSA:  Do you hope to become a professional drummer?
Thomas:  "I do!  I'd love to soak up all I can from this conservatory and become a touring/performing drummer."
OCSA:  How do you spend your free time?
Thomas:  "If I'm not drumming, I'm listening.  Whether that's to more drumming, or, studying those that have come before me.  Music is always in the background, but definitely not the background noise."
OCSA:  Where can we find you?
Thomas:  @thomasondrums / www.thomasondrums.net
OCSA:  Who inspires you?
Thomas:  "I look up to my parents 100%.  But, I'm inspired by my father above all."
OCSA:  Favorite holiday tradition?
Thomas:  "My favorite holiday tradition is not for a national holiday, rather, "Polish Day" – which my family celebrates on April 10th, which is my Babci Machos' birthday.  All Polish food, and lovely memories."
OCSA:  If you could meet one celebrity, who would it be?
Thomas:  "Morrissey. Hands down.  No debate."
OCSA:  What song is constantly on repeat for you?
Thomas:  "'That Joke Isn't Funny Anymore' by none other than The Smiths."
OCSA:  Do you write songs?
Thomas:  "I'm always writing.  Whether or not you could call them legitimate songs is questionable.  But, do keep your ears out for some stuff I've got cooking with Julia Lane and Iterum."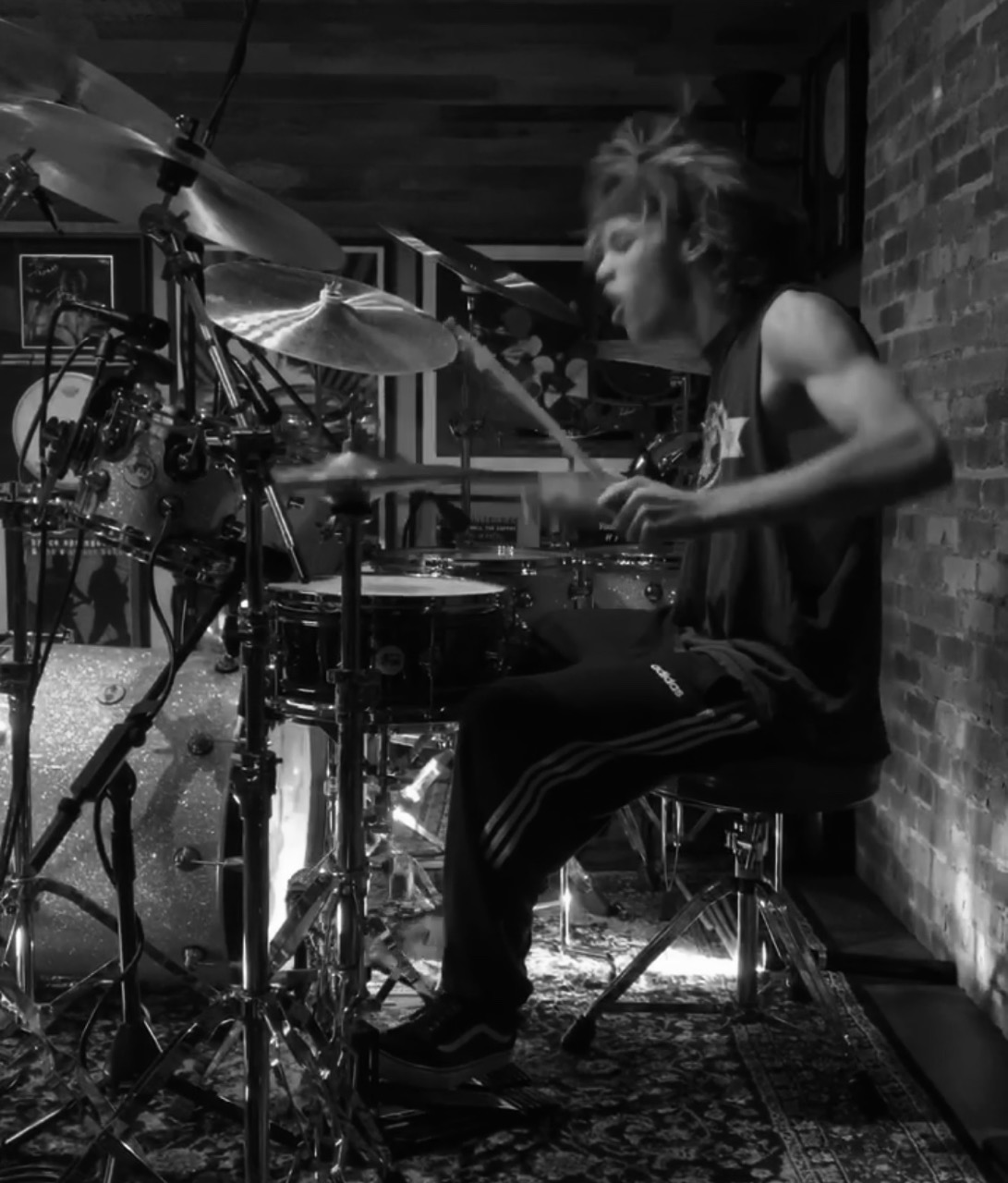 Photo above: thomasondrums in the drum studio – 2020
Thank you very much for checking out thomasondrums.net!  Please Follow me on Instagram, @thomasondrums – Thomas